August 31, 2007
0

found this helpful
Your dog is beautiful. I am so sorry you lost your beloved pet. I have a west highland terrier who is almost 12 and I dread the day something happens to her. I love animals. I know your breed of dog has received more bad press then other dogs. I truly believe a dog who is loved and taken care of will be a good dog!
Again, I am sorry you no longer have Roc. Hang on to all the fun memories. God blees you and your family.
Bobbie from Texas
By Debbie (Guest Post)
August 31, 2007
0

found this helpful
Wow, what a beautiful dog! I am so sorry for your loss. We just got an American Bulldog puppy and I am sure people will be looking at her like she is a viscious beast too.
It's all in how you treat and raise them. Bless you and your family!
By Jennifer (Guest Post)
August 31, 2007
0

found this helpful
I am so sorry that you have lost your beloved Roc. It looks like he was a very special dog, and I can see a lot of love between your son and his dog! Our pets are such an important part of the family, it hurts so much when we must say goodbye. I hope you open your hearts to another pet that is needing a wonderful loving home. Please consider a rescue dog or cat.
By Susie from Buckhead, Ga (Guest Post)
August 31, 2007
0

found this helpful
I agree with you. No dog is born mean. I love all pets. I have had a lot of different kinds of animals. We have a black lab and she means the world to us.
I can see that your Roc was a special baby. It is wrong that this breed of dog should get treated so badly. When I was a child, I was viciously attacked by a chihuahua. It was like the taco bell dog. It was not the dogs fault, his owner made him mean. A little boy was picking at the dog and I just happen to walk in between them. That dog bit me all over. I had bad bruises and puncture wounds everywhere. I could not get away from this dog.
It took me along time to like little dogs again. I now realise that the dog was just doing what it was taught. GOD Bless you and the time that you had with Roc. Nothing can replace him, but please consider adopting another 4 legged friend.
August 31, 2007
0

found this helpful
I am so sorry for your loss! I agree that dogs are erroneously stereotyped. I was told by my veterinarian, after my pekingese died, that most pekes are mean, but my peke was as friendly and loving as a dog can be.
Thanks for sharing your loving memories and please accept my sympathy for your loss. God bless you!
August 31, 2007
0

found this helpful
My condolences on the loss of Roc. Two and a half years old is young; may I ask if he was sick?
RAINBOW BRIDGE
(Author Unknown)
Just this side of heaven is a place called Rainbow Bridge.
When an animal dies that has been especially close to
someone here, that pet goes to Rainbow Bridge. There are
meadows and hills for all of our special friends so they can
run and play together. There is plenty of food and water and
sunshine, and our friends are warm and comfortable.
All the animals who have been ill and old are restored to
health and vigor; those who were hurt or maimed are made
whole and strong again, just as we remember them in our
dreams of days and times gone by. The animals are happy and
content, except for one small thing, they each miss someone
very special to them, who had to be left behind. They all run
and play together, but the day comes when one suddenly stops
and looks into the distance. His/her bright eyes are intent;
his/her eager body begins to quiver. Suddenly s/he begins to
run from the group, flying over the green grass, his/her legs
carrying him/her faster and faster.
You have been spotted, and when you and your special friend
meet, you cling together in joyous reunion, never to be parted
again. The happy kisses rain upon your face, your hands again
caress the beloved head, and you look once more into the trusting
eyes of your pet, so long gone form your life but never absent
from your heart.
Then together you and your special pet cross the Rainbow Bridge..
By Sandy (Guest Post)
August 31, 2007
0

found this helpful
So sorry. He looks like a nice dog. I do believe like that beautiful little story says that animals do go to heaven.
Was he sick?
I'm a cat person myself and lost a 1 yr old to a cat fight, a 10 yr old to cancer, and an 18 yr old to old age.
September 1, 2007
0

found this helpful
I'm so sorry for your loss of your beloved Roc. My dog Lady died 8-19-07, so I know how you feel. But my little terrier died after 17-1/2 years; we had a long time together. Soon I'll be looking for a new dog. I hope you find another dog that makes you happy the way Roc did.
September 1, 2007
0

found this helpful
So sorry for your loss. Looks like the young man with
him loved him very much. Not right to lump all dogs
any more than it is to do it to people. IMA3
.
September 2, 2007
0

found this helpful
So sorry to hear about your loss...but you will be reunited someday in a place where they don't judge people or animals as being different. He looked friendly.
By Aela (Guest Post)
September 2, 2007
0

found this helpful
Hey cheer up!:) I had a dog and his name was Shadow. I had to give him to my grandpa, and he ran away because he wasn't tied up properly. I found him dead.
So dear Cookie, you are not alone in this.
Aela in Alberta,Canada
By janet (Guest Post)
September 4, 2007
0

found this helpful
It is with great sadness to hear about your best friend
a great dog lover,
from Toronto, Ontario
February 10, 2008
0

found this helpful
today I lost our sweet dog Alexx due to heart failure(she would have turned 11 in april)
and I am having a really tough time. She was "mama's" dog
she was 3 months old when we got her and weighed 4.5 pounds (she was the runt) she gave us so much love and never asked for anything in return but love
she loved to have her ears rubbed and her back massaged and her neck scratched. she loved to sleep with me at night and in her daddy's recliner in the day (she didn't like having to give it up) she always got a chicken strip from the deli when we went to the store and would give me that look if I didn't get one .she would stare down the teller at the bank for a dog treat. and loved to go for rides.she loved to get up on the chair or couch if I got out my warm fuzzy blanket and lay with me
she loved opening Christmas presents. we didn't start the paper being torn just held the present out to her and she would start ripping the presents open. she started having seizures when she was one and had been on medicine ever since. developed thyroid problems and had gone blind in one eye and was going in the other, due to no tear ducts being developed when she was born but she just kept on going. a few weeks ago they told us she had developed a heart murmur and it had come on real quick and was a 4 on a scale of 1-10 today that heart got tired and went to sleep
sleep in peace baby girl. lay in the sunshine and be warm. cuddle on your blanket when it snows or rains or in front of your fireplace, remember to put on your sweater if you get too chilled and I promise I will see you again
you will forever be in my heart.
love you
mama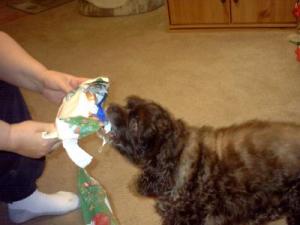 By (Guest Post)
February 25, 2008
0

found this helpful
I am so sorry to hear about Alexx I know a pet is like a family member and it is hard to lose them. But keep your chin up it will get better.