Purchase small gourds to use this year and then allow them to dry for next year. Small gourds take several months to dry so better get started now. Mold on the gourds is a natural part of the drying. Store in a cool place with plenty of room to rotate them often. Use rubber gloves as the mold on some may irritate some people. Check with your local produce departments in the supermarket to see if they have any left over after Thanksgiving or Halloween they would like to get rid of.
Once dry they will be very light in weight and you will be able to shake them and hear the seeds. Now that they are dry, use rubber gloves to wash with a bit of Clorox and dish soap. It takes some elbow grease to get them clean. Allow them to dry.
Once dry, paint with acrylic paints. When dry and painted to your liking, spray well with several coats of poly. Spray either matte finish or satin. They will last for years to come. Mine are about 10 years old. Store and make sure no critters like mice can gnaw on them to get to the seeds inside.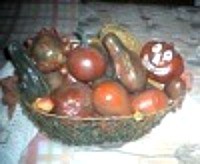 By Cmcmamo from Ballwin, MO