By shelly (Guest Post)
October 8, 2005
0

found this helpful
Desert-Safe Treat Recipes For Troops Overseas
These treats were put out by Nestle about a year ago and have
been tested in their kitchen and do meet the required Middle East
guidelines as well as the U. S. postal guidelines.
Irresistible Brownies
Ingredients
1 1/2 cup flour
1 cup nestle baking cocoa
1/2 tsp. baking powder
1/2 tsp. salt
2/3 butter flavored crisco
2 cup sugar
4 large eggs
2 cups Nestle Toll House premier white morsels
Directions
Heat oven to 350 degrees F grease 13x9 inch pan.
Mix flour, cocoa, baking powder and salt in small bowl.
Mix shortening, sugar, eggs, in large bowl with mixer.
Until
creamy.
Gradually add in flour mixture a little at a time to shortening
mixture.
Stir in morsels.
Pour into prepared pan.
Bake for 25-30 minutes or until toothpick inserted into middle
comes out clean. Cool completely and cut into squares. Makes 30
brownies.
By BrendaB (Guest Post)
October 10, 2005
0

found this helpful
My nephew just finished serving his year in Iraq. While he was there he received several packages from family especially his birthday. What his mother and I tried is a "cookie cake"--you know the type like you see at the mall. Just a very HUGE cookie. Again chocolate doesn't travel well at all; to many temperature changes between here and there. You can try another flavor, and include a tube of the cake decorating gel and she can write on it, or someone else can do it for her. My nephew loved the idea, and also they guys that served with him enjoyed the treats.
I know he sure needed the packages that we send him there was times when that was what he and his friends ate! Hope this helps.
BrendaB
By Esla (Guest Post)
October 10, 2005
0

found this helpful
White Fruitcake
Got one for you.
5 large eggs (well-beaten)
1/2 lb butter
1 c granulated sugar
1 3/4 c all-purpose flour
1/2 ts baking powder
3/4 lb candied cherries
1 lb candied pineapple
4 c shelled pecans
1/2 oz bottle vanilla extract
1/2 oz bottle lemon extract
Chop nuts and fruits into medium-size pieces;
dredge with 1/4 cup of the flour. Cream
butter and sugar together until light and
fluffy. Add well-beaten eggs and blend well.
Sift remaining flour and baking powder
together; fold into egg and butter mixture.
Add vanilla and lemon extracts; mix well;
then add fruits and nuts, blending in well.
Grease a 10-inch tube pan. Line with greased
wax paper (a paper grocery bag will do as
well) and grease again. Pour batter into
prepared pan. Place in cold oven and bake at
250° for 3 hours. Cool pan on cake rack.
Makes 5 pounds of cake.
This cake may be cut the day after it is
baked, or may be wrapped in plastic wrap
(to prevent freezer burn) and then aluminum
foil and frozen for a year without losing its
flavor. It is advisable to allow cake to
mellow before freezing, because a cake will
not mellow in a frozen state.
The cake is also mailable.
By Margie Minard (Guest Post)
October 10, 2005
0

found this helpful
If you need more help in shipping food overseas, try contacting your local county extension service. They can help with just about anything you can think up in that area and unless you need a special book or something, it should be free of charge.
By (Guest Post)
June 8, 2007
0

found this helpful
I am going to try this bday cake this weekend. I will let you know how it turns out. My husbands birthday is June 30th and I really want to send him a cake too!!!
INGREDIENTS:
3/4 cup butter, softened
3 cups white sugar
4 eggs
1 tablespoon vanilla extract
2 cups unsweetened applesauce
3 cups all-purpose flour
3/4 cup unsweetened cocoa powder
1 teaspoon baking soda
1/2 teaspoon baking powder
1/8 teaspoon salt
DIRECTIONS:
Preheat oven to 325 degrees F (165 degrees C). Wash 8 (pint) straight sided, wide mouth canning jars in hot soapy water. Rinse well, dry and let them come to room temperature. Grease insides of jar well.
In a medium bowl, sift flour, baking soda, baking powder and salt. Set aside.
In a large bowl, cream butter with half of the butter until fluffy. Add eggs and remaining sugar and beat in. Add vanilla and applesauce and combine.
Add the flour mixture in three increments, mixing well after each addition.
Pour 1 cup of batter into each jar and carefully remove any batter from the rims.
Bake at 325 degrees F (165 degrees C) for 40 minutes.
While cakes are baking, sterilize lids and rings by boiling them in a saucepan of water. Keep them in the hot water until ready to use.
When the cakes have finished baking, remove jars from oven. Make sure jar rims are clean. (If they're not, jars will not seal correctly). While jars are still hot, place lids on jars, and screw rings on tightly. Jars will seal as they cool. Place the jars on the counter and listen for them to "ping" as they seal. If you miss the "ping", wait until they are completely cool and press on the top of the lid. If it doesn't move at all, it's sealed.
Unsealed jars should be stored in the refrigerator and eaten within 2 weeks. Sealed jars may be placed in a freezer.
I will let you know how it turns out!! Good luck and God Bless Our Troops!!!
<3 Proud Army Wife
Jamie
By Darnell (Guest Post)
August 22, 2007
0

found this helpful
You can order a cake to ship overseas at www.spectacularsweets.com, Their fabulous!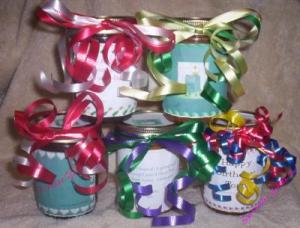 August 22, 2007
0

found this helpful
You can find great cakes at www.spectacularsweets.com, and they taste good too!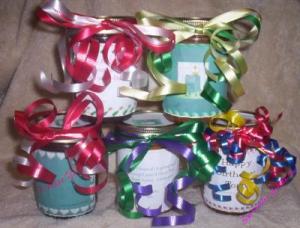 By addie (Guest Post)
October 28, 2008
0

found this helpful
I heard that jar cakes could form dangerous bacteria. Is this true? I want to send it to my boy in Afghanistan but it takes about a month to get there.
By Debora T. (Guest Post)
November 3, 2008
0

found this helpful
Hello
I would like to introduce our company to you, we have been around since 1987 offering cakes in the US & Canada, but we recently started shipping to the service members overseas. Our cakes are traditional birthday cakes frosted and they have your inscription on top. Site is: http://www.wireacake.com