July 31, 2007
0

found this helpful
CRUNCHY GRANOLA
In a large pot, heat just until boiling:
1/2 c. honey
2 tsp pure vanilla extract
1/2 c. water
1/2 c. veggie oil
1 tsp ground cinnamon
For smoothness, it helps to add:
1 tsp liquid lethicin(available at health food stores)
Into this liquid, quickly and thoroughly stir:
7 cups rolled oats
1/2 c. unsweetened coconut(optional)
1/2 c. broken English walnuts
1/2 c. raw sunflower seeds
1/2 c. raw pumpkin seeds
Stir until all ingredients are moistened, then spread in a large, shallow roasting pan or on cookie sheets and bake in a preheated 250F oven. Stir often with a spatula during baking. When no more steam escapes during stirring, your cereal is almost done. Test by allowing a small amount to cool and then tasting it, DON'T let the cereal burn or overcook. This recipe should take about l hour to bake, depending on how thinly the mixture is spread in the pans. After cooking, add:
Raisins or other dried fruit to taste (optional)
DON'T add them before baking, or your raisins will resemble bullets! Store cooled cereal in a dry, airtight container. Makes about 2-1/2 pounds.
Variations: use apple juice instead of water
Adding more honey will make a sweeter product.
Vary it to your taste with such things as raw, broken almonds or bits of dried apple.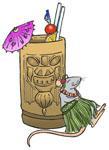 July 31, 2007
0

found this helpful
I usually double this recipe and it still only last a couple days.
2 1/2 cups quick cook oats
1/2 cup wheat germ (found in cereal aisle)
1/4 tsp. salt
1/2 cup brown sugar
1 tsp. cinnamon
Combine these ingredients and mix with you hands so they are very well incorporated. Set aside.
Combine in small bowl:
1/3 cup oil
1/4 cup honey
1 tsp vanilla
Stir this together quickly to it mixes as well as possible. Pour over the oat mixture and mix with a fork until all is moist. Pour onto a oil sprayed baking sheet and Bake at 275 for 30 min. stirring every 10 minutes to loosen and redistribute. At the last 10 minutes, you can add some shredded coconut. When finished and as it is cooling, stir occasionally or it will set up into chunks. Its better as smaller pieces. You can also add raisins, nuts, other granola ingredients.
By guest (Guest Post)
August 1, 2007
0

found this helpful
This recipe my friend gave to me several years ago and it is the only one I make now. It is very good!:) Also, real easy and makes a lot. Enjoy!:)
Granola
3 c. rolled oats
1 c. slivered almonds
1 c. cashews
3/4 c. shredded sweet coconut
1/4 c. plus 2 T. dark brown sugar
1/4 c. plus 2 T. maple syrup
1/4 c. veggie oil
3/4 tsp. salt
1 c. your choice: raisins, dried blueberries, dried cranberries, ect.
Preheat oven to 250 degrees. In large bowl, combine oats, nuts, coconut, and brown sugar. In another bowl, combine maple syrup, oil and salt. Combine together and stir. Pour onto 2 large sheet pans. Cook for 1 hour and 15 minutes, stirring every 15 minutes. Remove from oven and transfer to a large bowl. Stir in raisins or other dried fruit and mix until evenly distributed. Store in air tight container. Good as a breakfast cereal or as a snack!