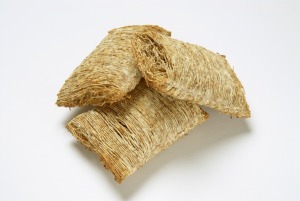 My grandmother used to feed this to my father when he was a boy. He loves it to this day. I remember the first time she cooked it for me. I thought it was odd as my own mother only gave us the shredded wheat with hot milk and sugar - but then I tasted it and was sold for good! This is a great alternative to eggs and toast! Even my picky husband and kids love it. Try it - you'll love it too!
Ingredients
1 or 2 large eggs
1 or 2 shredded wheat squares
boiling hot water
butter or margarine
salt and pepper to taste
Hint - one egg per one shredded wheat square.
Directions
Heat pan on medium high heat. Place shredded wheat in a wide bowl or on a deep plate (flatter old fashioned soup-style bowl). Boil water in a teakettle or pot.
Fry egg(s) to over easy, need the whites cooked and yolks should be runny (important!). Before the egg(s) are fully cooked, (after flipping egg to other side), pour the boiling water over the shredded wheat and immediately drain the water off in sink, holding them down with the spatula/flipper. You'll need to work fast so the eggs don't get overcooked.
Place one tablespoon of butter or margarine on each of the shredded wheat square used. Place the cooked egg(s) on the shredded wheat. Salt and pepper to taste. Use a fork to mix them up, mushing the yolk into the shredded wheat
Enjoy
Yield: One Serving
Source: This is my paternal grandmother's recipe. It is so good! Much better than egg and toast! Pure butter is actually good for us when used in moderation; however, if you are paranoid about using real butter and 'frying', you can use a poached or soft boiled egg and margarine - still make sure the egg yolk is loose. The egg yolk is what adds to the overall taste and texture of this dish.
Comments
Read More

Comments