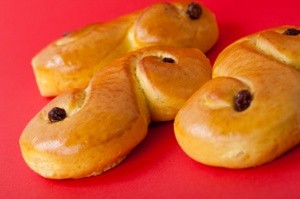 These are the traditional foods served on December 13 for St. Lucia or St. Lucy Day. If your family has Scandinavia roots then you might like to try these and make a new Christmas tradition and if you just want to try some of these your friends will be impressed.
Lucia Bread
11 Tbsp. butter
6 cups flour
2/3 cup sugar
3 pkg. dry yeast or 1 2/3 oz. fresh yeast
2 cups milk
1 gr. saffron -OR- 1/2 Tbsp. cardamom, 15 drops yellow food color
1/2 Tbsp. salt
1/2 cup raisins
1 egg
Grind saffron with a little sugar in a mortar and pestle. Melt butter, add milk and heat to 130 degrees F (too hot to keep your finger in), add salt and saffron. Mix dry ingredients and gradually add the hot milk mixture. Knead the dough. Place in a greased bowl, cover with a damp cloth and let rise 30 minutes. Knead again. Divide the dough into 30 parts. Roll into traditional shapes, add raisin decoration and place on a greased sheeTbsp. Let rise 30 minutes. Brush with beaten egg. Bake 5 minutes at 450 degrees F.
Note: Add 1/2 cup raisins to the dough if you like lots of raisins.
---
St. Lucia's Wreath
6 1/2 to 7 cups bread flour
1/2 cup sugar
2 tsp. salt
3/4 tsp. cardamom
2 pkgs. active dry yeast
3/4 cup milk
1/2 cup water
1/2 cup butter
3 eggs
1 Tbsp. milk
1 egg
Glaze:
3/4 cup powdered sugar
1/2 tsp. vanilla
1 1/2 to 2 1/2 tsp. milk
Decorations:
6 wax candles
3 yards ribbon
Grease large cookie sheet or 14 inch pizza pan. Lightly spoon flour into measuring cup; level off. In large bowl combine 2 cups flour, sugar, salt, cardamom and yeast; blend well. In small saucepan, heat 3/4 cup milk, water and butter until very warm (120 to 130 degrees). Add warm liquid and 3 eggs to flour mixture. Blend at low speed until moistened; beat 3 minutes at medium speed. Stir in an additional 4 to 4 1/2 cups of flour until dough pulls cleanly away from sides of bowl.
On floured surface, knead in 1/4 to 1/2 cup of flour until dough is smooth and elastic, about 10 minutes. Place dough in greased bowl; cover and let rise until light and doubled in size, about 1 1/2 hours.
Punch dough down several times to remove all air bubbles. Divide dough in half, shape into balls. Allow to rest on counter covered with inverted bowl for 15 minutes. Shape each half into a 45 inch rope. Twist ropes together. Place in ring shape on prepared cookie sheet; pinch ends to seal. Cover; let rise in warm place until light and doubles in size, about 1 hour.
Heat oven to 350 degrees F. Combine 1 tablespoon milk and 1 egg; brush over wreath. Bake at 350 degrees F for 25 to 35 minutes or until deep golden brown. (To prevent excessive browning, cover with foil during last 10 minutes of baking.) Remove wreath from cookie sheet immediately, cool on wire rack.
To assemble, cut and hollow out six (1 inch) deep holes in wreath to fit bottoms of wax candles, making sure holes are spaced evenly around the wreath. Place wreath on serving tray. In small bowl, combine glaze ingredients. Spread bottoms of candles with small amounts of glaze, insert into holes in wreath. Drizzle wreath with remaining glaze. Tie ribbon in bow; place on wreath. Yield 24 servings.
All purpose or unbleached flour can be substituted for bread flour. Decrease kneading time to 5 minutes, omit resting period and decrease each rise time 15 to 30 minutes.
---
Scandinavian Julglogg
Serves 8
6 cups red wine
4 oz seedless (pitless) grapes or raisins
4 oz clear honey
2 tbsp cardamom seeds
4 cloves
1 piece of cinnamon stick
Grated rind of 1 lemon
Grated rind of 1 lime
1 liter Aquavit
Place the wine, grapes or raisins, honey, cardamom seeds, cloves and cinnamon in a large saucepan and bring to the boil. Remove from the heat and add the lemon and lime rinds and the Aquavit. Just before serving, reheat gently and ignite. Serve in punch cups. If preferred, the spices may be removed with a slotted spoon.
---
Traditional Lucia Pepparkakor
3 1/2 cups flour
2 tsp. ginger
2 tsp. cinnamon
2 tsp. cloves
1 tsp. baking soda
1/2 tsp. salt
1 cup sugar
1 cup butter or shortening (do NOT use margarine)
1 egg
1/2 cup molasses 
(Note: you need to mix up the dough a day in advance, cover and let rest overnight).
Sift together dry ingredients; set aside. Cream sugar and butter. Add egg and molasses. Blend in dry ingredients thoroughly. Let dough stand overnight for easy rolling. On a well-floured board, roll out dough to 1/8 inch thickness. Cut into shapes (we usually make gingerbread people) and bake at 350 degrees F for 10 minutes. Makes 1-2 dozen cookies NOTE: Prep time does not include time to let dough rest overnight.
Editor's Note:
Here is another article by Debra with recipes for this holiday:
Do you celebrate St. Lucia's Day? Share your favorite memories or traditions here.
Read More

Comments