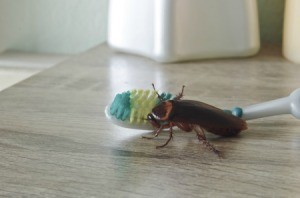 Help! I'm petrified! I have never had a roach in my home, ever, in fact I sanitize counters, mop and vacuum floors constantly, yet this morning there was a huge (an inch or so) tan roach sitting on my sink. I absolutely freaked out. It's dead. Then I read up online and tried to identify it,seems to me it might be a German roach, so I immediately went to the store, bought boric acid and some Ortho spray and combat roach baits, sprinkled the boric along the foundation outside the house, along inside and outside of windows, doorways, basement windows and cracks and crevices in my kitchen.
Tonight I snuck into my kitchen (Because I cant sleep knowing this is in my house) with a flashlight, and there was a black small thinner bug had with some tan markings on it but didn't really look like a roach. It had antennae as well as what seemed to be a single antennae out the rear part of him. I found two more within 20 minutes and they were all crawling by the base of the dishwasher.
It is very clean there, however there has been a leak lately that I need to have fixed. Bottom line, is this possible to have roaches when you have an extremely clean home?
The only thing I can think of is maybe it came from a grocery bag or from the wooded area in my yard. I have no idea what to do beyond what I've done so please write back immediately and help me, I'm very upset.
I looked in all of the crevices and under the sink and although it was a bit wet by the back of the closet under the sink, there was nothing there, but I have a roach hotel under there just in case.
Thank you so much,
Stacey From New York
Answers

Pat Giles
Gold Feedback Medal for All Time! 791 Feedbacks
June 19, 2005
0

found this helpful
Best Answer
Contrary to popular opinion, roaches do get in clean houses! You can, as you stated, get them from grocery bags (usually the really small ones) or from trees around your house (usually large ones). I have found that Bengal Roach Spray is the best on the market for controlling them. It not only lasts a long time but has no odor to aggravate any allergies you or any of your family may have. It costs more, but it's definitely worth it.

June 19, 2005
1

found this helpful
Best Answer
Many years ago when my mother was unpacking her groceries, she saw a roach crawl out of a bag of potatoes. She never went back to that store. I live in a wooded area. We have wood roaches that fly.
They live outside and do not try to get in our home. Sometimes I do find them inside but like all other insects they sometimes get "lost" and get into our house.
By Bonnie (Guest Post)
November 12, 2007
0

found this helpful
Best Answer
You cannot starve roaches no matter how clean your house--you have to kill them. They don't need your food. They will live quite well on wallpaper paste, soap, and the rotting wood from a leak.
If you get rid of those things, they may take to your beds to eat the dead skin from your sheets or worse, right off your body.
It is true that the less "food" there is, the less likely it is that they will make you home their own, but once there, you really can't starve them out in a normal home setting.
By KC (Guest Post)
November 21, 2007
1

found this helpful
Best Answer
I rented a house that was roach-free until the summer months came and things got hot. Although they "went away" shortly after things started to cool down, I decided to move.
Prior to setting up shop in the new home, I had an exterminator come and spray around the garage and interior of the home as a preventive method. He said that it's impossible to completely rid ourselves of ALL pests, but one preventive measure he recommended was to put a cup of bleach down each sink drain and bathtub drain on a monthly basis. The bleach will dissolve the build-up that roaches use to climb up the pipes.

November 21, 2013
1

found this helpful
Best Answer
Caulk all the crevices and all the baseboards in your home, cockroaches are flat and can get into everything. Put down fly sticky traps where you can't reach under the sinks etc. It will help a lot!
Read More

Answers