For many species of butterflies, flower nectar is the favorite entrée on the menu. If you want to take your butterfly garden to the next level, try adding a small feeding station that offers them rotting fruit. Red Admirals, Red-Spotted Purples, Commas, and Mourning Cloaks all appreciate an occasional bite of rotting "fruit cocktail." Here are directions for an easy-to-make feeding station that will also add a bit of color and whimsy to your garden.
Materials:
one 4" terracotta flower pot (this will be the body)
one 6" terracotta saucer (this will serve as the rim)
tile grout rated for indoor/outdoor use, I happen to choose black.
mosaic tile adhesive - make sure it dries clear
embellishments - I used sea glass I picked up from walks on the beach; shells I collected on vacation; and some craft-sized tile pieces leftover from other projects. You might want to use buttons, old costume jewelry, nuts and bolts, pieces of broken dishes or mirrors, or any other odds and ends you have lying around.
Keep these handy:
newspaper to work on
bowl of water
sponge
pair of rubber gloves
paper towels (for messes)
pencil (optional)
tile nippers (optional)
Directions:
Lay down some newspaper-you're about to make a mess!
Turn your flowerpot over. This is your pedestal. Using the tile adhesive, make a miniature "birdbath" by gluing the saucer, right side up, onto the bottom of your flowerpot.
Once the glue dries, use more adhesive to add your embellishments to the pot and/or saucer. My embellishments were a mish-mash of leftovers. I glued them on randomly without altering their size (I'm lazy!). For a more elaborate design, I would suggest sketching your pattern onto the flowerpot before you start gluing and if necessary, using tile nippers to cut and shape your pieces of tile.
After your embellishments dry (I gave mine 2 good hours), it's time to apply the grout. I found it easiest to slather the grout on with my hands (use gloves!). Squirt the grout onto the flowerpot and work it in until all the spaces around your embellishments are filled in. At this stage, don't worry about covering up them up, because you'll be sponging them off later.
After the grout has firmed up a bit it starts to develop a thin film. This is a good time to run a damp sponge over everything to remove any excess grout. Once it has thoroughly dried, come back over the pot with a damp sponge as many times as you need to until your embellishments show through.
Butterflies like perches to sun on, especially those light in color. I glued a large shell on the rim of my feeding station to serve as a perch.
Add Fruit
There is no need to add any additional sealants. Once the grout has dried, you're ready to add fruit. Try strawberries, watermelon, mango, oranges or bananas. If you're worried about attracting rodents, use a rubber band to cover the top of your feeding station with a small screen. This will allow the butterflies to feed, while keeping other critters from running off with your fruit. If the idea of rotting fruit makes you nauseous, fill the station with wet sand and offer the butterflies a place to "puddle."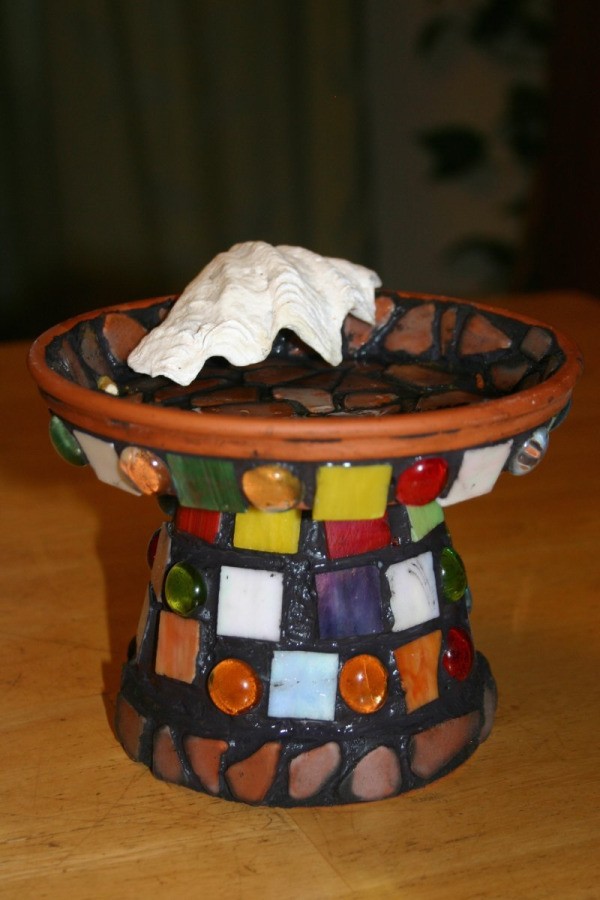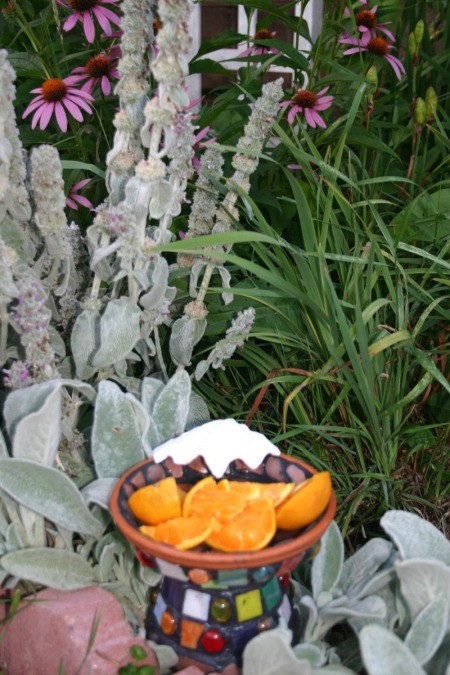 About The Author: Ellen Brown is our Green Living and Gardening Expert. Click here to ask Ellen a question! Ellen Brown is an environmental writer and photographer and the owner of Sustainable Media, an environmental media company that specializes in helping businesses and organizations promote eco-friendly products and services. Contact her on the web at http://www.sustainable-media.com
Add your voice! Click below to comment. ThriftyFun is powered by your wisdom!
August 9, 2006
0

found this helpful
Very pretty!
Looks like a fun project to try with the whole family!
And a great homemade gift idea for butterfly lovers!
Thanks for sharing!
August 10, 2006
0

found this helpful
VERY BEAUTIFUL. BUT WOULDN'T THE FRUIT ALSO ATTRACT ANTS?
August 13, 2006
0

found this helpful
Luv it...........I love butterflies and have been trying to figure out someway to attract more to my home.......this is excellent........thanx for sharing
March 28, 2021
0

found this helpful
I love it! This is something that I start this weekend with my five year old grandson, Thank you!
August 13, 2006
0

found this helpful
I love your mosaic work and putting the two pieces together like that is really creative!
Thanks for the great idea
WYOKirsta
May 2, 2009
0

found this helpful
Absolutely love your beautiful art project. Is it necessary to add grout around the embellishments? Although your finished product is VERY PRETTY, I kind of like the brightness of the terracotta as a background too, That is just too cute! Thanx! You deserve a big round of applause!
March 19, 2012
0

found this helpful
How long do you leave the fruit before changing it out?
Add your voice! Click below to comment. ThriftyFun is powered by your wisdom!