August 11, 2008
0

found this helpful
Sharen, I would give Spot Shot a try. I have used it on many a carpet stain with 100% success. It's in a blue and orange can. You can find it at most grocery stores, Target, and Wal-Mart. Good luck!
August 12, 2008
0

found this helpful
I use regular window cleaner to remove red juice stains from my beige carpet. Saturate the area with the window cleaner and blot. Repeat as necessary, it usually takes a few times Don't rub, just blot.
By Hope This Helps (Guest Post)
August 12, 2008
3

found this helpful
My son just moved out of a house that had light beige carpeting. A few months ago his daughter spilled a glass of fruit punch on the carpeting. The owner said you can't move out until the stain is GONE! So I scoured the internet for them and found a tip that my daughter in law said worked perfectly. You take a small amount of dishwashing liquid and mix some with water in a spray bottle.
Squirt the area well. Put a towel over the area. Take a warm/medium heat iron and set the iron on top of the towel and leave it for a few minutes. The fiber releases the red dye into the towel. If these instructions aren't specific enough, you can look this remedy up on the internet. Good luck!
March 16, 2016
0

found this helpful
I'm not sure I would have believed this if I hadn't tried it. But it sounded just crazy enough that it might work, and it did! If you still have some pink left, just do it again. Amazing!
December 5, 2016
0

found this helpful
Works!!
April 23, 2017
0

found this helpful
IT WORKS .. IT WORKS .. IT WORKS. My lease will be ending in a couple months. I have worked hard to maintain a reasonably clean biege carpet until the fruit punch spill just yesterday.
Scoured the internet for help and came upon this miracle solution.. THANK YOU FOR SHARING
February 3, 2019
0

found this helpful
AMAZING! It removed all the red stain from McDonald's Red Fruit Punch. Praise The Lord!
By Enter Addie (Guest Post)
August 14, 2008
0

found this helpful
Sharon,
Try club soda to remove your stains. It works wonderful for all stains from A-Z
June 26, 2010
0

found this helpful
The above advice about the dishwashing liquid and water spray with the iron WORKS!!!!! It was like a magic trick. I had been trying with Spot Shot which got the stain to a hot pink color on my beige carpeting. Then I tried another suggestion which seemed to lighten it to a slightly lighter pink.
So I thought, what the heck, I'll try this other trick and I was stunned. It all ended up on the towel!! I could actually smell the punch too.
Do this first!
Thank you to whomever posted that! You saved my family room carpeting!
April 9, 2016
0

found this helpful
It worked!!! My daughter's friend spilled fruit punch Gatorade on the light grey carpet of my wife's Chevy Tahoe in the cargo area. I tried everything I could think of to get the red stain out to no avail. The iron literally wicked up the red into an old white towel. I had to do is a few times, but very effective. This saved me probably $300-$400 it would have cost to replace the carpet. Thank you the the original poster!
November 27, 2016
0

found this helpful
Thank you!!! The kids spilled punch on the carpet at a beautiful beach house in Nagshead....
this worked perfectly!!! Thank you so much!
February 1, 2019
0

found this helpful
This may work best on synthetic carpet. I have wool carpet and the stain is only a couple of hours old but this method is not lifting much of the color at all. I have tried repeatedly but the stain remains.
January 5, 2011
0

found this helpful
This worked! I cannot believe this worked! I've tried everything and I mean everything to get this fruit punch stain out and nothing worked. I had given up and had come to terms with loosing some of my security deposit. Now I am all set! Thank you so much to the person who suggested the spray bottle and iron!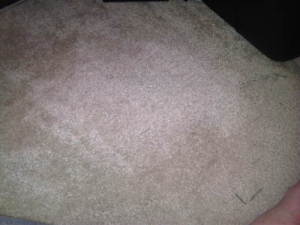 July 22, 2012
0

found this helpful
The answer to "Hope This Works" is incredible! I used carbonated water, a white towel, and a medium-warm iron. Magic! Thank you!
November 23, 2013
0

found this helpful
Wow, it just worked! I googled and got to this page, and thought it was worth a try. I didn't even have Dawn; I just used the dishwashing soap I had on hand, along with warm water in a spray bottle.
I was generous with the soap (call me paranoid). I set the iron on medium setting, and waited, and was SO relieved! I rent, and when you rent, living with carpets is a nightmare. This made my life so much easier!
September 16, 2015
0

found this helpful
As soon as i spilled the stain i just rubbed some handsoap on it and it was gone.
September 19, 2015
0

found this helpful
I tried using some Dawn detergent and hot water, spraying the carpet, laid an old white towel on top of it and letting a hot iron sit on it for about 30 seconds. As I lifted the towel, I could see the red Hawaiian punch sticking to the towel! It worked so well. I just kept moving the towel and laying the hot iron down on it until the whole stain was now on the towel and not the carpet. What a miracle that is!!
May 31, 2016
0

found this helpful
Unbelieveably...the Iron and soap and water method does work.
My method. Mixed DAWN soap and water in random amount.
Spray heavily on area.
Put regular dry bath towel down on top of stain.
Now for trial and error. I found that you want your iron as hot as possible without burning your towel naturally. So play with it a bit. I actually let mine sit (while observing) until it turned itself off. Then would pull it up and redo.
If you have a big stain, it might take awhile to do it. But this works!!!
July 10, 2017
0

found this helpful
So, my oldest son spilt fruit punch soda and didn't tell me for 3 days ( it was Hythe table so I didn't see it. Went over it with my rug cleaner a thousand times with all types of rug cleaners and nothing took it off. Tried the iron trick and it removed it all! I tried it with it wet from the rug cleaner and bath towel, it didn't work. Once I soaked it with the dish soap/ water and a thin dish towel, it did. I think because the thin towel + the water is actually steaming the carpet. Thank you! Thank you!! I am temp renting and was freaking out!!!