Save those extra quilted fabric squares and create a soft plush quilted sunglasses or eyeglasses case with a cell phone pocket.
Approximate Time: 30 minutes or Less
Supplies:
(1) 8 by 8 inch quilted fabric square
(1) 3 1/2 by 3 1/2 inch quilted fabric square
scissors
tape measure
serger machine with your choice of color thread
sewing machine with a straight stitch used
3 safety pins
Instructions:
This project works best and is the fastest with better results if you use your serger to seam and bind all edges.
Cut one quilted fabric square, size 8 by 8 inches, and one quilted fabric square, size 3 1/2 by 3 1/2 inches.
Thread your serger with your color choice of thread (white works well for lighter color fabrics and black works best for darker color fabrics), here I used white thread in my Singer serger.
Take your large quilted fabric square, size 8 x 8 inches and, at this time, only serge the top of the square across.
Then take your smaller square and decide what lower side you will be wanting your pocket on, on top of the larger square. In this case I used the left side of my larger square to place my pocket on. Now that you have decided which side it will go on, take your small square and serge just the sides of it that will be to the outside of your larger square. You will leave one side unserged at this point (the side that is against your outside edge of your big square).
Now with the smaller square pinned in place to the larger one, take it to your sewing machine and use a straight stitch just around the smaller square, attaching it to the larger square and sewing only on the side and bottom of the small square (the top is left open to place your cell phone, money or Chapstick, etc. inside).
After doing the straight stitch on the small pocket in places as just indicated then fold your large square in half with the wrong sides together (just like folding over one piece of bread to make a half sandwich). At this point, take your item while folded to your serger machine and serge down the side of the large square and around the bottom as well. After doing so, you will now have attached both sides of the squares together and your case is now completed.
You now have a soft padded case to house your sunglasses or eyeglasses in and the outside pocket can house your smaller cell phone or money, keys, Chapstick, lipstick, etc. This size pocket works best I have found for all the items just mentioned.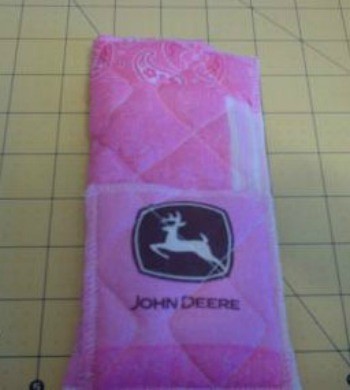 By using a serger, this project is faster than having to turn seams inside to each other, etc. And I think the look is more professional. Any type print works well. Here I wanted the John Deere logo to show so I cut my quilted fabric squares out to reveal the logo on the pocket as well.
You can buy quilted fabric and make this lovely useful item. Or you can use those old placemats you no longer use. Or if you sew a lot as I do, you can make your own quilting squares by using two types of cotton fabrics and sandwich a layer of quilt batting inside both then just run those squares across your sewing machine in a random pattern the same way the quilted fabrics come pre made, which is a simple diamond pattern across the fabric.
These are fast to make and others will enjoy them as gifts. With so many pretty fabric choices available today, you can really get creative and match your other items well. My pictures will take your through each step of this fast project for great rewarding results. Enjoy!
By Julie from Greeneville, TN