Homemade Doggie Popsicles
Many of us have pets. Here is a way to make and preserve yummy treats for them and have them handy when you need them for that extra special trick they do. Buy a cheap roasting chicken and cook it in the crock pot. It cooks off the bone and falls apart.
Let it cool and take the good meat off and save for your favorite casserole dish, soup, chicken dumplings, etc. Hand remove all the bones. Take the extra meat left over (not really good for human consumption) and hand pick through it again to be sure the bones are gone. Divide it and put into ice cube trays. Add some of the chicken broth from the cooker. There will be quite a lot of broth. Pour into the trays compartments to add flavor. Freeze. The next day, pop them out and store in a zip lock freezer bag in the freezer until Rover does a fantastic trick that he deserves a reward for.
By Donna from Millbury
Add your voice! Click below to comment. ThriftyFun is powered by your wisdom!
March 4, 2008
0

found this helpful
I only have one concern about this treat - dogs should NOT be given ice or anything popsicle like in nature. I read an article online once about a man whose dog exploded from the inside from the cold of chewing ice. It was either his pancreas or his spleen - I don't remember which but as a rescue mom we NEVER give our animals cold or ice chips or anything like that anymore after reading that! Lynne
By guest (Guest Post)
March 5, 2008
0

found this helpful
Lynne
I am sorry - but I googled and searched for any reference to this supposed "doggy explosion" and could not find any truth to this. On the contrary I found many references to giving dogs ice and cold treats to help when it is really hot. My advice - don't believe things you read only ONCE on the internet with no verification from reliable sources -especially when they sound so unbelievable as an exploding dog.
March 7, 2008
0

found this helpful
I feed my dog frozen banana slices on occasion as a treat. He loves them. We hear all sorts of things about what is bad for our pets. Sometimes you'll even get conflicting advice from the vets.
March 7, 2008
0

found this helpful
I also like to give my Basset Hound frozen treats. I was buying "Frosty Paws" (a version of ice cream for dogs) at the grocery store. But at almost $4 for a box of 4 and giving him 1 every day since he is obviously a "little" spoiled, I just couldn't afford it. I happened to mention this while at the vet. A technician told me her dogs love them too. An alternative is to use plain yogurt and just freeze it. Add some peanut butter for flavor if you like. I reuse the snack cups from jello or fruit packs. I can get 7-8 of those little cups from 1 large container of store brand yogurt that's $1.79. Dog doesn't know the difference! He's almost 14 years old and I want to spoil him any way I can and the yogurt is a safe, healthy way to do it that doesn't affect his weight.
June 8, 2011
0

found this helpful
Sorry Lynne, but that's right up there with the famous urban legend about 'Pop Rocks' and Mikey from the 'Life' commercials! I've been putting ice in my Border Collie's drinking water for 11+ years and they chomp all of it up twice a day and never so much as a belly ache or irregularity, they are in perfect health.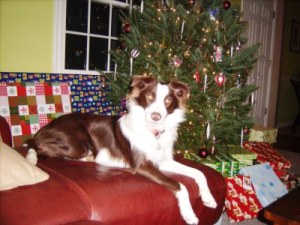 Add your voice! Click below to comment. ThriftyFun is powered by your wisdom!
Related Content
In This Guide
Categories
Guides
More
Categories