By Lisa from Lena, WI (Guest Post)
March 28, 2007
0

found this helpful
I use vinegar and water. About 1:4 ratio. It also helps to freshen the air.
I refilled the Clorox Ready-mop bottle with this solution and it works great. I use old towels cut to fit instead of the pads also. They get washed with the laundry. I love the convenience of the mop but can't stand the waste.
April 13, 2007
0

found this helpful
I also use old towels cut to size for my swiffer. I spray them with a half and half solution of windex and water. I have laminated floor in all my rooms, and this works wonderful. Just throw the old towel in the laundry and reuse. Marjorie from Michigan
October 3, 2016
0

found this helpful
Great idea, works better than Swiffter pads because you don't have to change the cloth. Cheaper too.
Thanks
By Sandy (Guest Post)
July 7, 2007
1

found this helpful
I recently moved into a home with inexpensive laminate flooring that is spotted and not in good shape....is there a dressing I can use to shine it back up? We cannot replace it right now as it is in the entire home except for 1 bedroom!
July 7, 2007
0

found this helpful
I don't have a recipe for Cleaning Liquid, but I DO have a pattern for knitting a reusable Swifter cover. It's made to be tossed in the washing machine. It works great because it's made with cotton yarn, that gets softer & more absorbent each time you wash it. This cover works much better than the non-disposable ones. You can bleach it to disinfect it if you like. Why not make 2 so you can have an extra one....
---> This pattern is done with one of those "KNITting Rings"
kansasa.blogspot.com/.../swiffer-cover.html
*above pattern has lots of pictures too.
Here's a cover made with regular KNITting needles:
toomanyhooks.mycrochetblog.com/?page_id=175
Here's a different KNITted version:
www.sheepofadifferentcolor.com/swiffercoverknitted.htm
Here's an easy to read CROCHET Version:
www.sheepofadifferentcolor.com/swiffercover.htm
*** This makes a great housewarming gift!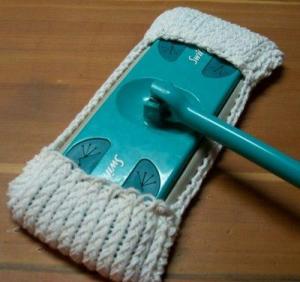 April 11, 2009
0

found this helpful
If your laminate floor is old, you may not be able to revive its shine with cleaning. If you have tried to remove cleaning product residue and your floor is still dull it may have had its surface worn away. A mop on floor shiner can add some shine back on to your laminate flooring.
You may need to apply a couple of coats of floor polish such as Future or Holloway House Floor Shine and be sure to apply it evenly. A periodic application of one of these products will keep you laminate floors shiny. Good luck.
June 22, 2016
0

found this helpful
There is a product called rejuvenate for restoring the shine to a laminate floor. It is applied like a floor wax. You can find it at home depot