May 21, 2009
0

found this helpful
When we brought home our last dog at 6 weeks she cried at night when we put her in her kennel. I bought a sound machine with a heartbeat and placed it outside her kennel so she could not reach it. I found mine at Walmart but you might be able to find one at a Dollar General or Freds. I turned the volume up a bit to try to duplicate her mother's heartbeat. She adjusted rather quickly and she started sleeping (and so did we). After a few weeks I started lowering the volume a little each week to wean her off the sound and she continued sleeping peacefully. Hope this helps. Post a picture of your little fur ball as I always enjoy seeing all the pets.

May 21, 2009
0

found this helpful
I've never actually had a dog but i have a theory,my theory is that if its a small dog and cudly pick it up and sing a song like hush little baby or puppy,remember to cudle and calm it down,or if its not cudly but small lay it down on the ground and sing,and its a big dog then lay down and sing a la la by while petting it slowly.Hope this works.Good Luck.

May 22, 2009
0

found this helpful
Probably the very fact that the pup is a rescue one is exactly why it barks - it is lonely. I hope some of the above tips help you!

May 22, 2009
0

found this helpful
Try putting a blanket over her kennel. Most dogs are "den dogs' and they feel safer if there is something over their head.

May 22, 2009
0

found this helpful
You could also try giving her something to do in there. We have one of those balls you stuff with good stuff to eat. We fell it with his favorite treat (liver treats) and while we are gone he is so busy trying to get that out he doesnt really miss us.

May 22, 2009
0

found this helpful
Hi, Thanks very much for your feedback, it's really great to have help and support from nice people out there. I will be using many if not all of your suggestions :0) I've also found an amazing method for the barking during the day problem. I read in a book that if you use your head to push the puppy's neck down then this tells the puppy she is doing something wrong, I can't begin to tell you how good this has worked but what I can say is were now having alot more peace and quiet time :0) Thanks once again and I hop you like the pic :0) James (One happy dog owner)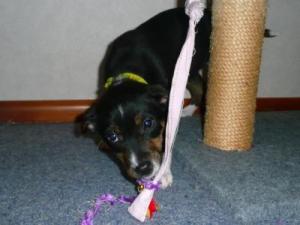 May 22, 2009
0

found this helpful
It also helps to put a shirt or something that has your scent on it in the dogs bed. Makes them feel more secure. Hope it helps. Suzziebee02

May 26, 2009
0

found this helpful
Try a wind up clock that ticks, or a radio with soothing music along with a blanket. Make sure the puppy doesn't chew up the blanket a swallow the fabric. The puppy is just lonesome.

May 26, 2009
0

found this helpful
Its because the puppy wants to be with you and not left alone do you have to leave her in the room by its self.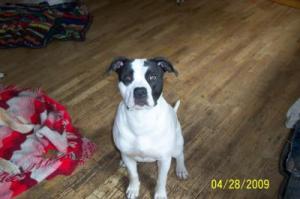 May 27, 2009
0

found this helpful
Unless you are going to be happy having her in your bedroom for ever more, then you musn't give in. Also, you are going to have to leave her on her own sometimes. She is lonely and probably missing the company of other dogs at the centre or even the pups in her litter, if she is very young.
Partially covering her cage and having the radio on very low should help. Also try to keep to the same time every night and she will soon get used to the routine and realise she is not being abandoned altogether. Good luck.

May 27, 2009
0

found this helpful
I work in rescue and often have new dogs at my house. All of those suggestions above may work. It depends on the dog. Toys, covered crates, and clocks are worth a try; however, do not give up and put them in your bedroom unless you want them there forever. Dogs are smart they know what works for them. If barking or whining wins them your bedroom they will always bark and whine. This is what I do. I have a growly "naa" that is better than a no.
It's like talking dog. When they bark in their crates, I walk in and growl a "naa" and leave again. If that does not work I come back and growl again and spray them with a water bottle in the face.It does not hurt them. It just startles them. See barking brings an unpleasant result and they do stop eventually. Just be consistent. Training dogs is just consistency. Just remember they are dogs not people. They don't really think like us.