(Guest)
Gold Post Medal for All Time! 846 Posts
June 10, 2009
0

found this helpful
Because of cabin air pressure and lowered, recycled oxygen you need to avoid 'any' salty foods, including soda pop, and drink plenty of plain water. It's actually a blessing that most airlines no longer offer free pretzels, salted peanuts and pop anymore ;-)
Your feet can also swell from lack of movement/circulation so get up as often as possible and walk the aisles or at least move a lot in your seat and do foot exercises even if it irritates your seat mates ;-)
Oh, and another thing that works for me is as soon as I get to my seat at boarding is taking my shoes off and just have on socks during the flight. It helps greatly :-) Just be sure to be kind and spray those socks with perfume or cologne if you have smelly feet ;-) It might be irritating to seat mates that you move around a lot but body odor is a completely different matter ;-) LOL!

June 10, 2009
0

found this helpful
Thanks Deeli
Always take off my sandals as soon as I get on the plane. Must admit I dont get out of my seat if I can help it. Off to Barbados in July (longest flight ever undertaken) so will obviously have to get out of my seat for that one!!
Will try drinking more water and cut out the fizz, also do the exercises. Luckily dont suffer with smelly feet so thats not a problem. LOL.
One problem I have is that I have a bit of a phobia about plane loos, so dont normally drink too much, but if it means pain free feet and ankles, I'll have to try and overcome that.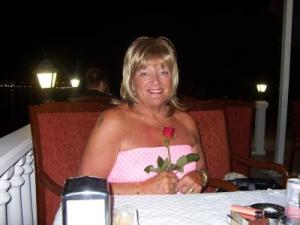 (Guest)
Gold Post Medal for All Time! 846 Posts
June 12, 2009
0

found this helpful
Hi MUVVA :-)
Love your photo !!! You look like a gal who is adventerous and truly has fun ;-)
Ditto on the loo so I make sure to have alcohol based cleaning wipes to use on my hands (may have touched icky germs just having opened the door to go in) and then use on the seat before placing the paper seat cover or TP ... After done and have washed my hands I use the paper towel I dried with to unlock and open the door ;-) I have faith you can overcome the phobia ;-)
Have a grand non-swollen feet trip to Barbados and submit a photo from the trip in the Thrifty Fun Photo Contest to share with us :-) You might even win with a cool pic and description ;-)

June 16, 2009
0

found this helpful
I have a condition called chronic venous insufficiency which causes swelling in my lower legs on a continual basis. I do know that the most helpful thing to do after you allready have the swelling is to lay with your legs propped up so that they are above the level of your heart for at least 1/2 hour every few hours if you can. That will get the blood to circulate and bring down the swelling.

March 8, 2012
0

found this helpful
I agree with all of the above answers, especially the one on cutting out the salty foods and fizzy drinks. I have found the advice works even better if you start reducing or eliminating these items a couple of days ahead of the flight.
And drink, drink, drink plain water. You may have to get up to go to the bathroom more frequently but you need to move around to keep the circulation moving anyway. This at least gives you an excuse. The water also will help keep your face from getting that dry feeling from the recirculated air.
Do foot circles, flexes and stretches, and "stand on tiptoes" in your seat a few times every hour. When you do get up and are (probably) waiting for the lavatory, do some marching steps in place. It looks kind of silly but really gets the blood flowing. The higher you raise your knees, the better. Others will copy you after a while, especially on the long flights.
I have flown on flights as long as 23 hours non-stop and have used these tips many times. As I age, I still get some swelling, but as suggested by someone else, when I get settled in my temporary "home" (hotel, condo, friends' place), I take time to recline, with a large glass of water with lemon, and put my feet up as high above my head as possible. Sometimes, I even use a cool wet cloth across my ankles when I do this. It is refreshing in more ways than I can list.
Enjoy your travels.