By Joe (Guest Post)
April 8, 2004
0

found this helpful
You could try something involving a picture of the band. Not sure what but some short of keepsake that has the a picture of everyone in the band and maybe a list of that year performances. If they still have it in 10 years it will give them something to look back on. I am by no means a centerpiece expert, though. :-)
February 18, 2005
0

found this helpful
Sandra, I too am looking for H.S. Band Banquet ideas for May. If you have any ideas maybe we can get together? I am also not a centerpiece person but could suggest that maybe contact your local florist for some ideas or if you have a Michael's close by that you could pick the brain of the floral department.
Good luck and please respond. CindiMc44
By Heather. (Guest Post)
April 22, 2005
0

found this helpful
I am also in the middle of planning a band banquet.Try decorating coffee cans to look like drums.Fill with mylar basket filler(easter grass).Place balloons inside.If your ambitious,go to micheals,they have wooden instrument cutouts,paint them glue to a wooden skewer and put them in with the balloons.
Good luck
April 27, 2009
0

found this helpful
Here's some pictures of a previous year's centerpieces I made for our Band Banquet. It might not be what you're looking for as far as a gift for the seniors, but it is inexpensive, and maybe it will inspire you. We have to do our decorating on a shoestring budget, too!
My theme was "All Star Band". I used one full centerpiece on each table with a stand-alone eighth note on either side of that, plus stars and blue ribbon construction paper cutouts and confetti scattered along the length of the table.
Here are the particulars:
-Balloons in school colors (ours are red, white, blue) blown up the old fashioned way - helium is expensive!
-Eighth notes cut from black construction paper
-Stars cut from white construction paper
-Really cheap silk flowers
-Star garland and star tissue paper from Party City
-Copied section of a musical score (I copied it so that when the paper is folded in half the score is right side up on both sides. This gives it a little more body to stand upright.)
-Fresh leaves-in this case from a Southern Magnolia.
-Cheap gold floral bowls, floral foam, floral picks, and floral pins (it helps if there is a floral wholesaler near you who also sells to the public)
I hope this helps some of you. Now I need some help for this year's centerpieces. I want to do: Music - A Universal Language. Let me hear your creative (and CHEAP!) thoughts.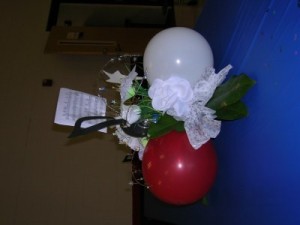 April 6, 2010
0

found this helpful
This is an idea I might be using for reunion centerpieces. I'm using sheet music instead of 'typed' letters.
Summer, maybe this is something you could do for your banquet. Maybe have each table with a different country as a theme and make plain flowers in coordinating colors as well as musical note flowers.
(Like red, green and white for Italy)

These are the instructions I used for the open flowers:
Make a Paper Tulip Flower and Leaves
Step 1
Draw six petals on colored paper, or use the rose petal template linked below. The petals should be wide at the bottom, and fairly narrow at the top.
Step 2
Cut out the petals and arrange them in a circle, with the narrow ends pointing out, overlapping the lower edges of the petals. Glue the petals together where they overlap in the center of the circle, then bend the petals up to form a cup shape.
Step 3
Bend the end of a green pipe cleaner slightly, and glue or tape it to the bottom of the tulip.
Step 4
Draw several tulip leaves on green paper, making each leaf wide at the bottom and pointed at the top, and about as tall as the stem.
Cut out the leaves.
Step 5
Wrap the pointed end of each leaf around a pencil to curl it, then remove the pencil. Glue the wide ends of the leaves to the bottom of the stem.
Read more: How to Make Paper Flowers & Leaves | eHow.com http://www.ehow ml#ixzz0rGQM0sZG
I made the umbrella-type flowers using Martha Stewart's idea for tissue-paper pom poms. However, I used only one sheet of paper.
http://www.mart w-to?backto=true
I used inexpensive store-bought 1/2" craft pom poms for the centers.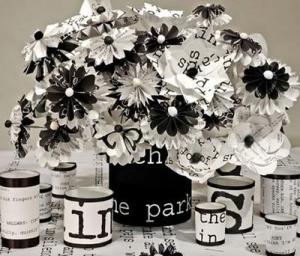 April 23, 2010
0

found this helpful
We always use an autograph picture frame for our seniors. Usually an 11x14 frame with a 5x7 picture of the band student in uniform. All band members write a saying or just sign their names. Children seem to enjoy it.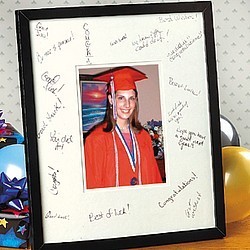 May 16, 2011
0

found this helpful
Styrfoam base, with red plastic /fabric roses, old shako and plume (from Band Storage area) we also pinned on a piece of film strip border from (shidigz.com) and at the banquet, used copies of the marching show sheet music on tables. the stand up item is a "faux" candle holder, made of a sheet of white paper, a transparency, ran through ink jet printer, the ink wouldn't stay so dusted on a layer of embossing powder and heated for a thick shiny finish. At night, with an electric votive under, looked wonderful.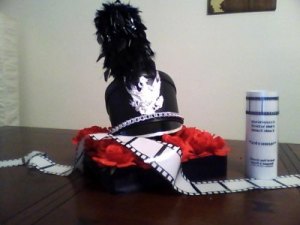 March 9, 2017
0

found this helpful
I made for my last year band banquet vases that I bought at the dollar tree and I put glitter shredded gift bag paper and I bought flower picks and printed pictures from through out the year and put 2 in each vase attached to the flower pick. I also bought from Amazon chalkboard stickers and wrote BUC BAND 2016 on them. the kids loved going around to the tables and seeing the pictures.