We are planning the year end banquet/band concert for our High School Marching Band. I really need a special centerpiece for each table that the seniors can take home with them. Our budget is limited but I can get enough parent support to make the centerpieces ourselves. I can't seem to find that "special" idea. Please help.

Sandra
Answers
By Joe (Guest Post)
April 8, 2004
0

found this helpful
You could try something involving a picture of the band. Not sure what but some short of keepsake that has the a picture of everyone in the band and maybe a list of that year performances. If they still have it in 10 years it will give them something to look back on. I am by no means a centerpiece expert, though. :-)
February 18, 2005
0

found this helpful
Sandra, I too am looking for H.S. Band Banquet ideas for May. If you have any ideas maybe we can get together? I am also not a centerpiece person but could suggest that maybe contact your local florist for some ideas or if you have a Michael's close by that you could pick the brain of the floral department.
Good luck and please respond. CindiMc44
By Heather. (Guest Post)
April 22, 2005
0

found this helpful
I am also in the middle of planning a band banquet.Try decorating coffee cans to look like drums.Fill with mylar basket filler(easter grass).Place balloons inside.If your ambitious,go to micheals,they have wooden instrument cutouts,paint them glue to a wooden skewer and put them in with the balloons.
Good luck
April 27, 2009
0

found this helpful
Here's some pictures of a previous year's centerpieces I made for our Band Banquet. It might not be what you're looking for as far as a gift for the seniors, but it is inexpensive, and maybe it will inspire you. We have to do our decorating on a shoestring budget, too!
My theme was "All Star Band". I used one full centerpiece on each table with a stand-alone eighth note on either side of that, plus stars and blue ribbon construction paper cutouts and confetti scattered along the length of the table.
Here are the particulars:
-Balloons in school colors (ours are red, white, blue) blown up the old fashioned way - helium is expensive!
-Eighth notes cut from black construction paper
-Stars cut from white construction paper
-Really cheap silk flowers
-Star garland and star tissue paper from Party City
-Copied section of a musical score (I copied it so that when the paper is folded in half the score is right side up on both sides. This gives it a little more body to stand upright.)
-Fresh leaves-in this case from a Southern Magnolia.
-Cheap gold floral bowls, floral foam, floral picks, and floral pins (it helps if there is a floral wholesaler near you who also sells to the public)
I hope this helps some of you. Now I need some help for this year's centerpieces. I want to do: Music - A Universal Language. Let me hear your creative (and CHEAP!) thoughts.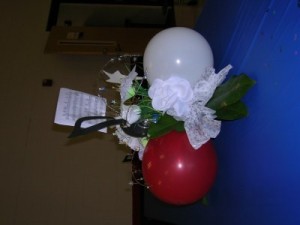 Read More Answers