He sounds like a normal teenager to me. Some kids have certain chores to do before they can get their allowance. If they only do part of their chores, they only get part of their allowance. You can post a list of his daily chores with a place for him to check them off every day after he does them. No check, no allowance for that chore.
Don't expect him to do any chores that are not on the list unless you tell him to do them. Kids are usually zoned in on the things they want to do and not on what needs to be done in the house, and just remember, this is normal behavior for almost all teens.

July 2, 2009
0

found this helpful
I have 2 great kids 13 & 18. I leave a list of what I want done each day, especially during the summer when they are home most days. I leave a post it note each morning on their TV's in their bedroom reminding them to check the chore list on the kitchen table. They know their jobs are to be done before I get home from work each day. They do get an allowance, 7.50 per week each. There is some hope...my 18 year old just returned from her first year away at college, and has become much more self efficient. She cleans up behind herself (without being told) and I don't have to remind her as much to get stuff done as my 13 year old. I think yours is a normal teenager.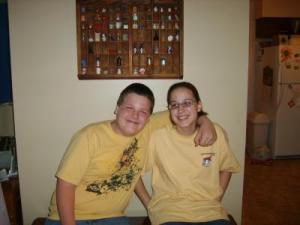 July 2, 2009
0

found this helpful
As you may know kids do what they are told to do! You have to start when they are very young, they also watch what the parents do & copy them. Learn them how to make up their beds as soon as they can pick up a pillow. Teach them to pick up their clothes & put them where you want them.
Do Not wait till they are teens to teach them the above & more. Think about how you were raised by your parents. Don't give up. Take things away from them if they don't do as they should. Kids try to get their way from day one, good luck.

July 5, 2009
0

found this helpful
My sister-in-law didn't put up with anything from her teen. When he didn't take the garbage out as he had been told and told, she dumped it on his bed one day and he finally got it out of the house. didn't miss a day since that!
I tell my grandson that I will toss anything he leaves out or behind in the trash. I then put a "trash can" in the playroom and the next time he comes to the house he finds all his "stuff" in the trash can. I tell him I forgot to empty it, but next time I won't. He gets it all put away now!

July 6, 2009
0

found this helpful
You are somewhat ahead of the game since he does do what's on a list or you told him about. Also, the disrespect seems like normal teen-age attitude toward parents, darn it!
I'm 80 yrs old and can remember my mother's way of trying to get me and my 2 brothers to "do your share" She had a bookkeeper's approach to that problem(I hated it but she disliked nagging). She made a chart for each of us & each week we were supposed to complete the chores on it...some every day and some a few times per week.a column for each of the seven days and the chores listed one per line. (the 28 slots per week type of thing.) She or my father would see whether our chores had been done, and put a check mark for each one that we had done. Each Sat.( or was it Sunday?) we would hear if they were satisfied or not. Some kind of token would be our reward.
I guess we hadn't reached the age of disrespect yet. The reason I hated it was the impersonal quality of a chart,, By the way rather frequently I got no reward due to poor compliance. I'm not sure how I would have reacted to being nagged at then (later my nagging husband got a very negative,sulking reaction from me and I usually tuned him out when he got started... perhaps I was stuck in adolescence??)

christi
Bronze Recipe Medal for All Time! 52 Recipes
July 6, 2009
0

found this helpful
Everyone is telling you its typical teenage behavior and they are correct. I just got mine into boot camp last week, they will be sure to teach him to think ahead, lol. But it is annoying, my son knew his jobs, they didn't change but yet he still wouldnt do them unless told. Like he couldn't see the dishes or the garbage unless they were pointed out to him, lol. He is a smart mouth but as he comes from a family of them cant hardly fault him for it. He just wasn't allowed to take it too far, I don't put up with disrespect, but I didn't disrespect him either.
I believe wholeheartedly you should give to your kids what you want them to give to you. Kids really don't see the next step, let me give you an example, my husband talked to my son on the cell phone, my son wanted my husband to do something at our house, my husband said I cant I am not home right now. He called back a few minutes later and I answered the phone, my son got all upset said dad told me he wasn't home, I laughed and said ok now son think to the next logical step. Never occurred to him ok maybe I am not home either. In their minds the world revolves around them and their problems, their friends, etc. They dont see the big picture like you do. Be patient pick your battles, and pray!

Dena Roberts
Bronze Feedback Medal for All Time! 102 Feedbacks
July 6, 2009
0

found this helpful
Welcome to being the parent of a teen! Hang in there..be patient. They actually grow up to be people! And the more patient you are now, the better the relationship you will have when they are older.
It only lasts a couple of years!

July 7, 2009
0

found this helpful
Well, add me to the list of "you have a normal teen" - I have 2 and they're alot like yours. The college son is a little more self-sufficient, but the 17 y/o could fall over the trash, and not do anything w/ it, but if there's a note to take it out - it's done. Like all the other advice - hang in there!

Louise B.
Silver Feedback Medal for All Time! 337 Feedbacks
July 14, 2009
0

found this helpful
It sounds like typical teen behaviour, and I would recommend Barbara Coloroso's books. I believe she has one on talking to teens, and I know she has one that addresses the issues of teaching kids how to make choices and how to assume responsibility. Google her name for the titles. I would be more worried about the back talk than the reluctance to do the chores.
But remember, there is a big difference between whinny reluctance to do a chore and swearing at you. One just stems from laziness and a desire to shirk a chore; the other stems from total disrespect, which is a big issue to deal with. Get Barbara's books. They are very useful.

August 11, 2009
0

found this helpful
Most kids (many adults, too) do not take the initiative to do things that need to be done. Few children even think about what needs to be done, unless it needs to be done for them! They just aren't experienced enough to do much thinking ahead. So go ahead and leave a list. As long as he accomplishes those tasks, I'd say you're doing well.
As for the disrespect and back talk, well, my opinion is that those transgressions are unacceptable and should be met with immediate, severe and consistent consequences. What those consequences are is your decision, but consistency is key. If you have been consistent and the behavior still occurs, then the consequences are not severe enough. What does he like most? iPod? Computer? Cell phone? Take it away. What does he hate most? Cleaning? Yard work? Writing? Make him do it.