Every year I cringe as I straighten the living room on Christmas morning. With every crumbled wad of wrapping paper my mind tallies the dollars and cents that those rolls cost a few weeks earlier. The idea is impractical - purchasing paper only to throw it away. Recycled paper is a nice eco-friendly alternative, but why buy something I already have? This year, I'm going to personalize my wrapping and save some paper, the kind with Christmas trees and the kind with presidents.
Daily Doses
Every day I receive a pack of wrapping paper delivered to my door. It's my newspaper. This type of wrapping paper not only has a charm to it, but it replenishes itself daily. To make newspaper wrapping look stylish rather than cheap, try to cater it to the receiver, then add a flamboyant bow which coordinates nicely. (Bows can be tied easily in a variety of methods, and they're all recyclable as well.)
Theme your paper choices. A fun lover or child can receive presents wrapped in comics and a card with a coordinating comic character. Sports fans will have their presents wrapped in the sports section with a black and white checkered bow or maybe a small soccer ball tie-on. Look over the sections of the newspaper and match them to the recipients. Raffia bows look vintage with the black and white print, and red gross-grain ribbons add style.
Plain Brown Wrapper
Sometimes less is more. Plain brown paper and a raffia ribbon gives a gift a country feel, and it stands out as well. Cookie cutters or even sprigs of pine can be tied to the ribbon to add interest. Brown paper can be purchased in large rolls in the packaging section of office supply stores or even in craft sections.
A slightly different twist is to purchase white paper rather than brown. This can be found on large rolls as well. The ribbons are the main attractions to these packages, but you can adorn the paper with stamps, stickers, or even drawings that appeal to the recipient.
Go for Glitz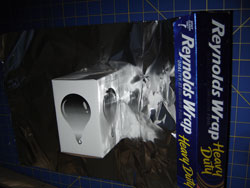 I learned that aluminum foil isn't just for baking. My grandmother taught me this when she wrapped my Christmas presents in the shiny foil one year. It takes work to keep it smooth, but crinkly foil has a unique style to itself. No one said it had to be expensive, heavy foil either. I've found large rolls in dollar stores or discount grocery outlets. For the true Christmas glitz, add gold metallic bows with texture or wide velvet ribbons in red or green. To tone it down, add muted colored or sheer white bows. Tie-ons really pop against this mirrored paper.
Make the Present Its Own Wrapping
This requires planning, but utilize part of the gift as the wrapping. If you're giving towels, use one of the towels to "wrap" the gift. Instead of tape, pins are now used. Gifts that include tablecloths, linen napkins, or table runners can benefit from this treatment. I've used a warm fleece blanket to wrap a bathrobe - two gifts in one.
However you wrap it, remember the golden rule of gift wrapping. It truly is the thought that counts, not the gift or its wrapper.