March 18, 2014
0

found this helpful
Best Answer
I inherited a beautiful leather couch that my grandkids jumped on until the hardwood frame imploded. That's a repair story for another place.
Once repaired I had to deal with a combination of severe paint to wall transfers that occurred both over the years of being backed against the wall and the fact that it had to be rammed through several painted doorways due to its size. (It was built into the house when the main plate glass window was upgraded. It was moved by five twenty something's all with different ideas centered around force.
So..shattered and scuffed and deeply stained, I vowed to fix it for my library. Months passed...then a year. Deep old scuffs, stains and grandchild mucky stickiness throughout. I tried soap and water, olive oil (virgin and otherwise), acetone, naphtha (recommended by the furniture manufacture) and even Gunslick Pro Ultra-Klenz advanced gun cleaner (in desperation) which finally had some small value. But nothing made a dent in the deep large deposits of scuffed on paint or ancient foodstuffs still unidentified.
Finally, as a sometimes painter I turned to denatured alcohol. The no-no of leather works everywhere due to it's drying property. It removed the paint, food (with more work) and discolorations. WARNING! It also emulsified the entire surface of the leather finish down to the dyed through leather! So if you're not ready to re-dye and finish your couch. Call a professional!
As a cabinet maker and leather worker I am quite confident in Tandy Leather Corp. oil based leather dye, Dr. Jackson's Leather Rejuvenator and a few abrasion repairs that should only be done by a leather repair pro. In the end I have a $1800.00 leather couch in new condition for elbow grease, two weeks of labor and $360.00 inside and out materials! (The hound refused to move off for the picture...)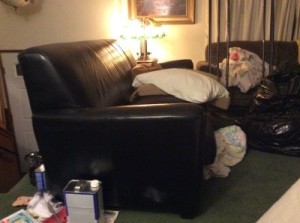 March 18, 2014
1

found this helpful
I had this happen with some antique leather inlay end tables with 24k gold leaf. I acted fast and used a very mild warm water and tiny bit of Dawn dish soap (very lightly damp rag). (After taking pictures for insurance). And the tiny spray speckles, only one day old popped off or melted away into the rag.
It's important to say here that this would have been impossible if the 100+ year old leather inlay and the wood had not been regularly cared for! Leather requires a gentle massage of a high quality leather conditioner every six months. I recommend Dr. Jackson's Hide Rejuvenator, as a leather professional.
Further I recommend every five years. Atom Wax leather finish (which can go right onto the leather that has been conditioned and left to absorb then polished for residue. This protects your sewn seams and your gold leaf or other decoration for many many years of normal use. Your wood should be maintained with a regular semi annual hard bees wax French Polish over your lacquer finish. My 760 year old desk still looks like 'new' with a few hours elbow grease twice per year.