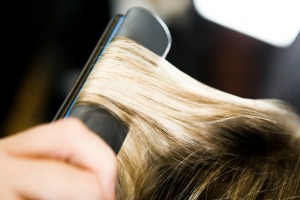 Anybody have any tips on how to clean the hairspray or styling product build-up off of the blades of a flat iron?
By Anne
Answers

September 5, 2011
0

found this helpful
I don't know much about this kind of stuff, but I would just take a wet washcloth and scrub at it.

September 6, 2011
0

found this helpful
Avoid using abrasive solvents when cleaning your ceramic flat iron. However, there are some household items that you can turn to if you run out of your regular professional thermal tool cleanser. Nail-polish remover, ammonia, spray-on oven cleaner and rubbing alcohol can each break down hardened styling product on your flat iron. Saturate a cotton ball with your solvent of choice and use this to wipe away product buildup. When you are finished, use a damp paper towel to wipe down your ceramic tool; this will clean off any remaining solvent, as you don't want to get it on your hair the next time you use your flat iron.

September 6, 2011
0

found this helpful
If you use nail polish remover make sure it's the non acetone kind as this will eat away plastic if there is any on your iron.

September 8, 2011
0

found this helpful
Before I retired as a hairdresser, we always used 4- 0 (4oooo) steel wool pads to clean our curling irons. Be sure to get the four oh as the other numbers can scratch.

(Guest)
Gold Post Medal for All Time! 846 Posts
September 8, 2011
0

found this helpful
I was a hairstylist for 35 years. The best way is to heat the iron on high. Meanwhile, fold a hand size towel and dampen it really well (you want to fold it so there is plenty of fabric to insulate from you getting burned). Once the iron is hot be sure to unplug it and use the towel to wipe down the hot plates (or in the case of a curling iron, the hot barrel).
You may need to do this a couple of times to get all of the residue off but it works the best and causes no damage at all to your iron. Using chemicals on the iron is not a good idea and using something like any grade of steel wool is abrasive and will scratch the plates/barrel and shorten the life of the equipment. You can use the same process on a clothes iron to remove starch buildup.

Paula Jo C.
Bronze Feedback Medal for All Time! 119 Feedbacks
September 8, 2011
0

found this helpful
I was a hair dresser back in the 'big hair days' from the 60's (bee hive days) to the latter 80's. Take baking soda diluted in some water and clean off or up any hair spray residue you have on your irons, floor, mirrors or to take the excess hair spray out of your own hair while or before washing it as normal.
Has worked for me for years. Good luck.

Kathy
Bronze Feedback Medal for All Time! 190 Feedbacks
September 10, 2011
0

found this helpful
I take a straight edge razor blade and gently scrape it off. Did not harm my iron in any way, shape or form. Hope this helps.

November 6, 2011
0

found this helpful
Kakittelson1 said the best way with just two words - rubbing alcohol. I clean my tiled bathroom floors with it to remove the over-spray from my hairspray.
Use a cotton ball soaked with the alcohol, or a saturated wash cloth and you should have no problem, and have a clean iron, too.
Answer

this Question