November 8, 2009
1

found this helpful
Sophie is half dachshund/half Pomeranian mix. Not to worry, they're adorable! (see how cute she is)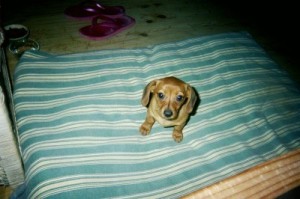 August 19, 2019
0

found this helpful
Hi I've only seen pic of them, they are the mos adorable of all the small mix breeds! I have 2 male Dachshunds heir brothers. Naturally think the world of my babbies!!! My friend has a female pom, I'm going to ask him he would be interested in having some ?
Pomweenies I understand they make great companion dogs. Along with the fact both breeds, can turn us into the pet! With the greatest of ease! Hope this helps. Check out ppm & Dachshund mix on Google good luck
November 10, 2009
1

found this helpful
I live in Michigan and would like to purchase a dameranian. Do you know of any breeders in my area? I've been unsuccessful in finding anyone on the internet.
December 6, 2009
1

found this helpful
They will look great! we have one, and he looks just like the pom, but his sister looks like the dachshund (long haired) there is much in common with both of the breeds and you might just be helping to stop the back problems of the dachshund breed. enjoy the pups!
by the way I never wanted a small breed dog before. I was always in to the ex large breeds, newfie's, mals, huskies, etc. but when my son an d his girlfriend brought this little walking ball of fur to me, my heart just melted!! So now me and Elvis are doing just fine and are joined at the heart!
January 14, 2010
1

found this helpful
My Daisy, her baby picture is down below. She weighs 12 pounds. She is a very sweet girl and very beautiful too :] She was due with puppies in this picture. The pups are npw 1 week today and you would never know she had any, she is skinny and no sagging... lucky Daisy :]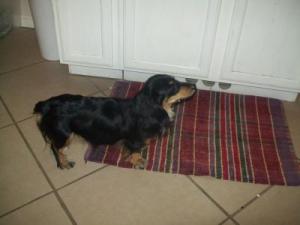 June 30, 2010
0

found this helpful
How did you puppies turn out? We just lost our Dach/Pom mix, She was a wonderful dog. I would like to find another one.
August 11, 2011
0

found this helpful
This is my little PomaDot. She was 7 weeks old here. Right after this picture was taken her ears started to stand up (Like a pom's) I miss her floppy ears but she is still such a cute little puppy!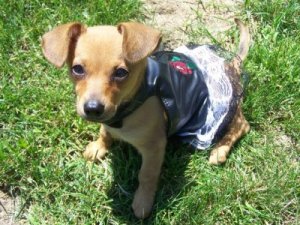 October 9, 2011
1

found this helpful
I have 3 Dach/Pom mix. Mamma the Dachsund, Daddy the Pom. My boy's are all brothers, same parents 1st, 2cd, 3rd litter. Elvis, Harley, Denny. They are about 7 month apart in age, the Baby, Denny, is quit the character. His brothers are gentle and caring with him. They have brought me so much joy and laughter. I have what we call a tail waggin party, and those curly tails, just start going.
Denny, born 1/16/11. I walk 1-3 miles along the Boyou in my subdivison, daily. Denny is just now able to really keep up with us (I carry him, when he gets tired. And he'll let me know when he's ready for "Daddy", to pick him up).
Watching them when we walk (I give em free time, and take the leash off), is so much FUN!! They play, play, play, its just a hoot!!
June 11, 2013
1

found this helpful
This is my baby, Roscoe. He is a Doc pom mix and is going on 3 years old. lovable, loyal, playful, sometimes stubborn, and for some reason has an odd fascination with socks that have been worn, LOL. The best breed of dog I have ever owned. Mine seems to take after the pom side in characteristics, until he gets scared or protective, then the Doc side comes out.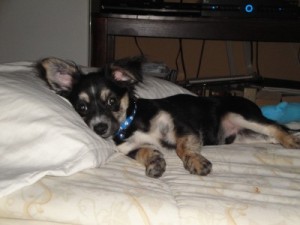 July 3, 2013
1

found this helpful
This is Bailey, she's my 7 year old "Weineranian". I wanted to share a pic since she looks so much different than any of the other pics on here!
She must be a bit of a mutant, but she's my child and I love her. :)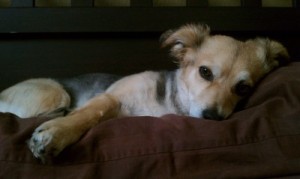 May 19, 2015
1

found this helpful
I own a medium haired Pomeranian dachshund mix. He is my child. I also studied up on what to expect so I know what's true or not about their compalibilty and I will be honest. I would not recommend them living in a house with young children because they do get threatened easily by a over amount of hyperness that a young child or even a young dog would bring into to the mix. I'm not saying they're bad with children but they're bad with too much energy.
They are definitely lap dogs. They love cuddling. They don't need long walks but I give mine long walks anyway, because he loves it lol but not only are they lap dogs but they are yappers.
I have a skate park down the street from me and my dog goes crazy with the yapping when he hears those skaters skateboarding down our street on the way to the skate park. But besides the yapping and being wary around hyper children they tend to be really stubborn. Trust me stubborn does not even cover it but they are a really awesome breed mix and this is coming from someone who grew up with a husky and pitbull and was sworn to larger dog breeds. So enjoy, hope I helped.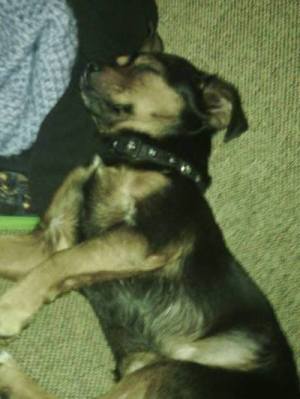 May 22, 2017
0

found this helpful
Have any new litters? Want a dameranian so bad....
July 31, 2020
0

found this helpful
I have a pomeranaia and a dachshund, but she is a girl that is 1 year old, but I am looking for a boy pomeranaia to breed her with. I will try to send you a picture. Of her. Send me your email address.