April 20, 2006
1

found this helpful
I have a Daschund, she is 2 and has had one litter and is going to have a second May 22nd. I bred her with a Pom and was woundering if anyone has any info on how they will look or any pictures. I have tred to find some photos online but haven't had any luck. I don't think it's very popular mix.

Thanks,
Blakeylou2
Answers
November 8, 2009
0

found this helpful
Sophie is half dachshund/half Pomeranian mix. Not to worry, they're adorable! (see how cute she is)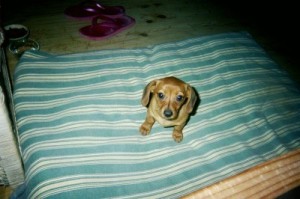 November 10, 2009
0

found this helpful
I live in Michigan and would like to purchase a dameranian. Do you know of any breeders in my area? I've been unsuccessful in finding anyone on the internet.
December 6, 2009
0

found this helpful
They will look great! we have one, and he looks just like the pom, but his sister looks like the dachshund (long haired) there is much in common with both of the breeds and you might just be helping to stop the back problems of the dachshund breed. enjoy the pups! by the way I never wanted a small breed dog before.
I was always in to the ex large breeds, newfie's, mals, huskies, etc. but when my son an d his girlfriend brought this little walking ball of fur to me, my heart just melted!! So now me and Elvis are doing just fine and are joined at the heart!
January 14, 2010
0

found this helpful
My Daisy, her baby picture is down below. She weighs 12 pounds. She is a very sweet girl and very beautiful too :] She was due with puppies in this picture. The pups are npw 1 week today and you would never know she had any, she is skinny and no sagging... lucky Daisy :]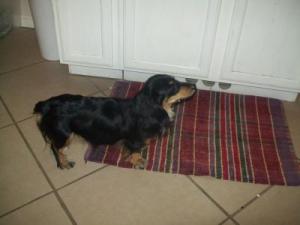 June 30, 2010
0

found this helpful
How did you puppies turn out? We just lost our Dach/Pom mix, She was a wonderful dog. I would like to find another one.
August 11, 2011
0

found this helpful
This is my little PomaDot. She was 7 weeks old here. Right after this picture was taken her ears started to stand up (Like a pom's) I miss her floppy ears but she is still such a cute little puppy!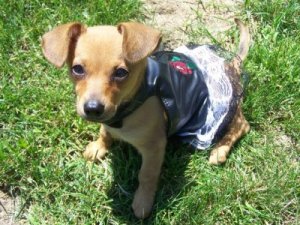 October 9, 2011
0

found this helpful
I have 3 Dach/Pom mix. Mamma the Dachsund, Daddy the Pom. My boy's are all brothers, same parents 1st, 2cd, 3rd litter. Elvis, Harley, Denny. They are about 7 month apart in age, the Baby, Denny, is quit the character. His brothers are gentle and caring with him. They have brought me so much joy and laughter. I have what we call a tail waggin party, and those curly tails, just start going.
Denny, born 1/16/11. I walk 1-3 miles along the Boyou in my subdivison, daily. Denny is just now able to really keep up with us (I carry him, when he gets tired. And he'll let me know when he's ready for "Daddy", to pick him up).
Watching them when we walk (I give em free time, and take the leash off), is so much FUN!! They play, play, play, its just a hoot!!
June 11, 2013
0

found this helpful
This is my baby, Roscoe. He is a Doc pom mix and is going on 3 years old. lovable, loyal, playful, sometimes stubborn, and for some reason has an odd fascination with socks that have been worn, LOL. The best breed of dog I have ever owned. Mine seems to take after the pom side in characteristics, until he gets scared or protective, then the Doc side comes out.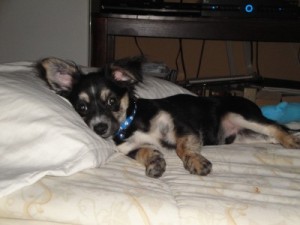 July 3, 2013
0

found this helpful
This is Bailey, she's my 7 year old "Weineranian". I wanted to share a pic since she looks so much different than any of the other pics on here! She must be a bit of a mutant, but she's my child and I love her. :)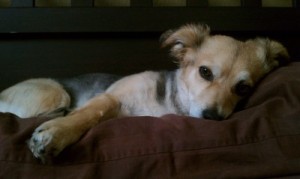 May 19, 2015
0

found this helpful
I own a medium haired Pomeranian dachshund mix. He is my child. I also studied up on what to expect so I know what's true or not about their compalibilty and I will be honest. I would not recommend them living in a house with young children because they do get threatened easily by a over amount of hyperness that a young child or even a young dog would bring into to the mix. I'm not saying they're bad with children but they're bad with too much energy.
They are definitely lap dogs. They love cuddling. They don't need long walks but I give mine long walks anyway, because he loves it lol but not only are they lap dogs but they are yappers. I have a skate park down the street from me and my dog goes crazy with the yapping when he hears those skaters skateboarding down our street on the way to the skate park. But besides the yapping and being wary around hyper children they tend to be really stubborn. Trust me stubborn does not even cover it but they are a really awesome breed mix and this is coming from someone who grew up with a husky and pitbull and was sworn to larger dog breeds. So enjoy, hope I helped.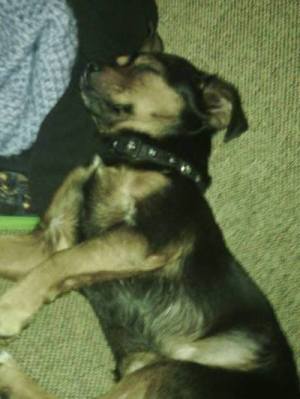 May 22, 2017
0

found this helpful
Have any new litters? Want a dameranian so bad....
Answer

this Question

...
October 1, 2009
0

found this helpful
I have a Daschund, she is 2 and has had one litter and is going to have a second May 22nd. I bred her with a Pom and was wondering if anyone has any info on how they will look or any pictures. I have tried to find some photos online, but haven't had any luck. I don't think it's very popular mix.
Thanks.
Blakeylou2
Feedback:
RE: Dachshund/Pomeranian Mix Photos
My dog is a dachshund pomeranian mix, here's a photo she has a good temperament. She is very cuddly and loves the tennis ball. (04/23/2006)
By Katie
RE: Dachshund/Pomeranian Mix Photos
Our pup has been home with us for just 3 days. Her mom is a dapple mini dachshund and her dad, a red pomeranian. I have added a few pictures at your request. Enjoy.
Laurie (09/21/2006)
By Lola puppy
RE: Dachshund/Pomeranian Mix Photos
This is Oscar, he is a 5 year old Dachshund/Pomeranian Mix from East Texas. He loves to chase the cat around the house and play with the other dogs. (07/29/2007)
By Grant and Carly F.
RE: Dachshund/Pomeranian Mix Photos
I have a 6 month old Dachshund/Pomeranian mix. When I first got him, he was less than 3 lbs. at 8 weeks and had floppy ears. At 4 months old, he was 8 lbs. and his ears stick straight up. It's crazy. He is more like a dachshund lookswise, but acts just like a Pom. The picture below is of my dog Armani at 6 months old with his favorite bone in his mouth. (09/30/2007)
By LaToya
RE: Dachshund/Pomeranian Mix Photos
This is RD he is a Doxie Pom I can't even begin to tell you how great he is. (02/10/2008)
By Doreen
RE: Dachshund/Pomeranian Mix Photos
This is my dach-pom, Cocoa, when he was 10 weeks old. He was a birthday present from my parents. He is even cuter now. My parents said they had another that looked more like a pomeranian. Cocoa looks more like a dachshund, but he does not have the long nose or the long body. He is very playful and energetic. He was a year old in September. (02/10/2008)
By Sandy
RE: Dachshund/Pomeranian Mix Photos
Here is my dog Sami, when she was 3 1/2 months old. She's a "Doxeranian". Half Dox, half Pom. But she really looks all Doxie. Her snout is not as long and her legs are longer than a full bred Doxie. (02/13/2008)
By Wendy
RE: Dachshund/Pomeranian Mix Photos
I have a Pomeranian/dachshund mix named Jake. He is 2 years old and totally adorable. We bought him from a pet store and they gave us the breeders number and she told us that he was a mix of the two. Really sweet, protective and loves to be held. (03/09/2008)
By Keli
RE: Dachshund/Pomeranian Mix Photos
This is my sisters little guy. I have 5 dogs myself, but would trade them all for him. He is the cutest and best temperament dog. His mom was a miniature dachshund and dad a creamsicle pomeranian. Hope you pups are as cute as this guy. (03/14/2008)
By Lisa
RE: Dachshund/Pomeranian Mix Photos
This is Zuko. He is a 2 year old pomeranian/dachshund cross. From reading previous messages, it seems this particular cross breed really has great temperaments. My dog is well mannered, he listens well, is very gentle and is great with kids. He has never ever bitten. Not even by accident. He licks to death, but thats it. I will definitely find a doxeranian again if i decide on another dog. (03/28/2008)
By Melody S.
RE: Dachshund/Pomeranian Mix Photos
This is my pom/dach she is 2 yrs old her name is Mocha. (05/15/2008)
By Jennifer
RE: Dachshund/Pomeranian Mix Photos
Katie was born August 2 3007. She is such a good dog, but a little funny looking. She acts like she's a big dog. She plays with huskie puppies, and thinks she's the leader. Now her hair is really long and she still can't jump on the couch. She weighs 5 pounds. (05/21/2008)
By Donna M.
RE: Dachshund/Pomeranian Mix Photos
I have a pure bred Pom and a pure bred Dachshund (wiener dog). My pom delivered 5 Pomer- wienians on May 20, 2008. They are so so cute. Who would have known? (not us) We have successfully placed 4 in good homes, and we plan to keep the smallest of the litter. (07/01/2008)
By Kayla
RE: Dachshund/Pomeranian Mix Photos
This is Pixie, the half Pomeranian half Miniature Dachshund mix. She is about 12 years old in human years. She loves sleeping on blankets and pillows. She also loves sitting with people. She barks a lot, but we still love her and she always knows when it's time to eat. She has arthritis in her back legs so she isn't the best at getting up and down the stairs. So that's my Pixie. Hope you like her. (08/14/2008)
By Evonalise
RE: Dachshund/Pomeranian Mix Photos
I adopted a pom/dachshund mix from a rescue center. I have two kids: a three year old and a four year old. They absolutely love Quizmo. They pick him up, get in his face, run with him, chase him. You name it. Quizmo has a fantastic temperament. He never snips or growls at the kids and he puts up with just about everything they can dream up. I'm usually quipping at the kids to leave him alone for a while, but Quizmo always comes back for more. He has the softest coat imaginable. (08/20/2008)
By Melissa
RE: Dachshund/Pomeranian Mix Photos
This is Dobby, our little doxie-pom. She is sweet, feisty and a lot of fun. (10/04/2008)
By Sammi
RE: Dachshund/Pomeranian Mix Photos
This is my little Dameranian, Cheeto he is the one in the middle. This is a family photo with his parents. The dad is the pom. He is 14 weeks old in this picture. I will be picking him up today. I'm so excited. I'm sure he will make a great and dog. (10/10/2008)
By Jessica
RE: Dachshund/Pomeranian Mix Photos
We bought our dachshund/Pomeranian at a Bird Show. The lady had two puppies and one was asleep the other wide awake. Guess which one we chose. Her name is Kimber and she is all play. She always has to have some kind of toy with her at bedtime and if you start playing fetch with her it's a never ending game. She is a very smart dog and learns extremely quick. Her mom was a dachshund and dad was a Pom. She has the energy of a Pom, but looks like a tall dachshund. (10/31/2008)
By Kristen
RE: Dachshund/Pomeranian Mix Photos
Here are pictures of my Dachshund/Pomeranian mix pups from the day they were born, until 6 months old. They are adorable. Very big surprise, but very loved. Here is a picture of the whole family. The mom is the doxie, the dad is full pom, then the kids. The girl is short hair and white and copper, the boy got the long hair and those ears. (11/15/2008)
By Betsy
RE: Dachshund/Pomeranian Mix Photos
Wang Wang has the pomeranian "self-destructive" attitude (he goes after pit-bulls) and the dachshund stubbornness. He is bad on a leash, bossy, and of course he gets away with all of it. (11/18/2008)
By JC
RE: Dachshund/Pomeranian Mix Photos
This is our year old Pom./Dach. mix. We brought him home from outside the gym he had been kicked out of his home and we were lucky enough to bring him to ours. His name is Paco, but he goes by "Master P" now of days. He is extremely bossy and possessive when there is something he wants. He can be very playful as well and is very kid friendly. (12/16/2008)
By Suzanne
RE: Dachshund/Pomeranian Mix Photos
I have a half mini dachshund half pom mix named Toby and I love this dog more than anything. He will be nine years old on April 1 2009, and still looks like a puppy. He is very energetic and loves his family. Hes not too excited about meeting new people and barks at almost anything that moves. But we still love him. I would love to have another one just like him when I get my own place in a few years. (12/27/2008)
By Katie
RE: Dachshund/Pomeranian Mix Photos
This is my weineranian. Her name is Miley. She is a little more than a year old. My dachshund had two litters with a pomeranian. I have kept in touch with everyone who has taken the puppies. Everyone loves them and want more. (12/29/2008)
By Becka
RE: Dachshund/Pomeranian Mix Photos
This is Coco. He is 2 years old now, but this is him when he was just 2 months old. He's a pomeranian dachshund mix. I got him from the animal shelter. (12/30/2008)
By Amanda
RE: Dachshund/Pomeranian Mix Photos
We love our four year old, 8 lb, doxie-pom. She's 3/4 Pomeranian and 1/4 Dachshund. She has the cutest whiskers and is a very loving dog. (02/01/2009)
By StefanInWA
RE: Dachshund/Pomeranian Mix Photos
This is Ryder. He is almost 1 year. He is very smart-but very stubborn. He likes things his way and will tell you when he doesn't want to do something. He is so playful. He loves other dogs, but doesn't like meeting new people. Once he gets to know you on his own terms, he is fine. He is very frightened of children, especially ones that are loud and excited. His mom was a Doxie and dad a black and white Pom. He loves to sleep under the covers. I had a really easy time teaching him tricks, but he had a slow time potty training because of his willfulness. I still have to watch him like a hawk because he is bound to get into some kind of trouble. Does anyone else notice that their Doxie/Pom likes to talk a lot and kind of sounds like a monkey? (02/11/2009)
By Ryder's mom
RE: Dachshund/Pomeranian Mix Photos
We just bought our beautiful pup today, and look at her. Settling in. Her daddy is a long haired Dach and her mommy is a red pom. She's adorable isn't she? She has the stubby legs and chunky body of the dach, but she's so fuzzy and furry with the short little pom nose. I can't imagine a cuter pup. (02/11/2009)
By Dayna Jean
RE: Dachshund/Pomeranian Mix Photos
Here is a picture of our dog Mia she is wonderful and we love her so much, we got her when she was 6 weeks old and now she is 4 months. Hope this can help you out. (02/16/2009)
By LaTricia S.
RE: Dachshund/Pomeranian Mix Photos
We have a very cute dameranian,and his name is Kiko. He has a severe temper though, loving you sincerely, and the next minute, biting playfully and barking at the slightest provocation. But we love him so dearly. (02/19/2009)
By draminnie
RE: Dachshund/Pomeranian Mix Photos
This is Hank. He's now 7 and I met him 4 years ago courtesy of a wonderful animal rescue shelter. I would have loved to have seen him as a puppy. He likes to chase squirrels and cats, go for long walks, dance for treats, and nap in his bed. You can see Hank in Beethoven's latest film, "Beethoven's Big Break" available on DVD. He is a wonderful friend. (02/23/2009)
By Lisa
RE: Dachshund/Pomeranian Mix Photos
This is my dachshund/pomeranian mix pup "Boozer" he just turned 3 in December. He is a handful, but lovable as can be. He is full of energy and loves people. (02/25/2009)
By Brenda
RE: Dachshund/Pomeranian Mix Photos
We got our "Hey you" from the pound 3 years ago, he is our very first pomi-weanie. He tries to rule the roost, but with 2 other dogs and 3 cats in the house he usually ends up on the short in of the stick (matching his legs). He is loved most by my husband, Hey you loves to run our farm daily with his buddy Issac a standard poodle. They have the big job of keeping all the varmints off the farm. Without all the running he does I would hate to see what he would weight (cause he is already 14 lbs), but keeps up with his long legged poodle buddy.
It is fun to watch them run the fields together they are so different. This little guy will always come back for more thinking he is the biggest and baddest of all dogs ever created. Yet he watches over our g'baby every time she visits like he is the best gentlest nanny ever. This dog is a delight to all who meets him, and I have to tell people daily "no you can't have our Hey you". (03/09/2009)
By Lori
RE: Dachshund/Pomeranian Mix Photos
This is our precious baby, "Ginger". I got her for the kids for Christmas of 2007. She was the color of Ginger Bread when she was a baby, hence Ginger. She is the greatest dog, her mom was dachshund and her dad was pomeranian. She is truly a beautiful mix. Her tail feathers out and curls over her back when she is not wagging it. Just beautiful. Picture taken last week. (03/21/2009)
By Kelly
RE: Dachshund/Pomeranian Mix Photos
This Is Heisman. He is a 17 month old pomeranian dachshund mix. He is funny, loves to "talk", chase squirrels and have his family home with him. Oh and he is the brother to Ginger. Lovely pups. (03/21/2009)
By Bonnie Green
RE: Dachshund/Pomeranian Mix Photos
This is my new baby Daisy. I just got her a week ago, I'm not sure if her mother was a standard or mini dachshund, but her father was a pomeranian. She is tiny at 10-11 weeks old, weighing 3 1/2 pounds. I absolutely adore her, and I think she fancies me as well. She makes every step I take and wants to sit with me all the time. (04/06/2009)
By Chasity
Dachshund/Pomeranian Mix Photos
This our baby girl, Princess Camelia a.k.a. Camy. She is a Daddy's girl and always gets her way. Her daddy was full pomeranian and mom was full dachshund, she takes traits from both breeds. She can play fetch until your arm feels like it is going to fall off and she can jump really high. (05/08/2009)
By Abby
RE: Dachshund/Pomeranian Mix Photos
We just got our new baby in May. She is now 16 weeks old. Her name is Hayden. Her mom is a standard short hair dachshund (purebred). Her dad is a pomeranian (purebred). She seems to have got many traits from both breeds, but mostly resembles her mommy. Hayden is a very good eater. Sometimes too good where she'll eat random things off the ground when we aren't looking. Her vet said that she would be surprised if Hayden got more than 15lbs. Currently, at 16 weeks, she is 8lbs 13oz.
Hayden is such a joy to have in the house. She is full of life, she cuddles with you when she's tired, she's always there by your side. She has gotten better with being left alone, but still cries a bit when we first leave. She is doing very well with her training. She is fully potty trained now and asks to go outside to do her business. She is learning new tricks very quickly. She loves to give kisses and have her head behind her ears rubbed. I couldn't ask for a better companion. This picture is Hayden at 11 1/2 weeks old. (07/18/2009)
By Kristi