I have a Daschund, she is 2 and has had one litter and is going to have a second May 22nd. I bred her with a Pom and was woundering if anyone has any info on how they will look or any pictures. I have tred to find some photos online but haven't had any luck. I don't think it's very popular mix.

Thanks,
Blakeylou2
Answers
November 8, 2009
1

found this helpful
Sophie is half dachshund/half Pomeranian mix. Not to worry, they're adorable! (see how cute she is)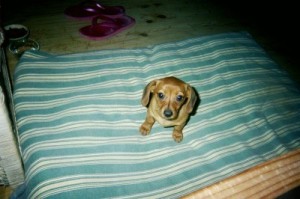 November 10, 2009
1

found this helpful
I live in Michigan and would like to purchase a dameranian. Do you know of any breeders in my area? I've been unsuccessful in finding anyone on the internet.
December 6, 2009
1

found this helpful
They will look great! we have one, and he looks just like the pom, but his sister looks like the dachshund (long haired) there is much in common with both of the breeds and you might just be helping to stop the back problems of the dachshund breed. enjoy the pups!
by the way I never wanted a small breed dog before. I was always in to the ex large breeds, newfie's, mals, huskies, etc. but when my son an d his girlfriend brought this little walking ball of fur to me, my heart just melted!! So now me and Elvis are doing just fine and are joined at the heart!
January 14, 2010
1

found this helpful
My Daisy, her baby picture is down below. She weighs 12 pounds. She is a very sweet girl and very beautiful too :] She was due with puppies in this picture. The pups are npw 1 week today and you would never know she had any, she is skinny and no sagging... lucky Daisy :]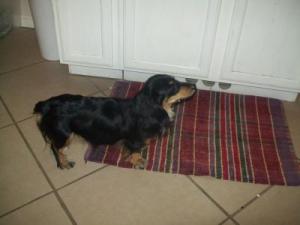 June 30, 2010
0

found this helpful
How did you puppies turn out? We just lost our Dach/Pom mix, She was a wonderful dog. I would like to find another one.
August 11, 2011
0

found this helpful
This is my little PomaDot. She was 7 weeks old here. Right after this picture was taken her ears started to stand up (Like a pom's) I miss her floppy ears but she is still such a cute little puppy!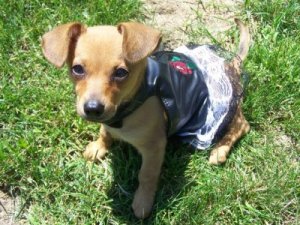 October 9, 2011
1

found this helpful
I have 3 Dach/Pom mix. Mamma the Dachsund, Daddy the Pom. My boy's are all brothers, same parents 1st, 2cd, 3rd litter. Elvis, Harley, Denny. They are about 7 month apart in age, the Baby, Denny, is quit the character. His brothers are gentle and caring with him. They have brought me so much joy and laughter. I have what we call a tail waggin party, and those curly tails, just start going.
Denny, born 1/16/11. I walk 1-3 miles along the Boyou in my subdivison, daily. Denny is just now able to really keep up with us (I carry him, when he gets tired. And he'll let me know when he's ready for "Daddy", to pick him up).
Watching them when we walk (I give em free time, and take the leash off), is so much FUN!! They play, play, play, its just a hoot!!
June 11, 2013
1

found this helpful
This is my baby, Roscoe. He is a Doc pom mix and is going on 3 years old. lovable, loyal, playful, sometimes stubborn, and for some reason has an odd fascination with socks that have been worn, LOL. The best breed of dog I have ever owned. Mine seems to take after the pom side in characteristics, until he gets scared or protective, then the Doc side comes out.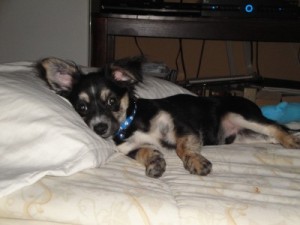 July 3, 2013
1

found this helpful
This is Bailey, she's my 7 year old "Weineranian". I wanted to share a pic since she looks so much different than any of the other pics on here!
She must be a bit of a mutant, but she's my child and I love her. :)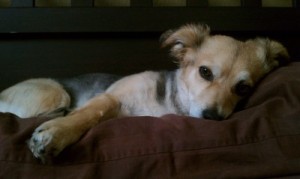 Read More Answers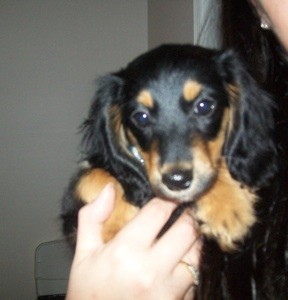 Can anyone estimate how big my puppy will get? She is 10-11 weeks old and weighs 3 1/2 lbs. She is a Dachshund/Pomeranian mix. I'm not sure if its mini Dachshund or standard and that's part of what I'm trying to figure out. Thanks for your help!
By Chasity from Nashville, TN
Answers
April 8, 2009
0

found this helpful
Hi Daisy and Family, You are a cutie! I am from TN also, around Bristol area.
April 9, 2009
0

found this helpful
One good indicator is the paws. The dogs usually grow into them. Or if you know the parents, take a good look.
I am sure you will love your pup no matter what size. Cute picture of a cute dog.
April 13, 2009
0

found this helpful
My vet confirmed that you can estimated a puppy's adult weight by taking their 8 weeks weight and mulitping by 3 or their 12 week weight and multiply by 2. This will give you a very close estimate of their adult weight. My puppy was 6 lbs. at 12 weeks so her adult weight should be about 12 lbs. Hope this helps.
April 27, 2009
0

found this helpful
Thanks everyone!
Read More Answers

Radar is about 12 years old and is 1/2 Pom-1/2 Doxie. We bought him from a family friend For fun, he likes to be the boss! He was hurt 5 years ago from ice falling from the roof of a porch, he lost the use of his hind legs. We didn't want to put him to sleep because of our love for him. My oldest son who lives with me made a cart for him from a old baby buggy frame. He has been on wheels now since February 2004 and still going strong.
By Joan Leber from Central IA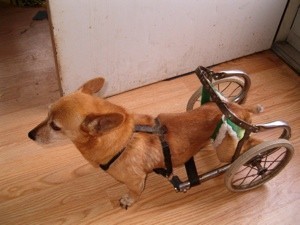 Read More Comments
Angel was 14 years old when she passed away on March 23,2009. She was a longhaired Dachshund and Pomeranian mix. I was nursing in Southern California and became friends with the granddaughter of one of my patients. She owned the parents of the puppies that were to be born and said I needed one! I saw her at 1 day old and brought her home at 6 weeks old. She weighed 19 1/2 ounces!
She was raised with my 20 pound cat named Tyrone. He taught her to use the litter box and she taught him how to play hide and seek and how to love puppies! She worked every day with me in the hospital and visited with young and old, those in bed due to surgery, physical therapy or even I.V. therapy. She had her own folder in the admin. office and nurses, physicians and even inspectors knew her by name and they all loved her. If you are ever blessed with a Angel like mine you will be able to touch the lives of those around you.
By linda willis from North Richland Hills, Tx
Read More Comments