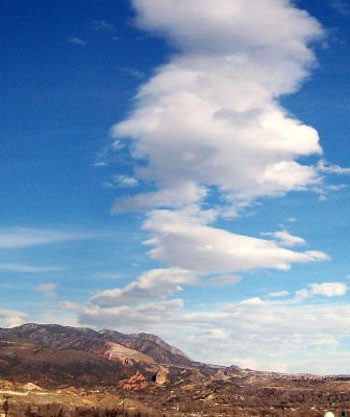 City Over View With Garden of the Gods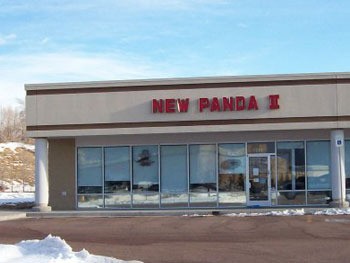 Best Chinese Food in Colorado Springs


Best Burgers in the Springs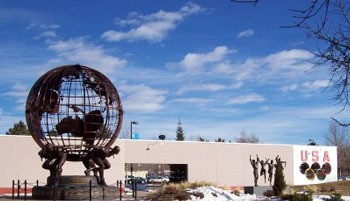 Olympic Training Center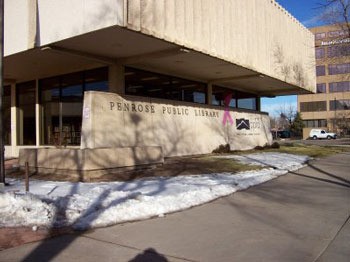 Geneology Library


Van Briggle Art Pottery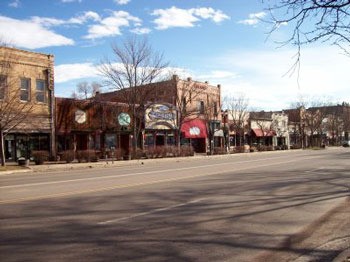 Old Colorado City which is where Territorial Days is held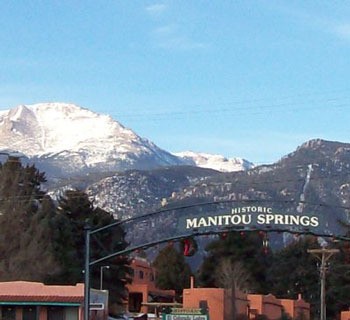 Entrance to Manitou Springs With Pikes Peak in the Background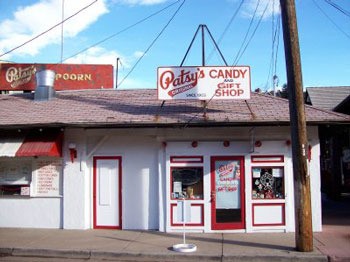 Patsy's Candies Best Snacks in Colorado Springs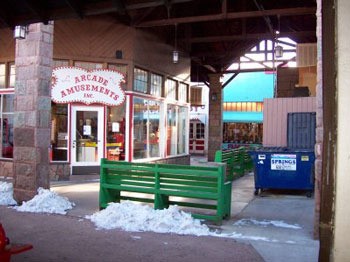 Penny Arcade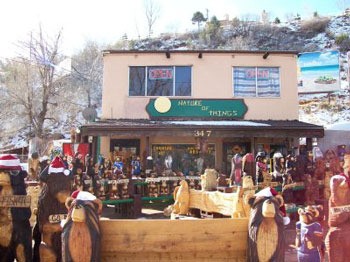 The Nature of Things Wood Carvings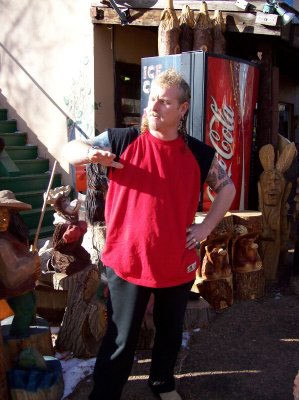 Bill Fee Master Wood Carver


Garden of the Gods Visitor's Center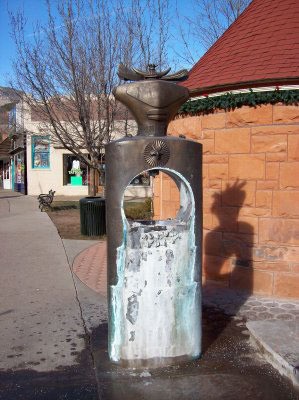 Cheyenne Springs Manitou Springs, Colorado


Helen Hunt Falls and Gift Shop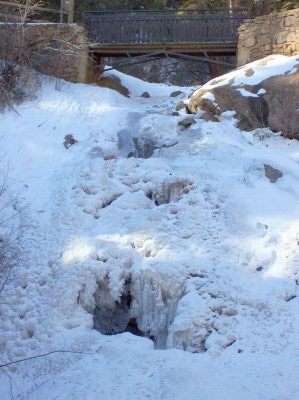 Helen Hunt Falls dressed in white for Christmas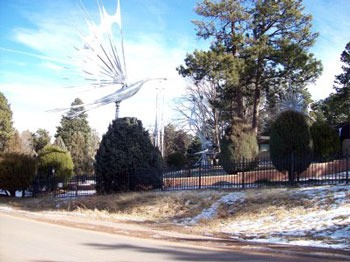 Wind Sculptures at Star Kempf Home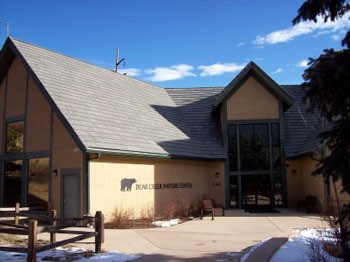 Bear Creek Visitor's CenterTravel Destination:Colorado Springs, Colorado
Country:United States
Free Things to Do:Frugal Travel Guide for the Pikes Peak Region
Welcome to the Great Rocky Mountains and the home of Pikes Peak. Whether you visit in the summer or winter, the Pikes Peak Region has many things to offer year round and is truly one of America's wonderful playgrounds. Spectacular views and the ghost of history will meet you on every corner. Colorado Springs offers many fine Bed and Breakfasts that feature historical buildings with antique furniture and fine breakfasts and other amenities but some do not accept pets or children.
In Colorado Springs, we have many KOA campgrounds and many fine campgrounds to park your RV or very reasonable family run motels and hotels. See the visitor's guide for more selections. First thing I would do is get a copy of a good Colorado Springs map for your visit and remember this, the mountains are always to the west.
You need to remember that this is a frugal travel guide so none of the major attractions here in the Pikes Peak region will be addressed except for one, which I believe is a great value for your money. By writing to the Colorado Springs Convention and Visitors Bureau at this address: Downtown Visitor Information Center, 515 S. Cascade Ave Colorado Springs, CO 80903; you can find out about most of the major attractions with prices. You can also download a free visitors guide at this web address: http://www.experiencecoloradosprings.com/.
There are many things to do in Colorado Springs that have little or no cost involved. Most major attractions here have about a $10.00 to $12.00 price range for admission for adults with the child rates being lower. One of the better buys is a trip up to the top of Pikes Peak which has a family rate of $35.00 for a carful. But be sure you do this with a well maintained car as this trip can be taxing on any vehicle. But the views of the different eco-systems and views of the city below are well worth the money and the memories are priceless. Also, I would recommend the Western Museum of Mining and Industry because mining was a big part of Colorado History. On their website at http://www.wmmi.org, you can pickup a dollar off admission coupon that is good for four adult admissions. Regular admission is $7.00 for adults. I will attempt to give you a travel guide with lesser known or "out of the way" places for you to enjoy, places that not every visitor to the Pikes Peak region is aware of. This is not to say that our attractions are not worthy of note, just that on a practical side, there are many places you can visit and still get the taste of Colorado without spending an arm and a leg. If you plan on driving to our fair state and are bringing an RV or car with camper, you might want to bring along bikes. Many of the places I will be describing are bike friendly and many roads here have bike lanes. Colorado Springs has an extensive urban trail system so if you are interested in biking or hiking, be sure to ask for a map of the trail system. You can also pickup a map at http://www.elpasoco.com/parks.
To start our trip, we will begin in Colorado Springs where from practically every window, you will have great views of Pikes Peak. Pikes Peak is the most visited mountain in the world, with the exception of Mt. Fuji in Japan. Colorado Springs has many historic homes located on Wood Ave near Colorado College. A walking tour of the college can be a welcome respite from the summer heat, contact the college for maps of their walking tours of historical buildings on campus. The Colorado College address: 14 East Cache La Poudre St., Colorado Springs, CO 80903 719-389-6000. Be sure to wave at General Palmer who sits on his horse in the middle of the street at Nevada Ave and Platte. While you're in the neighborhood, stop in at the Farmer's Market right across the street in Acacia Park in early summer to late fall.
Have ancestors that were from Colorado? You just might want to check out the local genealogy library at 20 North Cascade Ave, Colorado Springs, CO 80903. Here you will find many people who will be more than willing to help you research your family tree or refer you to some great books on Colorado history. Spend a day at the library and expand your mind. Across the street and down half a block, you will find Antler's Park which is a great shady place to sit and read or have some lunch. Ask anyone at the library and they will point you in the right direction. This is also a general genealogy library where you can research family histories anywhere in the United States. They have many census records on file and many books to help you find your roots.
There are many great places to eat in Colorado Springs. We have all the fast food franchises that any major city has, but I would like to tell you about a couple of family owned restaurants here that are worth a visit if you want to splurge on your vacation with a dinner out. Henri's Mexican Food Restaurant, in Old Colorado City at 2427, West Colorado Ave, has some of the best Mexican food you will ever put in your mouth, in my opinion. They do not highly spice their food and it has a local reputation as being one of the best restaurants in Colorado Springs. If you love hamburgers, I would suggest Conway's Red Top Restaurants for the best and biggest hamburger you will ever eat. They boast that "One is a Meal." They have a menu with many different types of burgers and homemade soups but all are made with fresh ingredients. There are five locations in Colorado Springs to serve you. New Panda Two has a great Chinese Buffet at lunch that is all you can eat. It is located at 1213 N. Circle Dr., Colorado Springs, Colorado. It's family run and the food is always fresh and the surroundings are wonderful. It is located in the strip mall on Circle Dr. If you love Chinese food, they have the best. Louie's Pizza is another family run restaurant that has pizza and Italian dishes fresh every day. There are also five locations all around Colorado Springs so be sure to have a pie at Louie's while you are here.
When I travel, I want to learn about the place that I am visiting, especially when I had small children. Every vacation we ever took, my children will tell you that Mom always had something educational planned and it stuck with them.
Sightseeing
My first suggestion is to visit The Garden of The Gods. Start at the Free Visitor's center where you can learn how the Garden of the Gods was formed. For a couple of bucks, you can even watch a short film about it. The best time to visit is dawn or dusk when many of the numerous wildlife come out and can be seen and photographed. Be on the lookout for squirrels, chipmunks, many different birds, fox, and coyote. Also, this is a time when there won't be whole lot of other people around so you will be able to take your time and enjoy your surroundings. There is no admission cost to the park and it has many picnic spots available year round. There is ample parking for vehicles on the outskirts of the park; this is a walking tour on paved pathways. As the ground is relatively flat, this is also a handicapped accessible tour for those in wheelchairs or with difficulty in walking. The views of the rocks are spectacular. Rock climbing is allowed in the park by permit only and rock scrambling is not allowed, but on any given day, you may well see many climbers with their ropes climbing the rock faces.
Next on your trip would be a walking tour of Manitou Springs, which is just outside of the Garden of the Gods. Manitou Springs is world renowned for its mineral springs. Manitou Springs was considered a sacred place by many Indian tribes and was a place of healing in the 1800's where people would come to take the waters for healing of tuberculosis. Manitou Springs sits in a small box canyon at the base of the mountains. Walking is the best way to see all the sites. There are many historical homes in Manitou Springs and the feel of the town is very Victorian but the main attraction are the many mineral springs that can be found all around this small mountain town. Feel free to sample the waters, all of the springs have been restored and are safe to drink from, and they are free to sample. Manitou also has a great art community and there are many free Art Galleries to visit. Stop by Nature of Things right on Manitou Blvd. and watch Bill Fee or one of his many visiting carvers turn a log into anything from a bear to a dragon. It is amazing how these carvers can carve with a chainsaw. Bill Fee is a sight to behold as he works his magic with the wood and is considered the best of the best of the chainsaw artists. Visit Soda Springs Park and have a picnic. There are many unique shops to browse and reasonable prices at many of the restaurants if you want to splurge on a meal out. My recommendation is the Patsy Popcorn shop at the Arcade for something cold to drink and for something to snack on. Walk right on back behind the Patsy's and you will find Navajo Springs on the back on the building. Behind Patsy's also are the Penny Arcade and many shops you can browse. To receive a free map of all of Manitou Springs attractions and a free walking map of locations of the springs, please contact: Manitou Springs Chamber of Commerce and Visitors Bureau, 354 Manitou Ave., Manitou Springs, CO 80829, Local (719) 685-5089 or Toll Free (800) 642-2567, email: manitou@pikes-peak.com, http://manitousprings.org/Manitou
Bear Creek Nature Center is located at 245 Bear Creek Rd Colorado Springs, CO 80906 (719) 520-6387. They have wonderful interactive exhibits on Colorado Wildlife, including a huge beehive with live bees. The Nature Center also features a very easy walk called Songbird Trail where can walk on a boardwalk and bask in the shade of cottonwoods and enjoy the many birds that live in the park. This park is child friendly and Handicap Accessible. Also be on the look out for raccoons and foxes that live near by. There is no cost.
Helen Hunt Falls is the next stop on your journey, located in Cheyenne Canyon. This is a beautiful waterfall with a bridge that goes across the top of the first half of the fall where you can take some spectacular pictures. For the hardy hiker, there is also a trail that will take you to the very top of the fall which is a very steep hike. There is a visitor's center there also which has a small gift shop and there are many hiking trails which are free to hike. All along the canyon, you will find many turnouts where you can picnic along the creek. Here if you are an experienced rock climber, you will find many rock faces to rappel down. Following the road on up past Helen Hunt Falls will lead you to Gold Camp road. This road was built on the old railroad line that brought gold from Cripple Creek to Colorado Springs. There are three railroad tunnels that can be driven through or walked through on this road which will lead you to Cripple Creek, if you stay on it for the next 19 miles. Gold Camp Road is an unpaved rutted road but the views are spectacular and there are many opportunities to hike and camp. There is no cost. Right outside of Cheyenne Canyon is also the home of Star Kemp. The beautiful wind sculptures are a must see. Park in the Starsmore Discovery Center parking lot and walk a half a block up Evans Dr. to see the sculptures up close. These beauties actually move in the wind.
Van Briggle Art Pottery has a free tour of their studio for most of the summer. Potter and Sculptor Artus Van Briggle opened his studio located at 600 S. 21 St., Hwy 24 and 21 St. in the late 1800's and is the oldest active art pottery in the US. You will be able to watch the potters make their creations and see the finished products and maybe buy a little history at the end of your tour. For full details of the pottery, go to http://www.vanbriggle.com
In the mood for a little sports, Colorado Springs is the place to be. We are the home of the Olympic Training Center and we also have a minor league baseball team, The Sky Sox. You can catch a game at Sky Sox Stadium located at Powers Blvd and Barnes Rd. For the latest schedule of games, be sure to visit http://www.skysox.com. The Sky Sox have many days of reduced admissions to the games plus days when kids get in free.
The Olympic Training Center also has tours year round for free. They include a tour of where the athletes live and work plus a sculpture garden and the Olympic Flame. For more information about their tours, please be sure to visit http://www.teamusa.org/ and click on the Olympic Training Center in Colorado Springs. The U.S. Olympic Complex is conveniently located in the heart of Colorado Springs at 1750 E. Boulder St.
Calendar Of Events
There are many special events held in Colorado Springs, many which are free. My favorites are the Saint Patrick's Day parade that is held in Old Colorado City. Come watch all the Leprechauns that come out to play on this day in March. Many street vendors with all kinds of food to buy and all kinds of toys for the kiddies that come right to you in the crowds. By a green top hat or shamrock head band. Also there are many booths set up to sell homemade food and crafts, and all the restaurants down Colorado Ave. are selling green beer and corned beef and cabbage on this fine day. Don't forget to wish everyone "Top of the Morn'n" as you enjoy the parade.
Territorial Days is held for a weekend in Old Colorado City in May. Territorial Days is a street fair with live Indian dancers and many booths with homemade crafts and other wares for sale. Try roasted ears of corn or a turkey leg if you get hungry. Watch out for the Sheriff and his posse as they track down the bad guys in live street theatre. Beware of the shady ladies who also roam the crowd but would love to have their pictures taken with you.
In July, we have our big fireworks display in Memorial Park. Lots of fun to be had by all. Bring a picnic and listen to the Symphony while you wait for the sun to go down and fireworks to start. Revel in the 1812 overture which signals the start of the fireworks and be sure to hold on to your heart as the Ft. Carson cannons go off during the overture. There are many other acts that perform on the Fourth with many exhibits brought to the park by Fort Carson and the Air Force.
Another great parade and street fair is the one held for the Pikes Peak Rodeo. They have a pancake breakfast early in the morning and a bed race that is hysterical. Watch the rodeo queen and her court ride some of the prettiest horses you will ever see. Watch the Rodeo clowns play their tricks on the crowd and see all the Rodeo riders who will compete in the Rodeo. Don't forget to wear your boots and cowboy hats.
In September, there is the Colorado Springs Balloon Classic where balloonists from all over the western states come to fly their balloons on Labor Day weekend. This is an early morning event so be sure to get lots of sleep the night before because I guarantee you will be taking pictures for hours. Imagine as the sun rises in the east, hundreds of multicolored balloons rising slowly to greet the dawn. This is a sight you will not soon forget. Bring your folding chairs and blankets as it can be quite chilly, and a picnic breakfast for one of the greatest shows on earth. In addition to the balloon rally, there are many booths set up selling food and balloon memorabilia. Watch sky divers make their way into the park. There are coloring contest for kids and balloon building contests. For more information on this event, please go to http://www.balloonclassic.com.
In December, we have our Festival of Lights parade where the main event is Santa Claus coming down the lane. Many floats and marchers from many organization work hard to make our Christmas Parade something to see.
Hope to see you soon!
Debra Frick from Colorado Springs, Colorado
Map!