Sherri
Bronze Feedback Medal for All Time! 180 Feedbacks
June 16, 2010
0

found this helpful
Best Answer
Hello,
Your first step should be to a veterinarian. Have your fur baby examined and have her teeth checked. She might not be eating because she has dental problems, your veterinarian can recommend any treatment necessary to keep her healthy. He can also prescribe a healthy diet for her. You should also have your veterinarian do a blood panel on her to make sure she does not have any underlying problems. Good luck and thank you for being so kind and taking her in. I have worked for a veterinarian for over 27 years. Sherri, Tucker, Bears & Punnie

Robyn Fed
Silver Post Medal for All Time! 398 Posts
June 16, 2010
0

found this helpful
I would first do a vet visit for checking the following:
Heartworm
Intestinal Worms
Signs on yeast infection on the skin, black spots on legs etc itching
Flea treatment
I would give her a little bit of chicken with every meal, cooked to prevent salmonella.
If she is very malnourished, then feed about 4 or five times a day..it is a pain at first but it is worth it, and they will not eat enough kibble to make up for their malnourishment in my experience.
The supplementing with chicken is because most dog foods dont have true meat in them but only by products. Vets dont usually tell you this bec the high priced brands they sell also have by products listed as the first couple of ingredients which is not good but it is all most people can afford.
I would give it a drop of infant vitamin or two..that is one or two drops not a whole dropperful, per day.
Of course it will need it rabies shot if it hasnt had one and also a kennel cough shot is great if it doesnt already have it.
Kennel cough or bordatella is soo common. MOst vets will let you carry a balance...especially if they are expensive.
(I have a balance I pay ohn for my vets right now.)
GIve it lots of love and kisses. Our Chi just lost its left eye due to a dog fight which was over a piece of rawhide treat.
He is doing well though and will soon have his stitches out. He is a darling!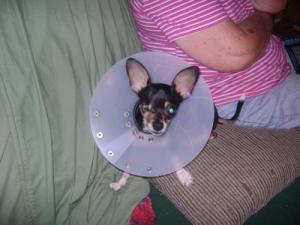 June 17, 2010
0

found this helpful
My son-in-law has rheumatoid arthritis and at one point he lost so much weight that the doctor told him he was going to die if he didn't start gaining his weight back. I suggested he start drinking Ensure as that is what they give people in nursing homes who are under weight. Within a few months he was back to his normal weight and the vitamins and minerals in the ensure were helping him feel better.
There is also a less expensive brand, similar to Ensure, called Boost. You could ask your vet if this is something that could be added to your dogs diet. Good luck!

June 22, 2010
0

found this helpful
1) See what the vet says.
2) Make sure the dog starts eating types of food it likes
3) Make sure you give it heartworm medicine
I have two dogs I received and they both were malnourished and had heartworms.