Description:
A tropical fruit, shaped like a pear, that is served throughout the Caribbean. The fruit has a bright red flesh that surrounds white creamy inner meat containing 3 large black seeds. Akee is the national fruit of Jamaica and is traditionally served with salt fish in countries like Jamaica. It was introduced to Jamaica in the 18th century from Africa.
This fruit is also known as achee and ackee. Use caution when eating this fruit since ackee that is not ripe can be fatal. The safest way is to buy it in canned form. The texture is similar to scrambled egg. Usually this is used in salt fish dishes.
Uses:
Great served with salt cod, salted pork and bacon. Due to it's egglike consistency, it is often served at breakfast. It is also served raw or in stews in Africa. This fruit can be fatal if not prepared correctly.
Preparation:
The toxicity of akee was not fully understood until recently. Now it is known that the toxicity levels are extremely reduced after the fruit had naturally opened on the tree, before harvest. The seeds and membrane still contain high toxicity levels and should be removed. Can be bought at Caribbean specialty stores.
Storage:
Canned variety can be kept as long as expiration on the can states.
Interesting Facts:
Akee was banned for import for 27 years due to its toxicity. Now it can be bought in cans.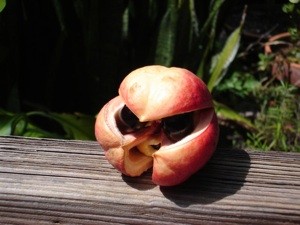 Opened Akee
Recipe:
Here is a link to Akee and Salt Cod, a traditional dish of Jamaica