October 11, 2009
0

found this helpful
I have always used this for my Cole Slaw and everyone loves it. Use equal parts of oil, vinegar and sugar
a pinch of salt. For a bag of precut slaw mix I use 3 T. oil, 3 T. vinegar, 3 T. sugar and a pinch of salt.
October 12, 2009
0

found this helpful
Eastern Europeans brought with them some wonderful recipes.
No fried chicken dinner was complete if there wasn't coleslaw and hot sauce involved!
This is what I grew up on:
Barberton (Ohio) Cole Slaw Recipe
1 small head cabbage, about 1 1/4 lbs.
3/4 cup vinegar
1/2 cup oil
1/3 cup plus 1 tbsp. sugar
salt to taste
Directions
Shred cabbage. You should have about eight cups. Combine vinegar, oil and sugar and whisk until sugar has dissolved. Pour dressing over cabbage and season with salt. Toss well. Cover and refrigerate for at least two hours, stirring occasionally.
Curious about the fried chicken and "hot sauce"/rice recipes?
Visit: www.geocities.com/.../brbtn.html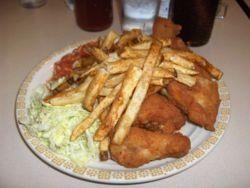 October 12, 2009
0

found this helpful
I've been making cole slaw the way SassyGrannie does for many years; only now I'm using Splenda.
It's delicious and easy to remember!
October 13, 2009
0

found this helpful
I think they closed their stores, but here is some info:
Eagle Food Store Is
15980 Highland Dr
Mc Kenzie, TN 38201
Phone: (731) 352-0816
While surfing the web for an obscure recipe my husband mentioned, one where I had so little info to go on, I found:
mailto:phaedrus AT hungrybrowser.com
He bills himself something like 'detector of lost recipes' - the site is fascinating and brought back so many memories for me since it has recipes from restaurants, hotels, companies that have gone out of business, etc. I'll bet you'll find your recipe on that site! If not good luck; someone on thriftyfun will surely be able to help you.
October 13, 2009
0

found this helpful
Ok, I found out some more info on Eagle's grocery store on wikipedia.com Eventually, the company found that it was unable to compete with other chains, such as Jewel-Osco, Dominick's, Hy-Vee, Wal-Mart and Kroger. The first sign of this was the selling of the Harvest Day bakery plant in Rock Island, Illinois to the Metz Baking Company in 1998. The company went into Chapter 11 bankruptcy in March 2000.
In 2003, Eagle Food Stores ceased operations, and sold off its assets. Some of the stores were acquired by other chains, such as Hy-Vee, Kroger, Albertsons, and Butera. The Downtown Eagle Corporation was founded to take over two stores - one in Clinton, Iowa and the other in Dubuque, Iowa. They purchased the rights to the Eagle Country Market name and signage and operate the two stores under the Eagle Country Market name. One location in Coralville, IA was purchased by GEICO and converted into a call center. So, you might want to email Kroger, Hy-Vee, etc. to see if they acquired Eagle's recipes.
October 13, 2009
0

found this helpful
Thanks to everyone for trying to help me! I really appreciate it. =-) HUGS, Judy