Cricket
Bronze Post Medal for All Time! 205 Posts
December 29, 2011
0

found this helpful
Training a dog using a choke chain is a very controversial idea. Personally, depending on the breed, I see no problem with it - As long as the choke chain is taken OFF immediately after each training session.
They should never ever ever be used as a regular collar or be left on the dog when not training. They are extremely dangerous. You said you have a boxer. The chains work fine for them because they have very strong neck muscles. But the chain must be removed immediately after the training session.
For any small breed dog, smaller than a boxer for example, a choke chain could very easily snap their necks, so they should never be used on them.

Robyn Fed
Silver Post Medal for All Time! 398 Posts
December 29, 2011
0

found this helpful
I remember studying how to do this a long time ago. I went to a number of obedience competitions as a younger person.
I have seen great results with a choke chain, however still, I like the motivation of clicker training, where instead of the chain, you use rewards and a noise this method establishes communication better and you can make the click with your mouth. :)
I don't think a choker chain is so bad if you know the temperament of the dog you have is not to weak and you realize how to put it on. If a choke chain is put on backwards, meaning it will pull and not release, it is a pain to the dog. You have to put it on correctly, so the chain releases the minute you loosen the lead.
Many smaller and more impulsive breeds can have their trachea hurt by a choke chain, they just don't learn without a different approach. I don't use one personally, but there is a place for one. It is really a bad starter collar, it is intimidating and does not build confidence at all.
I like to look at leerburg.com, and they sell a variety of training collars and they give lots of advice on training.
I don't personally like choker chains because I have seen them get embedded in a dogs neck if they get loose and no one finds them in time.
The prong collars are not as bad as they sound if they are used on the proper breed. Some of the larger dogs can benefit by them and they do not choke, they pinch. I dont use the prong collars though. I would sooner use an ecollar than a prong collar but some large dogs who cannot calm down might be able to benefit from them.
After having said all this, I have seen many show dogs do great with training with this method. This is because the owner or the trainer spent lots of time loving and rewarding the dog, not because of the type of collar.
This is a wonderful post and I am so glad you wrote it because it brings up a lot of issues!
Blessings to you,
Robyn

December 29, 2011
0

found this helpful
The Koelher Method of Dog Training by William Koelher. This is out of print but still available used. It's really a great reference book for training and other problems.
I took a dog class with 2 experienced show competition and longtime dog trainers. The dog, Dahlia and I became best, most mutually trusting friends for life from that experience.
It was an 8 week course that included learning stand, sit/stay, down/stay and down/stay from 20 feet on leash. On class day the dog rests for 3 hours before the training time, always crate the dog to class to keep the dog calm, and then follow every word said and recommended by the trainers. It was a 7 day a week job, practicing what we learned in past classes. The toughest job is getting the dog's attention. We would walk then left turn, right turn, about face. If the dog didn't pay attention she got tugged and learned to watch the direction I was going or get jerked. There were lots of "good girl" and warm pats on the shoulder. She also received here canine good citizen certificate. Taking a training class seriously pays off. Having the dog under control is most important, he or she returns on command to prevent getting hit by a car or some other danger.
We used prong collars because they put equal pressure around the whole neck and doesn't choke out the dog. Try one on your own arm to feel comfortable about how they work.
On a side note, in my opinion, a prong collar is the only proper equipment to use in public. I have a few tough dogs and a properly fitted prong collar with the rubber tips on them controls them completely and humanely. They can't slip out of one. If I really want to be careful, I also use a formed plastic muzzle. I use this type of muzzle when I'm clipping the coats of my big dogs to keep from getting bitten and haven't had one forced off with a paw yet. With all the dog laws and lawsuits it's good to share information. (Regular collars or harnesses are not safe equipment in public.)
(I have 18 rescued dogs, 14 of them males.) The pic is of 2 males that live together hanging out during a walk on our hill.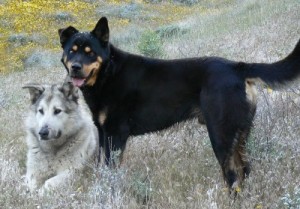 December 30, 2011
0

found this helpful
My family raised Boxers and I continued to do so when I married and left home. We always started their training from Day1-sit, stay, come, heel, all these and more. Until about aged four months the training was low-key, more to socialise them for their new homes than anything else, but every dog we placed knew the basics including how to walk whilst on a lead managed by a combination choke collar and harness. We considered it our responsibility as breeders to prepare a well mannered dog for his or her furever home.
By six months any puppy we were keeping was in regular training sessions and every single one took to the training beautifully. Yes, we used choke collars, yes, after training we removed the collars.
True that Boxers and other large dogs mature much slower than smaller breeds, however, waiting until a Boxer (or Rotti, Dobie, American Staffordshire Terrier, etc) is over 8-9 months to begin training is taking the risk of a problem dog. By then they have a pretty good notion of their size and have developed habits that will be very hard to break.
Truthfully think the young man teaching those classes is irresponsible to say it's useless to try training a dog before 8-9 months.

December 30, 2011
0

found this helpful
Oh, and sorry, but a choke collar in the wrong human hands can do terrible cumulative damage to a dog. The prong collars can as well-the human using either needs to know how to put the collar on correctly, and how to 'snap' the collar rather than essentially use it to drag a dog into compliance. I used a prong on a rescue St Bernard back in the 70s and was thrilled when he finally rehabbed and we could move to a slip collar (a non-chain choke collar).
Police dogs are very valuable dogs, and I wonder how many dogs this so-called trainer ruined with his macho man ways, I really do. Boxers aren't used often in the US for police work and I'm glad for that. Boxers are wonderful, sweet, loving dogs who's only purpose in Life is to be a true part of the family; abuse one's trust and it is heartbreaking to see one go from joyous companionship with their human to grief stricken (at the perceived disappointment of the human) to sullen and frankly dangerous.

Free2B
Bronze Post Medal for All Time! 216 Posts
January 5, 2012
0

found this helpful
Please don't use choke collars on any dog. There are many, many ways to train a dog that don't use choke collars. I've owned many kinds of dogs, and never put a choke collar on any of them. We have an 8 month old Australian Shepherd now who is very high spirited, and we would never even consider using one. She is learning just fine without it.

December 12, 2012
0

found this helpful
Never would I train a dog with a choke collar. I don't enjoy inducing pain nor do I wish to ruin their bones, their psyche or their gentleness. I have never had a bad dog in my life. They don't have to perform for me, just be part of my loving family.

December 12, 2012
0

found this helpful
Cops are notoriously cruel in training their dogs. Not all of them but many. You need to read Sue Ellen Marstons book - Breaking the Code of Silence. Sue left the Ventura, CA police department after 17 years because of the abuse to the dogs. She wanted to write this expose' and did a beautiful job. Read about the cruel trainer there who was doing helicoptering with choke chain and the many dogs he ruined and killed. He runs a kennel now. Learn about cruel, sick dog treatment by lots of cops. I do hope your police are not this way but I would check. I would turn them in if I found abuse. Abuse is not needed.

December 12, 2012
0

found this helpful
We became parents to a 2 yr old JRT when our daughter moved out. The JRT wasn't abused but he hadn't been trained either. We hired an obedience trainer and he did great but still pulled during a walk and would jump up. A co-worker suggested the metal collar with blunt spikes and it worked. It never hurt him because he never pulled. And when we weren't on a walk, the spikey collar came off.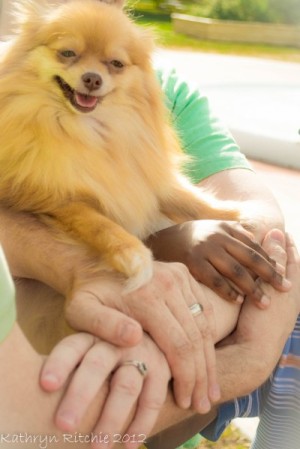 December 12, 2012
0

found this helpful
I would never put a dog on choke collar for training. You can get the same control with a regular collar and retractable leash. Repetition is the only answer for dogs. You are not wanting to hurt your dog to obey, unless you are a sadistive personallity getting off on hurting animals, to obtain their love with understanding of what you are asking of them. Sorry, I never have used a choke collar at anytime of training. Too many horror stories of death due to choke collars.

December 13, 2012
0

found this helpful
Choke chains are tools of dog training compulsion methodology. Much debate exists about the use of choke chains as a good or safe or even necessary teaching tool for dogs. Emotion aside, lets just look at the facts, both as a necessary AND an unnecessary tool.
NOTE: To be completely transparent, The Pet Teacher (that's me) does not use or support the use of choke chains, prong collars, or shock collars. There are much better ways to teach your dog without these potentially dangerous tools! Please contact The Pet Teacher with any questions or to schedule sessions where you can learn to work with your dog. The Pet Teacher is a full-time professional and certified dog trainer and dog behavior expert with 15 years of teaching experience and more than 6,000 hours of dog behavior study.
NECESSARY TOOL?
Those who support the use of a choke chain claim that when used skillfully, correctly and consistently, a choke chain (also called a training or correction collar) can be a successful training tool:
Should be used on dogs at least six months and older; dogs younger than six months can suffer soft tissue damage from a choke chain. Before starting use of a choke chain on any dog, get your veterinarians approval first to ensure your dogs growth is ready.
The snap and release action when using a choke chain can prevent pulling-on-leash issues.
The snap and release action when using a choke chain can be used to control a dog with aggression issues.
TIP: The dominance theory in dog behavior has been invalidated by the American Veterinary Society Of Animal Behavior (AVSAB). This group of veterinary professionals no longer supports the dominance theory and in the following Position Statement, they show the science behind their stance. http://www.avsabonline.
org/avsabonline/images/stories/Position_
Statements/dominance%20statement
UNNECESSARY TOOL?
Those who do NOT support the use of a choke chain claim that when used incorrectly, a choke chain can be a dangerous and unnecessary tool:
If fitted or put on incorrectly or used incorrectly, it can:
Choke a dog
Cause a collapsed trachea
Cause connective tissue and neck damage
Cause permanent throat damage
Cause permanent coughing issues
Cause broken blood vessels in the eyes
Cause severely sprained neck
Cause fainting
Cause transient foreleg paralysis
Cause laryngeal nerve paralysis
Cause hind leg ataxia
The choke chain must be worn HIGH on a dogs neck at all times, at flat collar position it can cause serious injury to a dogs throat, esophagus, trachea, and neck.
Use of a choke chain is not safe or effective by all family members, such as children. Using Positive Reinforcement methodology, however, can be used safely and effectively by all family members without fear of injury to either dog or person.
Over-correction or incorrect timing can cause fear and increased
aggression issues.
Cause choking, strangulation and possible death by getting caught on something (a fence, crate, furniture, tree or other landscaping, another dogs tooth).
May teach a dog not to do something by causing fear of the correction but generally does not teach a dog the wanted behavior. Teach a dog the wanted behavior by use of Positive Reinforcement methodology and motivation.
Positive Reinforcement methodology can be safely used on a dog as young as three days old (versus 6 months old when using compulsion methods), can be used by all family members no matter their age which is important for the children in your family, and has proven to be consistently effective in teaching dogs. Marker-based methods have been proven in scientific studies to have quicker, more accurate recall than fear-based methods. Because you can start teaching a dog at a young age, you can stop the unwanted behavior from developing, thus eliminating the potential that a dog will think the need to use dominance and aggression.
Dominance and aggression is merely fear. What you think of as dominance or aggression is a dogs attempt to control their environment because they are trying to prevent or stop something happening they think is dangerous to them. The dog is trying to stop or prevent the danger. A dog uses dominance and aggression in order to control their world, not as an attempt to control your world. Rather than meeting the dogs aggression with a choke chain (a method of aggression) it is far more effective in the long-term to use Positive Reinforcement methodology. Positive Reinforcement demonstrates to the dog that whatever s/he is fearful of is no longer a threat. The use of desensitization and counter-conditioning methodology works on all aggression issues without the use of correction tools.
Pulling on leash doesnt need a correction collar. Pulling issues, no matter how strong the dog, can be stopped with the use of Positive Reinforcement methodology and something as simple as a red light, green light training method. If necessary, add the use of a Head Collar, and there can be quick and safe success. Please note that the Head Collar must be acclimated correctly according to the dogs acceptance. Please contact The Pet Teacher for detailed instruction.
TIP: There is a theory in dog training that if you can control a dogs head, you can control the dog. Using a head collar gives you control over a dogs head; a choke chain gives you control only over a dogs neck. With control over a dogs head, you can teach them not to jump, not to pull on leash, how to stop barking, gives you control over a dog with aggression toward people and other dogs, teaches the dog that you have leadership control. Work only with a professional who has experience with using a head collar and can teach you that same expertise.
Positive Reinforcement methodology is rewarding your dog for the correct behavior,rather than correcting your dog for the wrong behavior. Throw out the choke chain and use marker-based training techniques and tools to eliminate the potential for neck and throat injuries that can result from the use of choke chains. Please contact The Pet Teacher for additional information. www.ThePetTeacher.com and diaryofadogtrainer.wordpress.com