Harlean
Bronze Post Medal for All Time! 148 Posts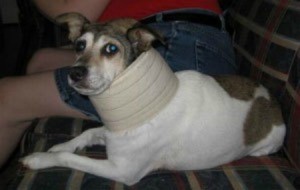 Our dog, Joshua, develops "hot spots" in the heat of summer, and constantly chews his back and his bobtail until it is raw and the hair is gone. I have tried all kinds of ointments with no success. So I have devised a collar that I can slip over his head to prevent him from being able to reach those spots to chew. I measured the distance from the back of his ear to his shoulder. (5 inches) Then I measured around his neck. I added a little to this measurement so that the collar would not be too tight.
Using these measurements, I cut 6 layers of muslin, then cut 2 layers from a manila file folder about 1/2 an inch smaller all around. I laid down 3 layers of the muslin, then the 2 layers of cardboard to make it rigid, and then the other 3 layers of the muslin. I sewed around all 4 sides close to the edge, then sewed seams lengthwise about an inch apart to keep the layers from shifting. I took large safety pins and pinned this around his neck.
It is not tight. I can slip it off his head to bathe him, but he cannot get it off. He wasn't really happy with his new collar, but it has prevented him from reaching back and biting those places on his rear and they are healing. The photo shows pretty clearly what I have just described.
By Harlean from AR
Read More

Comments

My 5 month puppy has to wear a plastic cone, e-collar, due to a procedure done. Does anyone have suggestion how to make a more comfortable one?
Thank you.
By Teresa Kirkland from Saint Paris, OH
Answers

July 26, 2010
0

found this helpful
Best Answer
Years ago I decided there had to be a cheaper, more humane version of the Elizabethan collar, so I made one from a plastic milk jug. I had to play with it a bit cutting here and there. I put little cuts along the collar line and laced my dog's collar thru it to keep it in place.
Then I was able to trim the back part a bit lower so she could move around more comfortabley and see where she was going, but still not be able to get at her stitches. Good luck!

July 27, 2010
0

found this helpful
Best Answer
I used the plastic one from the vet as a pattern and made one out of a very heavy interfacing type of material from the fabric store. It is kind of rigid but flexible at the same time. I ironed on fabric on both sides before cutting it out; sewed around all the edges with the zig zag stitch; and then used strips of Velcro on the ends. I used this on both cats and dogs and they seemed to tolerate it much easier than the plastic ones.

July 27, 2010
0

found this helpful
Best Answer
I used a plastic container from deli section. Cut bottom off, covered cut edge with duct tape, punched holes through duct taped edge and threaded long shoe lace through. Put an adjustable dog collar through and that was all. Made it several years ago and still using it!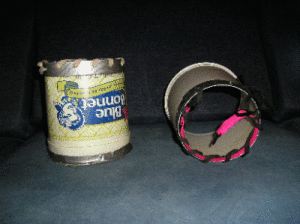 Answer

this Question

Holly
Silver Post Medal for All Time! 364 Posts
Our dog has to wear one of those big plastic 'Elizabeth' collars to keep him from scratching his eyes. Anyone know of a method of fastening (or adding fasteners which will not scratch) that permits a quick on and off? We are permitted to take it off as long as we keep our eyes on him - the moment he starts scratching, the collar goes back on.
It takes two of us to get that collar back on and the dog is too restless to let us do this more than 1 min. without a fight. His neck must be getting mighty sore. I saw something on the internet that looked like a swim ring pillow, to place around the dog's neck, but he would still be able to scratch his eyes as the ring isn't deep enough - he already figured out out to scratch his eyes on the sofa while still wearing the big plastic collar.
Holly from Richardson, TX
Answers

Judi
Bronze Feedback Medal for All Time! 239 Feedbacks
November 30, 2007
0

found this helpful
I assume you're finding out the cause of the eye irritation? I would just leave the collar on most of the time since he'll duck around the corner and scratch when it's off and set the healing of the problem back. Do you know what's causing it?

Holly
Silver Post Medal for All Time! 364 Posts
December 1, 2007
0

found this helpful
He had scratched corneas. Don't know why. Probably because the distemper made his eyes flare up and he tried to relieve the itching. Is on meds.
By Carolyn (Guest Post)
December 4, 2007
0

found this helpful
take a piece of foam rubber about 2inches thick depending on the size of your dog, measure it around his neck, then cover it with either a soft canvas or a strong curtain material, attach velcro to the ends and wrap this around his neck, fasten with the velcro, he wont be able to reach his sore spots, and it is far more comfortable then and Elizabethan pet collar. I often use this method for my Chows when they get hot spots or sores on their body or legs, it works and is not in the way of getting caught in doors or banging into furniture. Give it a try you will find your dog much more comfortable in it, good luck
Carolyn
By Crystal (Guest Post)
December 4, 2007
0

found this helpful
Could you use velcro to close it with so getting in and out would be easier? You can buy the stick on type for easy applying.
Answer

this Question