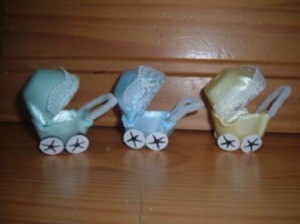 This baby buggy is made from styrofoam egg cartons and only costs pennies to make. You can sit them on the tables at your baby shower and fill them with mints or little candy.
This craft project only takes about 2 minutes or less to complete. Once you get started and get the hang of it it will take less time.
Approximate Time Two minutes or less
Supplies:
Styrofoam egg cartons cut apart
lace
pipe cleaner (less than 1/2)
heavy cardstock (wheels)
marker
hot glue gun and hot glue
scissors
Instructions:
First cut the egg carton apart. You need 2 egg holders for each buggy so you'll get 6 baby buggies from 1 egg carton. Trim the excess around the top of the egg holder.
Hot glue the lace on the top egg holder. Then hot glue the egg holders together on 1 side. Next bend the pipe cleaner so it looks like a handle for the buggy and hot glue the pipe cleaner on the bottom egg holder. The nice thing about these egg cartons is there are little indents for the pipe cleaner to fit perfectly inside the holder.
Trace small circles on the white paper and cut them out. These will be your wheels. Draw spokes on the inside of the tires with the marker. Hot glue them onto your buggy.
I only made boy friendly colors because my sister is having a boy this fall. I think pink buggies would look cute too.
By luv2craft from Normalville, PA
Comments
Read More

Comments