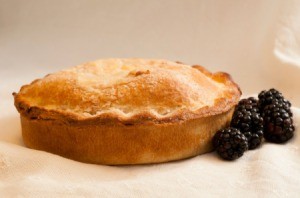 One method for making a seedless blackberry pie is to mix the juice with tapioca to make a pudding type filling. This recipe shows you how to make seedless blackberry pie.
Ingredients:
1 quart blackberries
Tapioca pudding (the kind that makes pieces of tapioca the size of the little parts of the berry)
1 baked pie shell
Cool whip
Directions:
Wash berries and place in saucepan with one half cup of water and bring to a boil. Simmer 2 or 3 minutes; long enough to get the juice out of the berries.
Prepare the tapioca pudding, substituting the berry juice for all liquid in the pudding. Add water if necessary. The pudding should have the consistency of blackberries without the seeds.
Pour tapioca pudding in pie shell. Chill.
Top with cool whip before serving.
Source: My father's favorite pie was wild blackberry, and in later years he developed diverticulitis and was unable to eat anything with seeds. I made this pie for him.
By Clynn Altemus from Inglis, FL
Comments