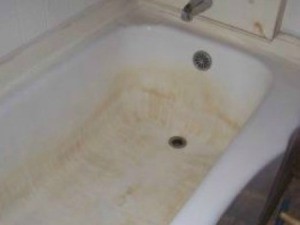 One of our bathrooms has the original bathtub, it's 40+ years old. A drab yellowish stain covers much of the interior sides, especially towards the front of the tub. It has also lost any shine on the porcelain, too. I do not want to resurface the tub as I have been told this really doesn't hold up for a tub with daily, constant usage. What could I use to remove these stains? Thanks for any ideas!
Mam from Atlanta, GA
Answers

April 28, 2009
2

found this helpful
Best Answer
Try soaking the tub over night with a product called "Iron Out" this worked great on a terrible rusty yellow stain left on a tub by our last tenets. Nothing else even budged it. This is a before picture.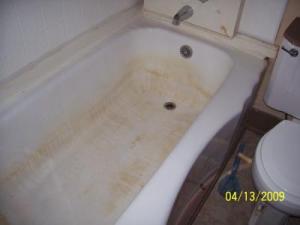 May 8, 2009
0

found this helpful
Best Answer
This is the after picture after one soaking, No scubing at all! The product Iron out can be obtained at most any Home supplie store like Lowes or home depot.
Or most any Hardware store would probley order it for you. good luck.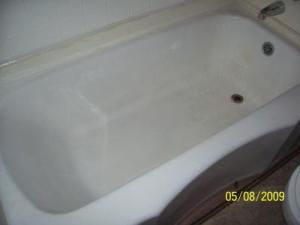 September 21, 2013
4

found this helpful
Best Answer
I had some yellow brown stains on my old porcelain tub. I believe my cleaning service attempted to clean the tub with some type of harsh chemical. I tried just regular hydrogen peroxide and it was fading the stain.
Then I used some Aquafresh Extreme Clean Toothpaste with Whitening Action (just the toothpaste I use). As I was spreading the toothpaste I could see the stain completely disappearing.
I left it on for 10 minutes or so, but I don't think it was necessary to even leave it sitting. After rinsing, the stain was completely gone!

February 9, 2014
2

found this helpful
Best Answer
I recently tried using kaboom foaming spray and it worked miracles on my walls and grout but left my porcelain tub covered in an orange stain that I could not scrub away. Before going out to the store to buy more expensive cleaner, I turned to the internet to find out what my best course of action would be.
After reading, I came across the hydrogen peroxide suggestion. I ran upstairs, grabbed my bottle and to my eyes surprise, it faded about 50%. I rinsed with hot water, repeated and it is now completely gone within about two minutes time. Thank you so much for this helpful hint! Very pleased.

September 5, 2016
0

found this helpful
Best Answer
I tried everything from hydrogen peroxide, baking soda, even stainless toothpaste, I didn't try "Iron Out" because I read on many sites the smell makes one feel sick.
Then I read someone's post about using, "salt and fresh lemons". I left it overnight, and to my surprise, all the stains were gone.
You'll need plenty of lemons, depending on your stains and I used Diamond Crystal salt. Start by mixings small amounts together, make a paste and apply to the stained areas. Use the lemon to scrub, even the skin part. My tub looks brand new. Do this late in the evening after everyone showers. Leave overnight and the next morning fill the tub with very hot water and leave on for about 20 minutes.
Make sure you know whether your tub is porcelain. I used Fantastic with bleach to clean bathroom tiles, the bleach ran down into the tub, causing horrific yellowish brown rust streaks. I was in fear that my landlord would see it and have a fit. I'm so happy to see a clean white tub, lesson learned, no more cleaning tiles with bleach.
Answer

this Question
I have tried Tilex and Clorox. The Tilex made it worse. Any suggestion what else I can try?
The Clorox did take a little off, but I put the Tilex on after and it got worse. It is a yellowish brown. Any suggestions?
By James
Answers

Fletcher
Bronze Tip Medal for All Time! 75 Tips
July 27, 2012
1

found this helpful
Best Answer
I would try Barkeeper's Friend. You can get it at the cleaning isle at your grocery store. I have good luck using it on my porcelain sink.
Answer

this Question
I am moving into a new apartment. The cleaning crew came in and could not take off these black marks. So I put bleach with water into the tub and I let it sit for 2 days and now I have a yellow ring around the tub and the black marks are still there. Please help. I think this tub is over 60 years old.
By Stephanie C
Answers

January 27, 2012
0

found this helpful
Straight peroxide should remove the yellow stain...

April 23, 2020
0

found this helpful
Used a brand-name product on my tiles to get them clean and the product stained my porcelain tub yellow with streaks all throughout. Saw online that peroxide will remove it had a brand new bottle of peroxide poured it all over the yellow stains instantly before my eyes they all disappeared!

July 2, 2021
0

found this helpful
Thank you so much ..used just peroxide and it worked on my 80 yr old porcelain tub..??

October 20, 2021
0

found this helpful
If it's an old tub that has a worn out matte finish, just scrub it with some grey Scotchbrite brand pads, part number 7448, and any kind of soap. It's not sandpaper, and it'll take the scum and stains right down to the original finish in a few minutes.

May 19, 2022
0

found this helpful
I had yellowish-brown stains on my 50+-year-old porcelain tub. I poured hydrogen peroxide over it wiped it with a cloth and it was immediately gone.
My cleaning crew apparently tried bleach and that made it worse. Miracle.
Answer

this Question