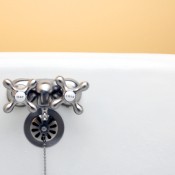 I too have had problems cleaning, here in Hawaii, my porcelain tub. I have been researching it for a month now. I have come across some very good cleaning agents for your porcelain, old or new. It is Boraxo or Limeaway
I've tried Lime-A-Way and it works. Lately I've found different kinds of stains on my old porcelain sink and will try Boraxo next. The sites I've found say they work great. The taste of water in Hawaii has changed and there are green stains on my plumbing which suggests minerals in the water, thus the stains on the sink. Good luck and great cleaning! Thanks.
Source: http://limeaway.com/ and http://www.ehow.com/
By hawaiihibou from Honolulu, HI
I have a very old, pitted porcelain bath tub that I can't afford to refinish or replace. It collects a lot dirt in the pits and I cannot get it clean. it no longer shines at all! It isn't stained, just has hard to remove dirt. I have done the bleach thing, Comet, various cleaners, even some from the janitorial supply house, throughout the years but nothing seems to work (scrubbing bubbles is the best) I have tendonitis in my arm and cannot scrub for long periods of time.
If I do get it clean is there an economical finish or wax that I can use on it so it stays cleaner longer? Thank You!!!
Sas-E-Sheri
Answers
By Robin Dudik (Guest Post)
August 21, 2004
0

found this helpful
Just read your problem. Have you ever tried Mr. Clean Magic Eraser? It sounds like just the thing for you. You can buy it in the laundry detergent isle of the supermarket. good luck!
robin from NJ
By (Guest Post)
August 23, 2004
1

found this helpful
Hello,
I had the same problem & talked to Home Depot & they recommended a "tub & tile" or swimming pool paint. You can't use water for 3 days--it's worth it-my tub looks new & it even shines!~
Datura
By Pam (Guest Post)
August 23, 2004
0

found this helpful
There is something new out by Clorox called Bathroom Cleaner withTeflon in a spray bottle. It repels dirt with invisible Teflon to keep dirt from sticking. It also cleans soap scum and leaves surface shiny and has a clean scent. You just spray surface to coat evenly and allow to set awhile to penetrate the dirt. Then wipe with a wet sponge and rinse with water. Use regularly to maintain the Teflon surface protection. There also is a toilet bowl cleaner with the Teflon too.
By Chris (Guest Post)
January 2, 2005
0

found this helpful
I can absolutely confirm the Mr. Clean Eraser. We bought our 1942 home a year ago and have dreaded refinishing the bathtub, it had 63 years of gunk and grime built up on it. We tried commercial cleaners, bleach, Oxi-clean, and many others, we even tried Oven Cleaner. All of them required heavy duty gloves and stank up the whole house and did little or no good.
I tried a Mr. Clean eraser and couldn't believe my eyes. With two swipes of that magical wedge of foam all 63 years of gunk vanished. I was half done in ten minutes. The next day we bought a few more and have a brand new tub to thank for it.
By Maggie (Guest Post)
August 15, 2005
0

found this helpful
I'm so glad to find your website. We live in a 1960 year old house. I don't think the lady who lived here before could get to cleaning the tub. So GREAT to find something that just may fix the problem.
Thanks
By Terry (Guest Post)
July 2, 2007
0

found this helpful
Thanks for your postings! I have the same problem, and will try your recommendations. I'me sure you've helped dozens who didn't post a reply too.
By James Devlin (Guest Post)
September 29, 2007
0

found this helpful
I've been suffering the same problem since I moved into my 1948 bungalow and just tried the Mr. Clean Magic Eraser. I think I'll buy stock in that company because my tub never looked so great!
Thanks!
By Jean (Guest Post) (02-12-08) (Guest Post)
February 12, 2008
0

found this helpful
A miracle was preformed at my daughters home with Mr Clean Magic Eraser. It was truly MAGIC. She rents and the tub in the house she is in now was just the worst and no amount of scrubbing with comet and a stiff brush would even begin to move the gunk. I read on here about Mr Clean Eraser and got one and even my 6 year old granddaughter was amazed. I hated putting her in that nasty looking tub when I was there and thank you Mr Clean Eraser. I don't have to now.
By jessaka (Guest Post)
October 1, 2008
0

found this helpful
I tired that mr. clean eraser. doesn't work on my tub. What seems to work is to put Epsom salt in the tub and wash my hair in the tub and sit in the bath water for a while.
For some reason it comes cleaner than anything else. Hopefully, we will have a new tub this year.
By Amanda (Guest Post)
February 6, 2009
0

found this helpful
I have had the same issue and I tried the Mr. Clean pads but they just seemed to crumble any thing else?

February 4, 2015
0

found this helpful
I clean mine with liquid Barkeepers Friend then wax it with Holloway House Quick Shine it looks amazing. I do this every 3 months and always looks great!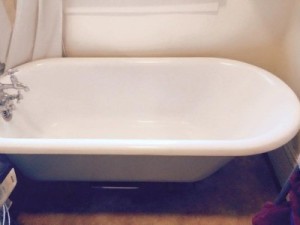 January 14, 2016
0

found this helpful
Mark, what type of Holloway House Quick Shine did you use?
Read More

Answers

I have a stain in a porcelain tub, which I can't remove. The stain appears to be in the tub itself. Please help.
Thank you.
By Janet Bollman from Albany, NY

Answers

October 7, 2010
0

found this helpful
I had one in my kitchen sink. When my sister-in-law saw it, she suggested that I put the sink stopper in, pour 3-4 cups of Chlorox in it (enough to cover the bottom), add a couple inches of water and let it sit over night.
It worked. The sink was sparkling white when I drained it out the next morning. I've done the same thing every few months when I notice it getting stains in it. Chlorox definitely pulls the stains cleanser doesn't.
If you don't want to pour a whole container of Chlorox in your tub, possibly soaking an old rag in it and put the rag dripping wet (do not wring it out) on your stain and leaving it overnight might work.
Read More

Answers