July 29, 2008
0

found this helpful
Anything that can be put in the washing machine and washed in warm/hot water is fine. They make sprays that are just for killing lice. I've never had any problems using those products. It sounds like you have done a thorough job cleaning. Just be sure to spray and vacuum all seating areas, vehicles, and bedding--any area that they have played.
Stay calm about it...lice happens...the big job unfortunatley is cleaning up after it.
By Susan (Guest Post)
July 29, 2008
0

found this helpful
It sounds like you have things under control! You don't need to have things in the freezer. 2 weeks in the sealed plastic bags is enough. A lot of people forget to clean the carseat or seats in the car. You might mention this to the mother of the children.

July 29, 2008
0

found this helpful
I would (as a preventitive measure) get a bottle of RID & mix some into a mister bottle to keep handy "just in case" the clorox isn't enough.
We used to RID shampoo my son once a week as a preventitive & he never had it ONCE while several of his classmates missed some school on account of it.So whether or not this can be attributed to the RID or to LUCK doesn't matter.The RID is inexpenive enough that once a week treatment of it won't break your bank !!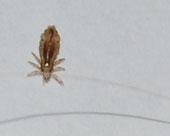 By Linda (Guest Post)
July 29, 2008
0

found this helpful
My twin granddaughters got lice from another child at daycare. We washed all their toys in hot soapy water with bleach and put them in the sun to dry. We washed their stuffed animals in hot soapy water and put them in the dryer.
This should kill any lice and their eggs. We had to repeat several times because the parents kept returning the infected child to the day care. We complained and the child was removed until she was free of lice.

July 29, 2008
0

found this helpful
I would ask my doctor about using Rid so often. It sounds scary to me!

Jana
Bronze Feedback Medal for All Time! 116 Feedbacks
July 29, 2008
0

found this helpful
You can buy a spray from RID, or the generic equivelant. It is designed for spraying on mattresses and such, but it can also be used for stuffed toys and it's pretty effective.
By Samantha (Guest Post)
July 30, 2008
0

found this helpful
The clorox should have done it. I will comment on the RID and suggest that the one reader not use it so often as there are very harsh chemicals in it. We chose to go the chemical free route when our daughter had lice and of the kinds available, the NitFree brand worked for us and they have an amazing nit comb that we keep handy and use as our tester tool when the inevitable head lice letter comes home from school.
I have never seen this brand in stores although there are other chemical free alternatives there and they have a Mint Spray that works as a repellent so instead of using a lice shampoo on your child's head every week, I would go with that instead.
If anyone is interested, here is the website in Canada (http://www.nitfree.ca) and that should lead to a US site as well.
I cannot stress it enough, there are some very powerful (and potentially harmful) chemicals in many of the lice shampoos. Use them with caution or find a chemical free alternative that works.

July 30, 2008
0

found this helpful
Lice Treatment & Prevention Checklist: Learn what to do if lice invades someone you know. Prevention tips included.
:: www.printablechecklists.com/.../checklist261.shtml ::

October 19, 2018
0

found this helpful
Lice free spray sold at many places works great for small children. You spray until scalp is soaked than use nit comb to remove bugs and nits and let dry.
Safe enough to use because it's got essential oils. Sold at Dollar General for $10.00. Less trauma for little ones.
By Shani (Guest Post)
August 2, 2008
0

found this helpful
Per www.headlice.org, "Once laid, it takes 7-10 days for a nit to hatch. Nits off the head may not even hatch at all as they are laid close to scalp because they need human warmth to incubate. A nit hatching off of a head results in tiny nymph head louse which, without an accessible/nearby human, is doomed because it requires an immediate blood meal.
Adult head lice off of their human hosts will generally not survive for more than 24 hours." You might leave them outside for a week, and that'd do it. Best of luck! :o)