Travel Destination: London, England
Country: UK
Free Things to Do:
Concerts at St. Martin in the Fields
National Portrait Gallery
Most Museums
Walking around Big Ben, St. Pauls, Westminster Abbey and the Tower Bridge
Low Cost Things to Do:
If you're a fan, don't miss the Dickens Museum.
Choose your destinations and get a travelcard for just the inner city unless you are definitely going further. Most visitors get an all zone card and never leave the city. A card just for busses is even cheaper, and you see more. Just ask the driver to call out your destination, and ask a neighbor to also tell you, just in case!
Expensive But Worth It:
Have dessert for lunch on the fifth floor at Harrods, in the small restaurant, NOT the Edwardian restaurant. You'll get to hear the live music from the Edwardian, while you eat the world's best crepes and/or profiteroles. After a full English breakfast, just have the dessert... believe me, it's enough!
Nightlife:
Get a newspaper and Time Out magazine and look for special events. I've found amazing things at the last minute for free or nearly. Leicester Square ticket booth has cheap day of show tickets for plays.
Seasonal Information:
It isn't as foggy as it used to be, and spring through fall are all lovely.
Inexpensive Lodging:
Go to the library and pick up the Frommers $ a day guide. You can take it with you and return it to the library when you get back. Ebury Street, 3 blocks from Victoria Station, is a great place for bed and breakfast for about $100 for two people, including full breakfast, shared bath. Private bathroom raises the price. These places are clean and well maintained. Lynton Hotel is a favorite of mine on Ebury. Tophams is a famous one on Ebury, but costs a lot more then the other ones. Eat there once, it's very interesting. On the other side of Victoria, there are even cheaper places, not quite as nice, but fine if you are young and adventurous.
Warwick Street has several.
Many times I've gone without reservations, and found a place when I got there. I even did this once during the Chelsea Flower Show, when all rooms were said to be taken. The little B & B's are much more likely to have a room in busy times than the big hotels. If you want to splurge on a fancy hotel, make it in a smaller town. I stay in the best Hotel in Rochester, the Royal Victoria and Bull, for about what a cheap room in London costs.
Interesting Facts or History:
If you're tired of London, you're tired of life. I don't remember who said it, but it's true. You can explore the streets that Shakespeare and Dickens explored, visit the Tower of London, watch the changing of the guard at Buckingham Palace.
Take a look at some guide books before you go, to find your own interests.
Additional Comments: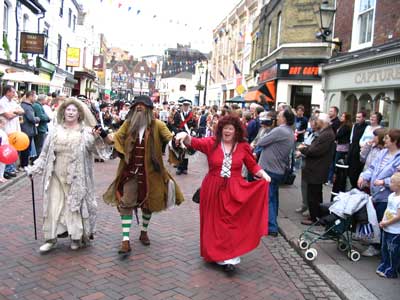 The picture is from the Dickens Festival, held the first weekend every June in Rochester, Kent, which is about 30 miles from London.
Day trips from London can take you to Canterbury, Dover, Rochester (more Dickens sites there, one of my favorite places). Oxford, Stratford-on-Avon (Shakespeare), Warwick Castle, Stonehenge. Pick up the brochures in Victoria Station. You can also get multiple-day trips. Don't buy a brit-rail pass unless you plan very carefully. Usually it's like a wheel with London as the hub, you have to come back through London to get anywhere and it takes forever. Just buy the segments you need. Sometimes take a coach (bus) and from Stratford to the Cotswolds we took a cab! Cheapest way, and available whenever we wanted to go.
Travel is my passion, and I do a lot of it. I go to England every year. Some people refuse to be frugal on vacation, but consider this . . . you will meet more locals and feel more a part of things if you leave the big American hotels for the spendthrifts!
Jeneene from Cincinnati, OH
By CLaudia- MD (Guest Post)
May 24, 2006
0

found this helpful
TimeOut also has a website, too- http://www.timeout.com/london/; Check it out a few days before you leave to get some ideas. London is so expensive for Americans just now. My sister and I have gone 4-5 times over the last 9 years. We usually have gone in late March, early April- I think May is the rainiest month there. We often stay at the Ambassadors in S. Kensington which is pretty inexpensive but still nice, about a 5 min walk from the Glouchester Road tube station. Room rates include a nice breakfast buffet. (Grab an apple or banana for a late morning snack.) Get a tube pass rather than pay-as-you-go. However, if the weather is good, we walked almost everywhere- that's the way you see the most.
We rarely ate in restaurants- in my opinion, English food is lousy. If you want to splurge, try Indian food. However, we usually ate out of the prepared food section of the Sainsbury (London's equivalent of 7-11 or Circle K)- you'll find some interesting selections you don't get in the states. Don't forget the Victoria and Albert Musuem- no admission fee. London also has great thrift stores and outdoor flea markets. Check out Old Spitelfields, Camden Lock, Petticoat Lane, and Portobellow Road. What a great city. Just talking about it makes me want to go back NOW!