By Janne (Guest Post)
August 26, 2008
0

found this helpful
Oh, nothing could be easier. Just think of the piecing you do as making "quilt fabric". Then you can make place mats, table runner, pillow shams, etc. doing the finishing work when time allows. Just cut your material into 3" strips (or wider if you want) of three varying lengths: 2", 4" and 6" (or longer if you want). Sew together at the end making numerous long strips. Don't get too longer or it becomes annoying. Then you piece the edges of the strips together. Remember to iron your seams as you go.
For place mats and table runner, you'll need a backing piece of fabric and possibly some batting. Just cut the quilted fabric you've created to the size you want (adding seam allowance) and attach to backing. The pillow shams can be made like an over sized envelope and sealed either with velcro or decorative ties, Just use your imagination. You can't do it wrong.
August 26, 2008
0

found this helpful
Its not quilting, but we learned this at the craft collective meeting I went to this month: take some metal binder clips (also known as bulldog clips in some areas), cut fabric to cover, coat the black part of the clip with decoupage liquid (Modge Podge in this case), place fabric over it, put more decoupage liquid on top, and when it dries, you have adorable decorative clips!
Its something good for those little squares and such pieces of fabric that I never want to get rid of, but really don't have a use for. The girl who taught it to us was an absolute genius - something creative and useful at the same time!
August 26, 2008
0

found this helpful
If you have any that are long enough to crochet, get a big blue hook and sew or "stitch witch" the strips together and crochet baskets, rugs, casserole holders, etc. The photo I have included was made with jute rope, but you get the picture.
You can also cut them into circles and folding over the edges, baste stitch by hand around the outside, giving yourself at least 1/4" leeway. Then gather them in the middle for what I think is called a "daisy" and then when you have enough, simply whip-stitch them together for a nice pillow, quilt, etc.
Another cute idea for fabric squares that are about 2" (not much bigger) is to get a styrofoam wreath shape and poke them into the foam with a blunt item like a large opened paperclip (so it won't poke through the fabric). Then, you keep going and pretty soon, you have a decorative wreath you can make for spring, summer, fall and winter! Just pick appropriate colors and prints and there you have it!
Check out some websites like
www.allthingsfrugal.com/f_scraps.htm
Then just have some fun!!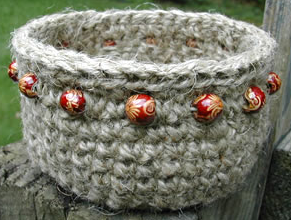 By pghgirl40 (Guest Post)
August 26, 2008
0

found this helpful
Thanks so much for the great info! Poor but proud, I would love the pattern for the basket.
I can crochet, so that would be a very cool and very useful thing to make. Is it postable or linkable? Thanks for the web sites also!
August 26, 2008
0

found this helpful
If you do indeed make the fabric into crazy quilt patches....it is limitless. I pride myself on making usefull crafts. If you make squares you can make: -Coasters(one square)-throw pillow(4 square on each side?)- placemats(6 squares)-fabric bag -quilts, if youre really eager. There are too many to list. I love quick fabric crafts. What fabrics are you working with? Jersey is tricky but possible. crazy quilt pillow: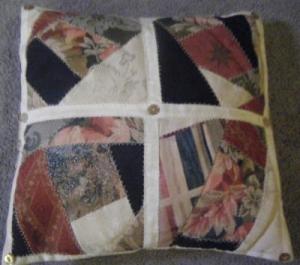 August 26, 2008
0

found this helpful
I have that same problem so I just ordered several different yoyo makers from extra small to jumbo & a heart one & a flower one!
I will get caught up on the scrappiness!
Another way I saw on Martha Stewerts site is to make fabric bags & fill with scraps to give as party favors !
I think that would be a really NICE favor for crafters!
August 27, 2008
0

found this helpful
You could make some nice pot holders. Or you could make doll quilts.
August 27, 2008
0

found this helpful
You can make cloth shopping bags and lunch bags or purses with your scraps.
August 27, 2008
0

found this helpful
I really like the ideas everyone posted. As the weather starts to get cooler, I'm getting into the quilting mood.
By Lois (Guest Post)
August 28, 2008
0

found this helpful
I LOVE to quilt small projects....how about table runners...you can just pick out some block patterns and use scrap fabric that matches...also, how about pot holders..same thing, use blockpatterns, quilted tote bags (yup, with block patterns)...and if you do not have block patterns go to this website: www.quilterscache.com/quiltblocksgalore.html There are HUNDREDS of free quilt block patterns on there....and you can look at them by size if you are looking for a specific size.
And if you go the table runner or pot holder idea, you can make them in coordinating fabric...they make great gifts. I am doing some now in different holiday prints (Christmas, Easter, 4th of July, Halloween, Thanksgiving, Valentine's Day and St Patrick's Day) as Christmas gifts for my daughters...they will get a set of each.
Have fun