Tips to Lower Your Heating Bill
Fall is a great time for a home-energy audit, and there are a surprising number of ways to save energy in your home without investing a major amount of money-or even time. Here are some tips that can save you from several to hundreds of dollars per year.
Maintain Your Furnace
Clean or replace the furnace filter every month during the heating season. Even a slightly dirty filter will block airflow and send heat up and out the chimney rather than into your home.
If you know how to safely turn off the electricity to your furnace, make an effort to keep mechanical accessories that are within easy reach clean and well maintained.
Learning how to safely turn off your pilot light in the summer can save you money. Do this only if your feel confident you can do it safely by following directions on the furnace or instructions from a service professional.
If you have a gas or oil furnace, have it professionally cleaned and tuned every year-before you need to use it.
Radiators and Registers
Air trapped inside radiators keeps them from properly filling with hot water and operating at maximum efficiency. Bleed the radiator with a key (found inexpensively at your local hardware store) by opening the valve near the top. As soon as water starts to come out, close the valve. Add water according to your service manual or ask a service person.
Keep furniture, drapes and other objects from blocking radiators.
Clean your radiators regularly with a thick, soft bristled radiator brush.
Radiator enclosures can improve operating efficiency if a 1-2 inch space is left between the enclosure and the back of the wall for air circulation. A piece of cardboard covered with aluminum foil mounted on the wall behind the radiator can serve as an alternative to an enclosure. It will deflect heat back into the room that otherwise would be lost through the back wall.
Warm air registers should be kept clear of clutter and obstructions and should be vacuumed on a regular basis.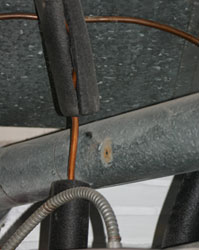 All water pipes leading to radiators should be insulated with foam wrap.
Pipes and Ducts
All water pipes leading to radiators should be insulated with foam wrap. Warm air ducts to registers should be insulated with fiberglass batts.
While the blower is on, all seams should be checked for leaks. Use duct tape designed for use on metal to seal leaks on cold air return and supply ducts.
Home Heating
Turn down the thermostat. It sounds cliché, but reducing the temperature from 70 to 65 degrees F while home and keeping the temperature between 65 to 55 degrees F while sleeping or away can cut your energy bill by 25%.
Close bedroom doors and heat registers during the day to rooms you"re not using.
Open shades to let in the sun"s warmth-close them at night to keep heat inside.
Lock windows. It tightens the seal to stop heat leaks.
About The Author: Ellen Brown is our Green Living and Gardening Expert. Click here to ask Ellen a question! Ellen Brown is an environmental writer and photographer and the owner of Sustainable Media, an environmental media company that specializes in helping businesses and organizations promote eco-friendly products and services. Contact her on the web at http://www.sustainable-media.com
Add your voice! Click below to comment. ThriftyFun is powered by your wisdom!
Add your voice! Click below to comment. ThriftyFun is powered by your wisdom!
Advertisement
Published by ThriftyFun.
© 1997-2020 by Cumuli, Inc. All Rights Reserved.
https://www.thriftyfun.com/tf75380257.tip.html