I took a $.50 purse, some flowers, and embellishments and made an "old time" decoration for my bathroom. When I put it all together, I thought you might enjoy making something similar.
Approximate Time: 1.5 hours or less
Supplies:
old purse: It needs to be the kind that stands on it's own and has the decoration or pattern in the front.
silk flowers of your choice
old gloves, jewelry, doilies, hankies, or anything old that you would or could find in a ladies purse
hot glue gun
scissors
Instructions:
With the purse open, arrange the things you want to put in it before you glue.
I used all black and white as my bathroom is red, black, and white. I wasn't able to fish out red stuff, as I am moving, so I went with what I had, all white.
You can bend the flowers to cover the front of the purse, too. I strung the beads as I had them, but no jewelry. This is literally what I could find around the house.
When all is done, simply hot glue the items in, then put the flowers where they will fit. You don't even have to glue them if you wanted to change them by season. I got these roses at the Dollar Tree, but miniature roses or real dried roses would be lovely, too. Have fun! PS: I am enclosing two shots. One is inside and makes every thing look like it's cream colored, but the details are a bit better. The other is outside and is very, very white!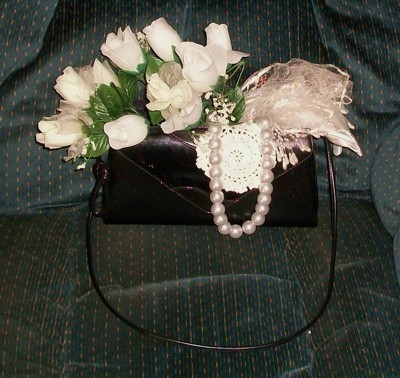 By Sandi/Poor But Proud from Coos Bay OR