March 23, 2010
1

found this helpful
Wouldn't a basket of Easter Eggs be enough related to the Easter Bunny bringing the eggs, and then have whatever food you would normally have.
March 24, 2010
0

found this helpful
Let your daughter peel your hard boiled eggs before dying them then make deviled eggs from the colorful eggs. I use a cold food coloring dye completely safe. Put the yolks and all other ingredients in a plastic ziploc bag and let her squish it into the filling, cut a small tip off one corner and let her fill the eggs. They may be a little messy but after all Easter is all about the children and family. An Easter Bunny cake is simple to make by baking a 9x13 cake. Check out my blog as I will post pictures of the pattern today. Have fun.
Getting your 4 year old involved in making the meal might be as much fun as anything for her. How about helping her make muffins or an easy salad both of which I will post recipes for on my blog for all.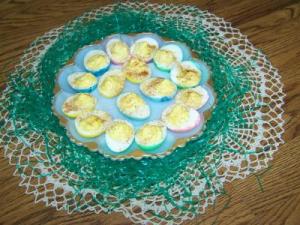 March 24, 2010
0

found this helpful
You could have "Carrot juice"-just an orange drink though, so she'll drink it! (maybe drink it with a green straw!)
You could have cotton candy for dessert-fluffy bunny tails!
Have her draw on a 11x17 paper -or sticker, etc., a placemat.
Eat a "veggie garden"-how? by serving veggie pizza!
For a "project", get a small box (for each person) of jelly beans, and paper and crayons. Have each person graph/draw the number of each color of jelly beans. For example, if you have 3 yellow, write "3", and then draw 3 yellow circles, even if you have to help your child, it would be a fun time!
If you get a bunny shaped cookie cut out, you could make ham n cheese sandwhiches and cut them out in the bunny shape.
You could do a craft like this card, http://familyfu … nny-card-662916/