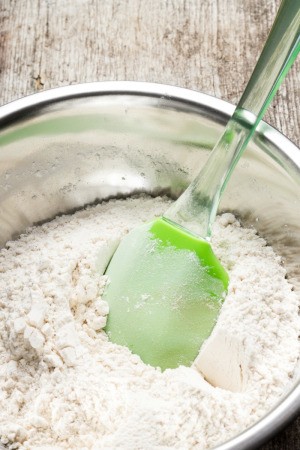 This mix is easy to put together. It will store for up to a month refrigerated, longer if frozen.
Ingredients
9 cups flour
3/4 cup canola oil
1 tablespoon salt
1/4 cup baking powder
2 cups nonfat dry milk
Directions
Combine flour, dry milk, baking powder and salt in a large bowl. Stir together. Mix in oil until the mixture is smooth. Store in airtight container. Refrigerate and use within a month or put into containers suitable for freezing and freeze.
Feel free you post alternate All-Purpose Convenience Mix' ideas below if there is a recipe that you prefer.
Recipes Using This Mix
Biscuits
Here is a basic recipe for biscuits using the All-Purpose Convenience Mix followed by some interesting variations.
Ingredients
3 cups All-Purpose Convenience
Mix 3/4 cup water
Directions
Add water to the Convenience Mix all at once. Blend lightly with a fork to form a soft dough and turn onto a floured board. Knead the dough slightly and then roll or pat the dough to not less than 1/2-inch thickness. Cut with biscuit cutter and place on a cookie sheet. Bake at 450 degrees F for 10 to 12 minutes. Makes 9 biscuits.
Biscuit Variations
Combine ingredients as above and continue as follows:
Drop Biscuits
Use a little more liquid. Drop dough by spoonfuls onto a greased pan and bake at 450 degrees F for 10 to 12 minutes.
Cinnamon Rolls
Roll biscuit mix to 1/4-inch thickness. Spread with margarine, brown sugar, cinnamon and raisins. Roll up like a jelly roll. Slice into sections and bake on a greased pan. Bake at 450 degrees F for 10 minutes.
Meat Rollups
Leftover meat, tuna fish or chopped meat can be spread on the rolled out biscuit dough. This can rolled up like a jelly roll, sliced into sections and baked on a greased pan. Sections can be served plain or with a cheese sauce. Bake at 450 degrees F for 12 minutes.
Cheese Biscuits
Add 1/3 to 1/2 cup grated American or cheddar cheese to 3 cups mix. Prepare as biscuits above.
Read More

Comments