I have a love of old linens, lace, etc., and came up with a unique way to display them. I took a wire hanging basket and attached lace around each basket.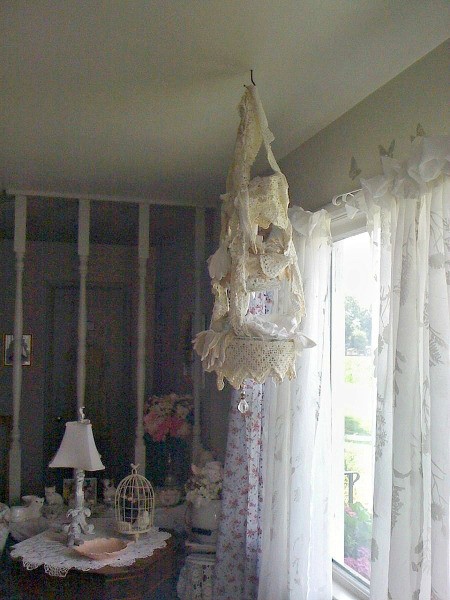 Read More...
I have a Mother of the Bride's dress that I will not wear again. It is ivory colored with an overlay of beautiful open lace over the bodice. I would like to take the lace and "recycle" the lace bodice into a craft that would be a unique addition to my decor. Any suggestions?
Jose from Tennessee
Answers

Keeper
Gold Feedback Medal for All Time! 690 Feedbacks
June 19, 2008
0

found this helpful
How about different size&shapes of throw pillows or make a one of a kind"1st annisversary"pillow for your daughters 1st annisversary.?you could embellish it stitching their wedding date...
Keeper
By ed (Guest Post)
June 23, 2008
0

found this helpful
I know some people have used that type of dress and make them in to christian gowns for other family members.
By JC (Guest Post)
June 23, 2008
0

found this helpful
You could use it as the backing in a photo frame of you and the Bride on her day... or when the first child arrives you could make a garment for the christening... a shawl, vest, coverlet.

June 25, 2008
0

found this helpful
I'm all for throw pillows!

June 25, 2008
0

found this helpful
I had my grandmother's wedding dress made into a Christmas tree top doll. She is very Victorian. The only regret I have is the doll maker concentrated on the doll-not the dress.
None the less she is beautiful and my daughter has asked me to leave it to her in my will.
By pat (Guest Post)
June 25, 2008
0

found this helpful
You can make a pillow--either a square one or cut a heart shape out and sew it up and then stuff it or I have angels made from old quilts that were beginning to fray and plan to make one out of the bodice of my wedding dress. Cut a circle for the head out of muslim and sew it and slightly stuff it and make a face on it. For the body cut an elongated triangle and sew it and stuff it. Attach the head and then cut angel wings for the back---you may want to stiffen them some.
Thank you all for the unique ideas; I like the Christmas tree doll topper idea with the Victorian look. I have a lady that has a monogramming design business; I will give her a call and see if she has some ideas!
I can always come into this forum and get some really good ideas!
Here is a pic (I hope)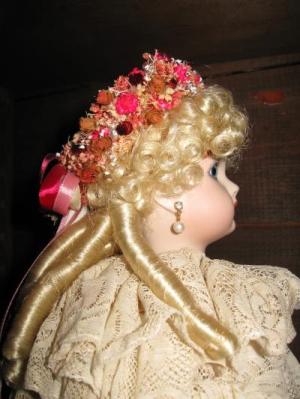 another pic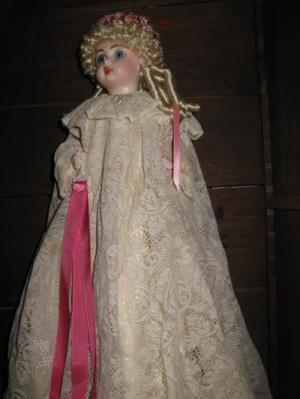 This is weird looking. It is under her dress to show how she is tied to the top of the tree. Just a muslin "body" with grosgrain ties.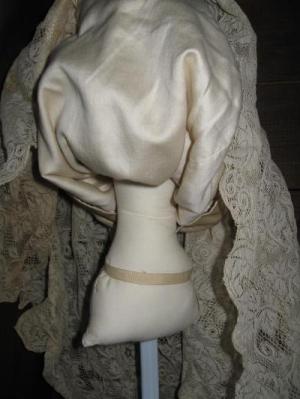 THe back of her head.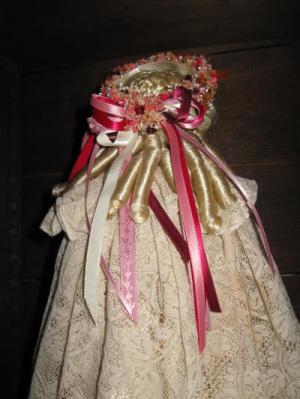 May 13, 2016
0

found this helpful
Buy some cork board. Size to fit any size picture frame. Cover the same with fabric of your choice. Pin bodice to cork and fabric. Put picture together and hang.
Answer

this Question

Does anyone know where I can buy pocket lace. It is used to make wreaths by making a cut on a Styrofoam wreath and pushing the pocket opening on the wreath. My mom used to buy it in craft stores about 30 years ago.
Note: I am looking for Rycos Pocket Lace. The company that use to sell it doesn't anymore.
Thank you.
Answers

poehere
Bronze Post Medal for All Time! 105 Posts
October 30, 2019
0

found this helpful
It seems now people just buy large pieces of lace and there are still a few places where you can buy pocket lace. I can list a few sites here that you can check out and see if they are what you are looking for. Some of the pocket lace seems very pricy and it might be easy to go to a fabric store and buy a large quanity of lace.
www.createandcraft.com/.../tattered-lace-pocket-die-with-free...
www.aliexpress.com/.../card-lace-pocket.html

Judy
Gold Post Medal for All Time! 677 Posts
October 31, 2019
0

found this helpful
Try estate sales and Craigslist. If you find it, it will be very cheap.

November 4, 2019
0

found this helpful
Rycos Pocket Lace is probable no longer made and since you seem to be looking for a particular kind of pocket lace - I would suggest you contact several of the florists in your area as most likely they still use something in this line.
They could probably provide more information than someone just searching online.
Answer

this Question