Making a Whiskbroom Angel
Who needs a kitchen witch when you've got this adorable little whiskbroom angel around? No need to scare away the evil spirits - just let the Hacienda Angel whisk all your troubles away. Hacie is another quick and easy craft that takes almost no time to make - but makes a cunning housewarming gift for any happy new couple or householder.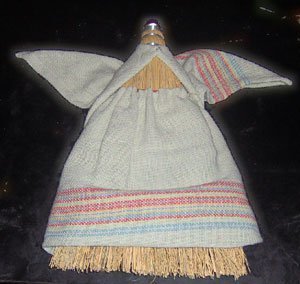 The only skills you need for this simple-to-make whiskbroom angel are the ability to thread a needle and an eye for color. My angel has a Mexican flair to her, thanks to the lively stripes of the kitchen cloths I chose - but yours can just as easily be a gingham angel or wear a skirt patterned with a fruity border of green lime slices or cherries.
Supplies:
whisk broom
2 matching or contrasting dish cloths, 12-16' square
sewing needle and thread to match dishcloths
liquid laundry starch
Instructions
Fold one dishcloth in half lengthwise, and trim top edge if needed so that "skirt" edge will be an inch or so about the bottom of the whisk broom bottom.
Thread needle with double thickness of thread, approximately twice the length of the dishcloth.
Run two rows of gathering stitches along the top edge of the folded dish towel (unless of course, you trimmed the top edge. In which case, run the gathering stitches through both thicknesses of the dishtowel together.
Draw up the gathering stitches on both threads, pulling tight till the top edge of the skirt fits around the "waist" of the whiskbroom - just at the binding threads.
Wrap gathered waist around whiskbroom and take a few stitches to tack together, then run a row of small stitches around the skirt top to secure it to the binding threads on the whisk broom.
Fold second dishcloth in half and lay the triangle flat on a table.
Center angel along the top edge of the long side of the triangle with approximately 2 inches of the whiskbroom above the cloth.
Wrap dishcloth forward, using a few stitches to tack the point where the two sides meet at the front. Turn angel over.
Pull ends of triangle back to meet and holding the points together, run a row of gathering stitches from the "neck" at the back to the bottom of the fold at the back.
Pull gathering threads up tight and fasten off. Spread points to either side, stretching wings out. Spray with spray starch and allow to dry.
You can hang your angel from a hook in the kitchen where she'll watch over you every day and help whisk away your troubles!
Categories
Pages
More
Categories
Published by ThriftyFun.
© 1997-2022 by Cumuli, Inc. All Rights Reserved.
https://www.thriftyfun.com/tf77228294.tip.html