We have 2 pretty good sized dogs that are camping fools. One, however, runs away (a trick she learned from previous owners), if she gets herself a good nose out a camper door. So we have to keep her leashed at all times.
The doggy chain clamps wear out fast when big dogs are yanking the chains, so my husband bought some plastic coated wire and clamped heavy duty clasps onto each end - the kind with swivels on them.
Total cost wound up being cheaper than the regular dog tie out chains, and so far have lasted us through 7 1/2 years of camping trips with little to no wear on them at all. They clean easily, store easier, and work the best.
You can get however many feet of this wire you need, so it can be as long or short as needed. We have about 20 feet on each dog tie. If we need to shorten it, we simply double up and clasp one side to the other end's clasp, and voila - we have 10 feet.
Barli, our 1/2 Lab, 1/2 St. Bernard, is enjoying 2 different campgrounds on that 20 foot leash: Sadlers Creek at Lake Hartwell and Croft State Park at Lake Craig! Happy camping!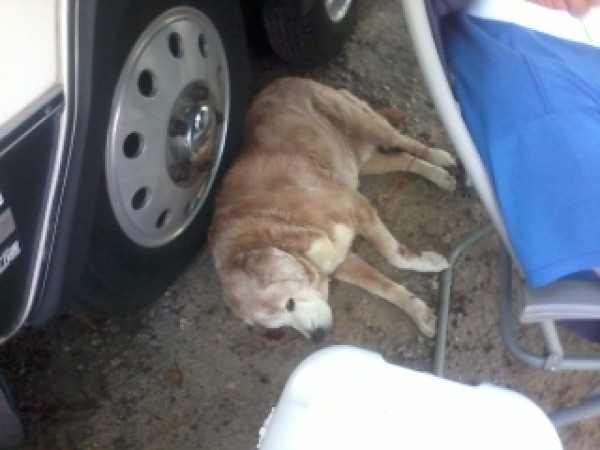 By Jacketbacker from Greer, SC