July 14, 2009
0

found this helpful
Aww he is cute! What a sweetie! So sorry you lost him. My heart hurts for you!
July 15, 2009
0

found this helpful
I'm so sorry. I can't imagine your pain. We send hugs. Keeper and Panda (14.5 years old)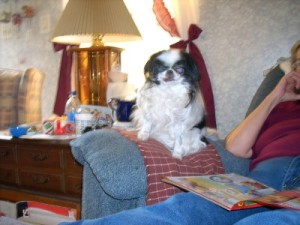 July 15, 2009
0

found this helpful
My heart goes out to you that you lost your love Charlie. I lost Yellow dog too just before Thanksgiving and his 12th birthday last year and I still miss the old goat! He was a character and the best Wolf and Lab we ever had in the family he was mama's puppy and I Loved him so. I cried for weeks and the thoughts of him still make me cry today.
Thank you for sharing your memories of him and I know the feeling you will never find another puppy like Charlie. We will never find one like yellowdog either.
But it is odd. The two youngsters we have, have taken on traits of him. So it is like he is still here with them in spirit :) But we always have our memories. Picture of Yellowdog Below.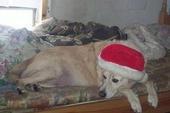 July 17, 2009
0

found this helpful
Aww so sad and he is cute.
July 18, 2009
0

found this helpful
My heart aches for you. The loss of a pet is like losing a family member to us pet lovers. No furry friend can ever be replaced. They are all unique. I still grieve for my dog Maggie even though it's been several yrs. She was the "best" and I loved her as much as I love my grandkids!
Eventually I did find another older dog that needed a home and the love I had to offer. Kato is now "the best boy doggy in the world" in my book, but Maggie has a special place in my heart as your Charlie Boy has in yours.
Grandma Jan & Kato the Wonder Dog
July 21, 2009
0

found this helpful
Thank you so much for all of your feedback and including pictures of your own "furry kids". Charlie had such personality, we almost named him "Catfish" b/c if any of you have caught a catfish, you may have heard the sound they make once out of the water, a type of grunt/bark sound which is exactly the sound Charlie made while sleeping, especially as a baby pup. He could snore like a man! lol. Thank you again, your feedbacks helped me to remember even more good memories of my Charlie boy.
July 28, 2009
0

found this helpful
So sorry for your loss! I have Eva (shizu/Yorkie mix) female Dog. She is my best and faithful friend she'll be at the front door when i get home from work no matter what time I get home she's waiting for me.
To lick my hand and show me how happy she is I'm home. I love her so much!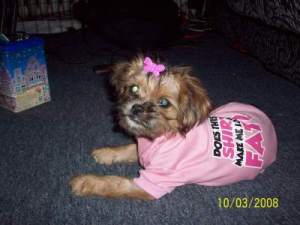 December 6, 2009
0

found this helpful
Oh I am so sorry about Charlie. He looked adorable and you were blessed to have had him.