Tomato growing secrets submitted by the ThriftyFun community.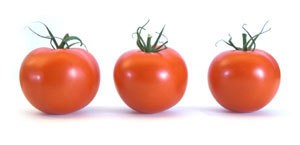 Tips For Cracking And End Rot
The number 1 secret for growing great tomatoes is water control. A tomato is 90% water. It needs a constant supply of water measured out on a consistent basis. This helps maintain growth and keeps the skin pliable. Split tomatoes usually occur after a dry spell, and a deluge of water, such as a hard rain or a long overdue watering. Easiest method to prevent this is by mulching after the soil has warmed.
The next most frequent problem is end rot. The best solution is staking and tying up the tomatoes and getting a soil test. The usual problem is Calcium deficiency. Laying on the ground just accelerates the problem.
By Christopher
Water Often
Tomatoes need lots of water. When young, water every day. When more mature, use a sprinkler for 10-20 minutes every other day or so depending on heat. This deep waters them. When they are almost ripe (orange) cut down on watering them, as this makes them ripen. Early Girl, Big Boy and Beefsteak are good varieties here, but you might want to check with feed stores, garden centers or neighbors to find the best variety for your area.
By Laramay
Epsom Salts And Watering Tips
I agree with the others. I've found a handful of Epsom salts in the planting hole also helps a lot.
Mulch will stave off lots of problems. Deep watering will also help. Here in zone 7, we sometimes dig a hole beside the planting hole and set a 2 liter pop bottle with holes punched in the bottom into that hole, and backfill the dirt. Keep the cap. Fill the bottle with water and adjust the cap to allow the water to flow out the holes-- works well. However (isn't there always one of those!), this spring we were rained upon. Like I was asking folks if they'd started their own "ark" and some of my bottles floated out of the ground, funny!
Sweet 100 Cherry Tomatoes
If you like cherry tomatoes, I recommend Sweet 100. I've never had a problem with them (I'm in Northeastern Ohio, I think we're zone 5) and I eat them right off the vine!
By Maryeileen
Use Cuttings
I have a friend who swears by cuttings. So much that she'll buy the plants already grown or start them from seed, only to pinch off the top 6-8 inches and replant it in the ground. I've tried this, and it does work well. I'm not great with tomatoes, though, so I'm not going to be the best judge on whether or not this is THE way to go. I've had pretty good luck with this method, so she may be on to something. When you replant the cutting, though, be sure to water the heck out of it the first week or so until it stands back up. It looks really sad when you first stick it in the ground.
By Beth
Water And Manure "Tea"
I water them every other day. I did get a hold of some horse manure and I made tea out of it and also I put some all over my garden. Just make sure it is dry. The wet stuff I made the tea with. Here is a picture of one of my tomatoes.
By Joyce