March 15, 2006
0

found this helpful
I guess I don't fully understand the purpose of your request. I did a quick search on Google and came up with this website: candles.genwax.com/.../___0___P0542049.htm
It lists everything that you might need for the beginner.
< -snip- >
The Basic Candlemaking Kit has everything you need to make your first pillar candles, including 10 pounds of candle wax, enough to make ten 3" x 4.5" pillars.
Basic Candlemaking Kit includes:
1 Instruction Sheet
10 lbs. 140 Degree Wax
1 Melt Pot
1 Steamer Pot
1 Metal Column Mold-
3" x 4.5"
1 Thermometer
10 yd 34-34 Waxed Wick
1 jiffy wicker
12 oz. mold release spray
1 wooden stirring stick
3 Dyes
1 Cerise (Red), 1 Blue , 1 Ivory
2 Additives
.25 lb Poly AC, 8 0z. Parol Oil
1 Scent
2 oz. vanilla
< -snip- >
You can make your own "kit" by going to the craft store and purchasing the most basic things from this list for (probably) less than this website lists, but it's a good place to start. Good luck - my family and I love to make candles.
sara

March 16, 2006
0

found this helpful
The library has great resourses for the things you mentioned above. There are books for all of these; ask the librarian to help you. You can also go to www.google.com and type in candle making kits, or supplies neede to make candles, how to sew a simple pilow,or whatever you are interesting in sewing ,making flower arrangments, etc just type it in. Between the library and google you should find what you need.
Remember,if you are a beginner in these crafts take it easy, follow directions,and start with something simple and build up to more complicated things. Good Luck.

March 16, 2006
0

found this helpful
I have made my own candles. All I bought was the wicks for $2/pkg. The rest of the stuff I recycled. I used a candle/mug warmer and set a small glass jar on it. I cut up old candles that the wicks had been burned out of. Put the wax in the jar. Wait for it to melt. Put the wick and and set aside to harden. Viola... new candle.

March 17, 2006
0

found this helpful
Hi
I just got done making candles. I use a lot of different molds like small tin jello molds, cups, glasses shape tin molds like hearts, little loaf pan etc. I get a lot of my equipment from yard sales Goodwill, St. Vincent De Paul and the different dollar stores.
Please just remember DO NOT PUT WAX DOWN YOUR DRAINS.You can also use spices in your candles. Just make sure the are mixed very good. Cinnamon, allspice, nutmeg, apple pie, pumpkin pie. Good Luck Angie
By IMAQT1962 (Guest Post)
March 20, 2006
0

found this helpful
NEVER THOUGHT ABOUT IT BUT I BET THE MOLDS THEY PUT OUT AT HOLIDAYS FROM JELLO WOULD ALSO BE GOOD TO USE TO MAKE MY HOMEMADE SOAPS.THANKS FOR THE IDEA

May 4, 2006
0

found this helpful
I can help you. I am a soy candle maker, and this is my business. If you are interested, I can help you get the supplies that you will need. I only work with soy wax, so I am limited as to what I can do. If you want to make small votives or container candles, then I can help you get your supplies. Go to www.cwlight.com/skbeal. You will find the information you are looking for regarding supplies, and you will find out how to contact me. It's really fun, and very easy. Incidentally, paraffin is made from petroleum by products. The paraffin that is sold for making candles (not food grade paraffin,) comes from the bottom of oil barrels.
This is the stuff that remains after the oil companies have taken what they want to refine and turn into gasoline. Paraffin also burns at a very high temperature, and that makes it possible for all sorts of toxins to be released into the air. Soy wax burns at a much lower temperature, and therefore burns for much longer than paraffin. In addition to being better for the environment, it is a renewable resource, and the production of soy wax is beneficial for American soybean farmers.

May 23, 2007
0

found this helpful
I make kits and also produce videos on how to do it...got to www.candlecravings.com and my kits are on ebay ebay id justmommyandme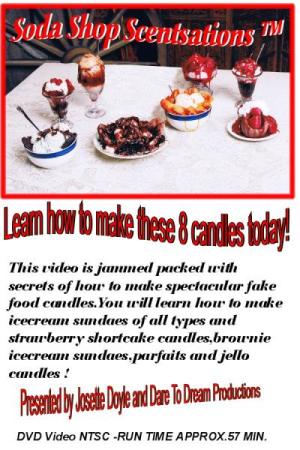 By AnnaBrown (Guest Post)
August 20, 2007
0

found this helpful
So, you want to make 'candles",:-). Well you may laugh, haha. But when I started I got Childrens craft books with candle making instructions. it amazed my at how "simple and to the point" that they are.
Books with instructions for home made with everyday items were the best, as they suggested things that you already have aroung the house. lots of luck