August 8, 2008
0

found this helpful
If its anything like satellite TV, it could be that its' being interrupted by sunspots. not certain, but its a possibility.
By Paperlady in Montana (Guest Post)
August 8, 2008
0

found this helpful
Storms or clouds passing through will interrupt the signal. As will the nature of the beast passing by, a satellite. they are orbiting and can move out of range before another is fully connected to the signal. Buildings and mountains can block the repeater signals from towers on earth also.
Some aircraft could also interfer with the transfer of the signal. anyone using the same system as you driving by your house or car can interrupt the station to which you are listening. You'll hear theirs, they'll hear yours for a second.
By Larry (Guest Post)
August 8, 2008
0

found this helpful
I hav XM and experience the same thing! Only certain times during the day, so I started keeping a log of times, weather, etc. I also looked around to a site called spaceweather.com. I found that whenever there is any major change in solar activity, I havd reception problems. I also learned that problems alsways seemed to pop up when there were aircraft in the vicinity. I live near FT Bragg, NC so there is alot of military aircraft in the air around here. Maybe you have the same problem there too. I think it may be a combination of multiple things.
By Kathy (Guest Post)
August 12, 2008
0

found this helpful
Sorry - I'm no help either. I have had sirius for over a year and have never had any problems with it or the customer service dept. The only time I had to call them was to renew our service and I was late in doing so and couldn't do it online. The girl was really helpful and super friendly!
Good Luck!
By MannyFresh (Guest Post)
August 29, 2008
0

found this helpful
I'm having the same problem the first day I hooked it up. My reception was so bad it tuned to a different station for a while and went back. I think it depends what car you drive as well. Some cars have strong reception antennas others my have an interference within the car type. Either way from what I heard is that signals are harder to reach in some areas because of the positioning of the satellites. Maybe when Xm and Sirius merge they can fix that problem. Kind of like verizon covering all the network areas. I think that will be later when they grow into a larger corporation.
September 24, 2008
0

found this helpful
Sirius/XM has a serious problem. Reception has degraded and customer service is covering up the real nature of the transmission issues. I'm surprised there isn't more about this on the internet but I'd be interested in others experiences.
Personally, I've been getting choppy reception in the Boston area for the past 2 months or so on two separate car radios of different model types. It's not the receiver that is the problem, something new and wrong is going on with the transmission.
Service reps are being vague, making conflicting statements and saying it has something to do with the upgrading of radios and the consolidation of satellite transmitters between Sirius and XM, but it also appears there are some sticky compatibility issues with receivers and other technical problems in bringing the two infrastructures together.
NOT GOOD, given all the debt maturing shortly on the new company's balance sheet, I surely wouldn't prepay for any subscriptions. In addition, there may be a lot of people cancelling or looking for subscription credits in the short term.
August 20, 2016
0

found this helpful
Certain roads have no reception. Also passing mts or tall buildings... Hate it!!!
By jglacey (Guest Post)
September 25, 2008
0

found this helpful
I just recv'd the following answer to the question related to poor reception for my Sirius satellite units (one in car and one in office). It has been going on now for over a month. The "tech service" rep at Sirius told me that it related to the merger between Sirius & XM and will likely get much better by early October 2008.
No fix, just wait. Had to do with the satellites for each company and how will work together moving forward.
By (Guest Post)
September 27, 2008
0

found this helpful
I have Sirius and have an S50. My S50 stopped working a few weeks ago, so I ordered another one off Ebay. Everything was working ok for the first few hours, then all of a sudden the reception was in and out. This setup is in my car and everything is new except my antenna, that has always worked perfectly. Seems like somethings up with the service. Maybe they turned the signal power down to conserve in these financially tough times.
By Ted (Guest Post)
November 22, 2008
0

found this helpful
I solved my reception trouble by placing my antenna in an aluminum lamp reflector like a tiny satellite dish. I have an external antenna (Monster). I live in Alaska. From my house, the satellite appears to climb above the horizon in the SE and travel straight north for 4 hours until it is slightly NE at 65 degrees from horizontal, then it retraces it's path back to the horizon. There are 3 satellites following the same path, so there are always two in the sky.
From your place you probably need to point the mini-dish straight up. I bent the reflector so it looks kind of like half a football, so the signal is always reflected towards the center even as the satellites move back and forth. You can see the orbit here:
http://www.heav .asp?satid=26390
If you enter your own lat and long. it will tell you where the satellite is minute by minute. Good luck.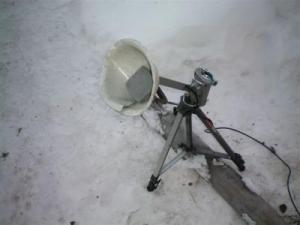 By (Guest Post)
January 13, 2009
0

found this helpful
I also have been having problems with my serius radio in my car. i have had great reception for three years and now most of my commute to work is in silence or more annoying than that is the few seconds of music cutting in and out. I am thinking of canceling.
By Cori in NJ (Guest Post)
February 16, 2009
0

found this helpful
Just recently (since Jan '09) I started having problems with my car radio (sportster 4). It would randomly stop receiving a signal at my house and places where I always had good reception. I had thought it might be the weather, and started tracking. Surprisingly it was worse in good weather which made no sense. In dealing with Tech support they helped diagnose that it was my antenna, but it still didn't make sense that if the antenna was 'broken' that I could get signals at all.
I asked about changes to their system due to the merger and they said that NOTHING was changing, which I figured was a bunch of bull because why bother merging and not consolidating their signals and saving $$ on the satellite costs. After reading the comments here it sounds like this might be the case. What I don't understand is why once I bought a new antenna did it work fine? My only thought is that the new antenna has the updated "system" info that the old one didn't. Does anyone know how the antenna connections work? Could this be the reason?
March 29, 2009
0

found this helpful
Starting having reception problems on Sirius back in Oct '08. Initially just a minor interruption to, as of recently no reception whenever there was a cloud in the sky. Called the tech support without receiving any valuable help. The kid helping me was courteous but didn't know poop from Shinola.
I called back on 3/28/09 to cancel service. After going through an annoying voice activated menu to cancel the account, I was put on hold for about 7 minutes. The account rep was courteous & professional & asked me why I wanted to cancel. I explained the reception problem & asked me to hold for a couple of minutes.
rue to her word, she was back in two minutes & informed me that a signal repeater in our area has been malfunctioning for some time now. Why the tech support people couldn't tell me that I'll never know! She assured me that the repeater will be up & running within a week. She offered me another three months to my subscription for free for my trouble. Checking my account, she did credit me on the subscription.
What is to be seen is if the signal repeater is repaired during the week time frame which expires on 4/4/09. If the problem persists or, is remedied, I'll update you on 4/5/09!
April 6, 2009
0

found this helpful
A follow up on my last posting about Sirius Satellite Radio. I contacted them on March 28th to cancel my subscription. That was covered in my last posting. Today is April the 6th, & the reception problem has not been remedied. I called again this morning, spoke briefly to the tech support people (again, courteous but not any help) & was transferred to the subscription termination department. The customer service rep was pleasant & sympathetic & after a few minutes was able to make my account terminate at the end of my current subscription. There were a few glitches & spent a bit of time on hold but, to the rep's defense, he did check in on me every few minutes until he had the problem closing out my account solved. The call took about a half hour in all. So, bottom line, as of the end of my subscription in July, I am no longer a Sirius member.
This is unfortunate because the programming is great. If you like music of about any genre, they have something for you & much better than terrestrial radio any day. My advice, if you live in a more rural area like I do, you will probably experience problems like I did. After laying out over $200 for the unit & accessories, it's all going to waste. More populated areas will in my opinion receive service on a much quicker order. If you plan to subscribe to this service, it is in your best interest to talk to neighbors to see if they have problems with reception in the area.
Also, one last thing, Sirius/XM is experiencing serious financial problems & may file for bankruptcy protection. Before you subscribe, check online as to their current financial status to see if it has changed. Then, if it looks okay, take only a short quarterly renewing subscription. If they do fold, you will be out a lot less money. Hope this helps!
November 11, 2012
0

found this helpful
There are several features affecting sat transmission, huge sunspot activity may create the most random effects, meteorite damage to solar collectors could reduce some portion of the Sats peak power output causing transmission variance. Part of the solution in my similar complaint was to shorten the antenna length which is an inverse proportion to sat frequency, higher frequentcy, shorter wavelength. I went from a 20 ft length to about 12 ft and now signal is large and strong, should make a difference, regards. Numen