Using a Weather Alert Radio
Solutions
Share on ThriftyFunThis page contains the following solutions. Have something to add? Please share your solution!

After going without power for a week due to a tornado, I started researching hand-cranked radios. By the time I was able to get to any local stores all batteries had been sold out.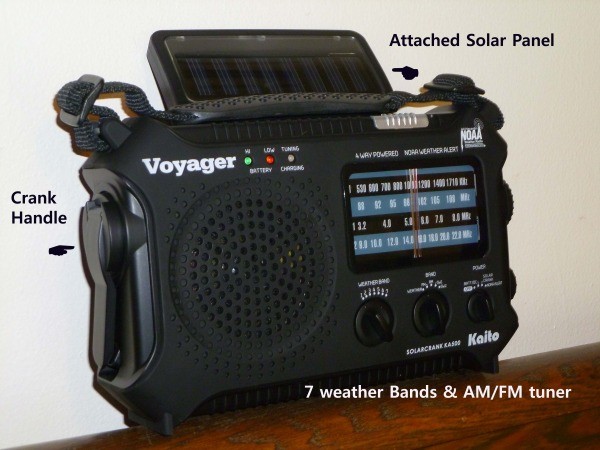 I had no idea that there were such things as solar radios. I spent several days trying to make a decision and decided on the Voyager Solar Crank KA500, Weather/AM /FM Radio.
The first few weeks I had it, I ran it solely from the solar setting and it was everything I read it was and more. I was able to pick up my local weather channel with no problem and my favorite FM station. There is a little antenna, but I'm in a city and didn't need to use it to pick up any channels.
People who lived in rural areas did comment on using the antenna. In a few rare cases when they literally lived out in the middle of nowhere, they did purchase another antenna, but everyone who bought this radio raved about it. After buying it myself, I agree with all the reviews that I read.
On the back there is a USB port that did recharge my Kindle Fire and MP3 Player once I figured it out. All the reviews I read complimented the radio for being able to recharge cell phones as well.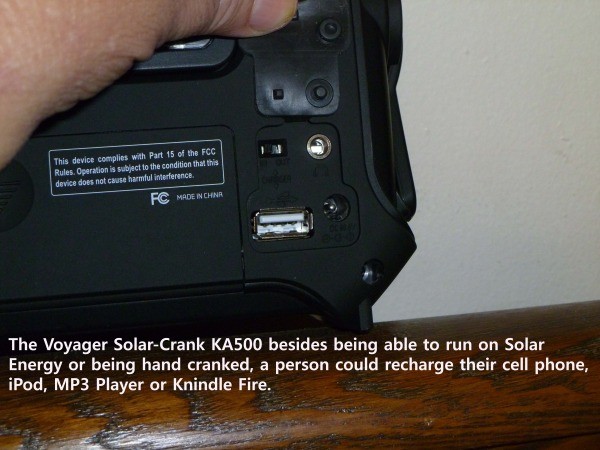 There's also a setting for a flashlight that was bright enough for me to read by in total darkness and a flashing red light if needed for emergencies.
I ran it down to no power just to see what I would be up against if I used all the solar saved power and had to hand-crank it. It worked great and I had no problems.
The actual radio is sturdy and can easily be held with one hand. The manual said to leave in direct sunlight for best results. Though it will take longer, it can be placed on an indoor window frame to capture what light it can.
I ordered mine from amazon.com and paid $49.99. It was well worth the money and I will eventually purchase a second one.

By CPJ from Madison, AL
Read More Comments
Spring and summer are upon us, and my husband bought us a weather alert radio. These last years, I was tired of staying up half the night watching the weather. My husband bought us a midland radio, and I think I finally have it figured out. I put our single S.A.M.E. code in, available at http://www.nws.noaa.gov/nwr/indexnw.htm. But I never put the weather radio on our specific channel.
Last night, we had a severe thunderstorm watch box, and then a severe thunderstorm warning, and my weather alert radio never went off. If you believe in guardian angels, mine woke me up, and made me look at the Weather Channel, and our weather radio never gave us an alert.
This morning, I reread the instructions on our new weather radio. I was receiving a weather signal from maybe 100 miles away, but not our local NOAA/NWS. So, I changed the channel on our NOAA/NWS weather radio to our county. It comes in loud and strong. We are still set on the single S.A.M.E. code for our county, and Friday afternoon we may get to find out if I finally programmed it correctly, as we may have severe thunderstorms or a possible tornado in our area later in the afternoon or evening.
The manual isn't very user friendly. It tells how to set the clock, the wakeup alarm, whether you want message, audio, or voice, and backlighting, but it doesn't really explain how the weather radio and S.A.M.E. codes work together. Maybe, if I had been in "multiple same codes" the alarm would have gone off last night. I don't know yet.
If you have gotten one of these radios, don't give up. I know someone who has a weather radio, and it drives them nuts because it won't shut up. I am currently trying to help them set it so it won't drive them up a wall with warnings they don't need. I think if we work together, we can remedy this problem with weather radios.
Advertisement
Published by ThriftyFun.
© 1997-2020 by Cumuli, Inc. All Rights Reserved.
https://www.thriftyfun.com/Using-a-Weather-Alert-Radio.html