After going without power for a week due to a tornado, I started researching hand-cranked radios. By the time I was able to get to any local stores all batteries had been sold out.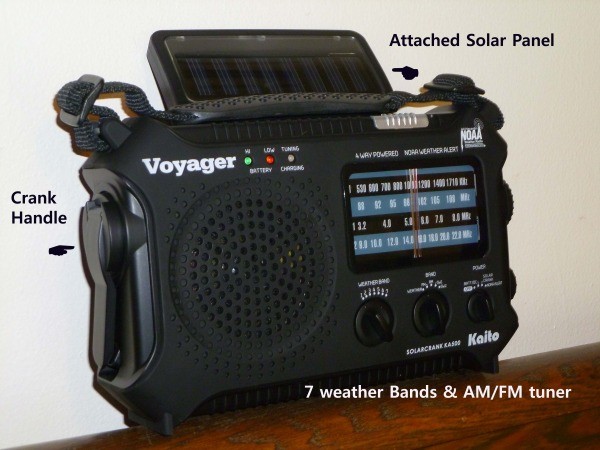 I had no idea that there were such things as solar radios. I spent several days trying to make a decision and decided on the Voyager Solar Crank KA500, Weather/AM /FM Radio.
The first few weeks I had it, I ran it solely from the solar setting and it was everything I read it was and more. I was able to pick up my local weather channel with no problem and my favorite FM station. There is a little antenna, but I'm in a city and didn't need to use it to pick up any channels.
People who lived in rural areas did comment on using the antenna. In a few rare cases when they literally lived out in the middle of nowhere, they did purchase another antenna, but everyone who bought this radio raved about it. After buying it myself, I agree with all the reviews that I read.
On the back there is a USB port that did recharge my Kindle Fire and MP3 Player once I figured it out. All the reviews I read complimented the radio for being able to recharge cell phones as well.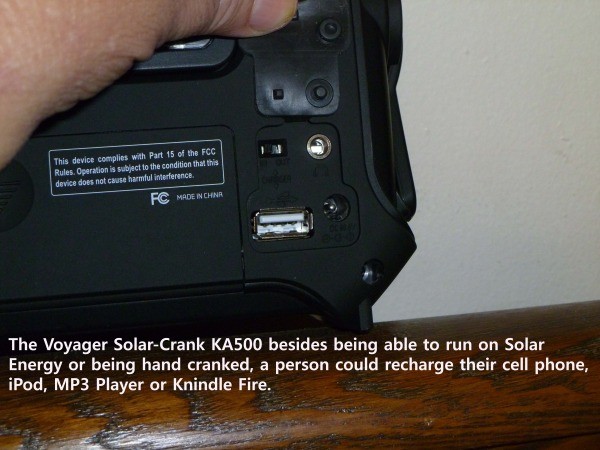 There's also a setting for a flashlight that was bright enough for me to read by in total darkness and a flashing red light if needed for emergencies.
I ran it down to no power just to see what I would be up against if I used all the solar saved power and had to hand-crank it. It worked great and I had no problems.
The actual radio is sturdy and can easily be held with one hand. The manual said to leave in direct sunlight for best results. Though it will take longer, it can be placed on an indoor window frame to capture what light it can.
I ordered mine from amazon.com and paid $49.99. It was well worth the money and I will eventually purchase a second one.

By CPJ from Madison, AL
Read More

Comments