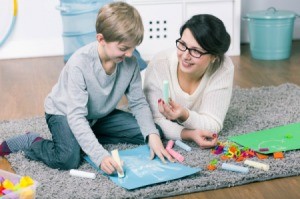 My mom and her friend Lisa are having a girls night out and I am watching Lisa's daughter. I am eleven years old and we live with my grandparents and they would be right downstairs along with my three other siblings. The little girl's name is Gabriella. I was wondering if you had any tips on what kind of games and activities I could do with her?
She is 7 years old and loves girly stuff, I thought maybe makeovers with my "BIG GIRL STUFF" as my little sisters and their friends call it. Lisa has known my mom from home school groups, so she knows me pretty well and obviously trusts me. I will be charging her $5.00 for the night since this is my first time. But I want Ella to go home wanting me to babysit her again. So please feel free to post your thoughts on this. Also, if you know any small things I can do to maybe earn me some tips!
Mackenzie from Millington, TN
Answers

Marty Dick
Bronze Post Medal for All Time! 169 Posts
August 28, 2007
0

found this helpful
Best Answer
Drag out some of your crafting stuff (not all of it) Show her how to make things. How old were you when you learned to crochet? Maybe part of the evening could be used to start teaching her.
Seven year olds love to read aloud. Try taking turns reading pages from some of your chapter books.

Marty Dick
Bronze Post Medal for All Time! 169 Posts
August 29, 2007
0

found this helpful
Best Answer
I used to play "spelling railroad" with my son when he was about that age. It's a good game for riding in the car but you could do it in this situation. The first person spells a word and the next word has to begin with the last letter of that word. On and on it goes till someone decides that the next word will be the caboose.

Best Answer
Edible Peanut butter Playdough
ingredients*
1/2 cup Peanut butter
1/2 cup of honey
1 cup powdered milk
Knead until smooth
Let sit in fridge for 10 minutes
Let the kids play with and eat when allowed to have it
This is a fun activity to do with 4-9 year olds beings they love to play with finger foods!! if you have any questions about babysitting or any tips u can contact me at fox_racing94 AT yahoo.com Thanks i hope this helps bye!

Best Answer
You can do a scavenger hunt and at the end give her something like make-up.

Best Answer
I have to babysit a little girl and she is also seven. Normally we print out coloring pictures and color. Sometimes we will bake cookies together or make some pudding together. We normally go outside and play on her trampoline but most people don't have one. Hope I helped a little bit.

Best Answer
One thing I do while I'm baby sitting is you get out a bowl and pick out different snacks that would go well together and just toss is in the bowl then you can snack on that while doing some thing else, like watching a movie. Another thing you can do is get all the pillows at their house and try and stack them as high as you can. Take turns and make it a contest. The girl I baby sit loves that.

Best Answer
I am 15 and I babysit a 7 year old girl. She is very indecisive, and she also loves girly things. What I do, is I let her and I go up to my room and we do "beauty makeovers." She absolutely loves those. First, I do her, then she does my makeup. We also, play with dolls, do puzzles, charades, and one game my cousin made up for me when i was younger: Write on little pieces of paper of where to look to find another clue, and they have to figure out where that is, then when they find it, they have another clue.
When they are done, give them a prize (candy, etc.)
Good luck!

Best Answer
Whenever I babysit for my 7 yr old "girly" neighbor, we always make bracelets and necklaces out of beads, she also loves to play dress up fashion show, and all kids love arts and crafts. Baking is always fun as well. if its a nice day, we go on a bike ride or a walk, or we can throw a frisbee outside.
Read More

Answers