December 10, 2010
0

found this helpful
I am not an RV'er, so my apologies for not understanding the lingo. I'm assuming that by the phrase "RV pad" you mean a place to park your RV. It's been my experience (and many thanks to my wise husband) that a mere two inches of gravel strewn over dirt really offers no long term solution in eliminating dirt, worms, weeds or mud. It's just not (sigh) that simple.
For a plain, simple, rather rustic looking, and low cost lawn chair area, we dug out a minimum of six inches of soil, lined the area with plastic weed mat, outlined the area with landscaping timber, and then filled in with six inches of gravel/river rock.
I'm guessing you will need at least this for a pad to park your RV and possibly much more, due to the weight of the vehicle, to keep out the dirt and the weeds and the worms.
If I misunderstood your post, yippee! You won't have to redo your work. But if I understood it correctly, (another sigh) your pad is not sufficient for your needs and expectations: I'm afraid you just might have to start over. Don't trust my assessment, contact landscapers and/or construction workers to get the real deal advice. I hope you find a good solution to this issue for a fair and reasonable cost. Good luck!
December 12, 2010
0

found this helpful
You might see if you can find an old carpet that someone is throwing away before you put down more gravel. It will break down after time but will take a long time to do that. Then at least you would not need so much gravel.
July 4, 2019
0

found this helpful
I am making an RV pad right now. My RV is a small class B 21ft I would like to know more about what you fill it with. So far I have used Shell Marl (5 yards) already. It's just like marshmallow fluff! I'm thinking I need more like fill dirt. Possibly 3 yards then stones, such as crushed shell at least two inches. (2 yards). My pad is 22 by 13 the sides are stained. 2x 12's attached to 4x6's to make a Mike railroad ties without the chemicals. Do I need drainage? I'm going to plastic coat the wood inside where dirt will be on contact and add some 1/2 block support.
My question is what about drainage? I was trying to develop a drain plan while I'm still excavated out (easier than redigging)
Does anyone have any suggestions? My dread is this huge sandbox would collect water and I want to be sure I have egress for drainage. Please help me. This area used to be a low spot and still has a little flooding next to it so that's why I went up 12 in on each side. I plan to mound up dirt next to the wood so I'm going to have to weatherize it before I do that. I have stained the wood and possibly going to use clear flex seal spray on top of that to keep it moisture proof.
July 4, 2019
1

found this helpful
This is our current state of being. Rainy season is approaching. At first, I was thinking about just raising the elevation but then I realized if the elevation was going to stay put. I probably needed a border as well as for aesthetics. Next thing you know I was buying some really expensive long timber screws and stain. I position the timber on top of cement block for a good foundation after it being so deep I realized I was still short on fill dirt and shell marl. Since I have decided to go up a lot more inches than what I had originally planned, I decided the next move would be to get some more dirt, only this time fill dirt because it will go further.
I would like to do some kind of really secure drain that does not rot wood, maybe make some small Ford holes in the side and add a plastic coating to them or even a small pipe system. I really would like suggestions. I'm also putting a drain pipe in the very middle for the yard behind it, in case I need drainage there in the future. I've made one small portal on the side for the motorhome's RV waste in case I ever need it. It will not be a permanent solution, just something for in case of emergency so I don't have to dismantle anything.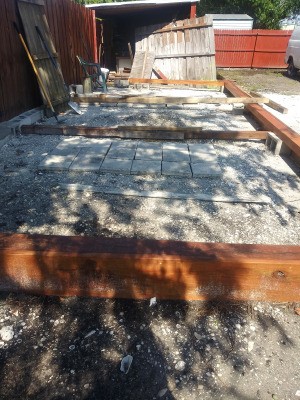 October 13, 2011
0

found this helpful
Take up the gravel and save it. Buy the heavy duty black plastic that comes in rolls (sold at Walmart, etc.
usually in the paint section). Cut and lay down the amount you need, then place your hosed down gravel on top of the plastic, problem solved.