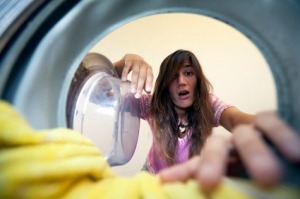 I have a washing machine that is probably 6 or 7 years old. Every once in awhile I find a rusty residue on the laundry when I do a load. I have checked the inside of the drum and haven't found any rust. I contacted the manufacturer, and was told there is nothing one can do to resolve this problem, short of buying a new machine.
I am currently getting by, by running a cup of lime-away through it once a month, but the problem reoccurs. Does anyone have a solution to getting rid of rust stains on clothing or better yet stopping my washer from leaving the rust stains in the first place?
Donna from San Diego
Answers
August 17, 2006
0

found this helpful
I live in the country & am have a well.My husband puts a filter on under our mobil home, it removes rust from comming in. The filter catches the rust. We change it every 2 months. Check with Home Depo or Lowes.
Good luck, Sherry.
By carla bledsoe (Guest Post)
August 17, 2006
0

found this helpful
if you are on city water then you may have iron pipes from the meter to your house. if the water sets a while it gets rusty. sometimes it isn't actually rust. when we were on rural water (like city water in the country) we would get a flush of dirty water whenever there was a pipe being fixed or had burst somewhere up the line. the water people said there was nothing they could do about it so we had to get filters on our end to make sure it didn't mess up our laundry or (YUCK) the dishwasher. we are on a well now and when the water tables get low in the hot weather we have the same problems. about all you can do is get a water filter and put it in where the water comes into your house. you could get smaller filters and put them on your sinks and your washer but in the end they would cost about the same as an in line filter for the whole house.
By r your name. (Guest Post)
August 17, 2006
0

found this helpful
For different reasons i have had to dismantle our washing machine it is worth doing as if you have children boys particularly the outside of the bowl can get clogged with dirt this is the reason why sometimes clothes dont appear clean so worth dismantling for that reason also quite often there are small metal objects such as pins nuts etc that sit at the bottom and rust suspect that could be the problem if the inlet water is clean most modern washing machines use stainless steel/plastic in the construction of the bowl so they dont rust.The earlier machines were steel with enamel which could chip and then would rust.See how that goes hopefully will fix the problem.brent nz
August 17, 2006
0

found this helpful
Are the rust spots on the clothes little orange dots? If so, my removal trick is a paste of cream of tarter and peroxide. It doesn't need to sit on too long, enough to dry, then wash as ususal
By nanalori (Guest Post)
August 18, 2006
0

found this helpful
I had a large amount of rust, and couldn't figure out where it was coming from. One day as I was doing laundry I heard dripping on the washer. We live in an old house with metal pipes, and condensation was dripping off the pipes onto and into my washer! My hubby covered the pipes with foam and we moved the washer away from the pipes as best we could. I kept an old blanket on top of the washer for a few days to make sure the problem was solved. I couldn't get all the rust out of the washer, but now it is at least a solid stain and isn't rubbing off onto my laundry.
August 20, 2006
0

found this helpful
I had this happen and the rust was indeed coming from the washer....from the basket but it wasn't until the washer was very old. When I replaced it, I bought one that had a guarantee against that happening for a certain length of time....so we shall see. It is now around 8 yrs old and so far so good. Actually I don't know that rust was getting on clothes but what finally happened is it rusted through to the point that it was leaking when I filled the washer and water was all over the floor of the laundry room. It was a slow leak but still it was too much of a mess to continue using the washer and because it was old, their was no reason to sink money into it....not sure anything could have been done anyway.
If you are not wanting to replace your washer....which I doubt you are when it's just 6 or 7 yrs old, then I guess you have to find a remedy for removing the rust from the clothes.
Why don't you do an internet search and see what you come up with if you didn't find the answer here.
I bought a product from QVC that takes out rust stains. I don't recall the name tho and I used it all. You just sprayed it and the rust disappeared before your eyes.
By Christy (Guest Post)
April 18, 2007
0

found this helpful
I began having rust spots on my laundry about 3 years after we bought our machine...it's not the BEST or most expensive washer, but I thought...COME ON! Turns out there are several spots in the basket that cracked and became rust spots...and they transfer onto our clothing when I do the wash. We can't get a new machine right now, so I have tried just about everything. The only thing that has worked at ALL is to put CrazyGlu on the spots and let them dry-lid open-overnight. It works for a short while...it's not the greatest, but it helps. If I didn't know to look, I'd have never noticed the tiny spots of enamel that cracked. Hope this helps SOMEONE!
By Lynette Hofer (Guest Post)
May 3, 2007
0

found this helpful
Putting Lemon Juice on the little rust spots will remove them. Works like a charm.
By Christene (Guest Post)
May 11, 2007
0

found this helpful
I have been experiencing the same problem. I just got my first apartment, the washer was a gift to me from my dad, and I can't exactly afford a new one. Reading the tips that others gave you was helpful, thankyou.
By Candy (Guest Post)
July 13, 2007
0

found this helpful
I occassionally get rust in my water from our well. This is my signal to change the filters that we use prior to the water coming into the house.
If you are washing whites, add 1/2 cup of iron out to your load. I either make sure to wash that load twice, or add ample amount of fabric softner because the iron out stinks. However, it makes clothes REAL white, and cleans out the washer of rust spots at the same time. Usually if you wash the whites first, the next load of coloreds won't have rust spots on them. Therefore, you guessed it, I add iron out to every load of white laundry. Keeps my clothes white, and washing machine clean!
By Carol (Guest Post)
August 22, 2007
0

found this helpful
I have had this same problem with 2 different washing machines. Every few loads I get rust spots (Brownish) on my clothes. I thought it was my first washer so I replaced it. Bought a new washer and it is still happening.
It's not the inside of the basin ( No Cracks, or rust areas). It's a new machine. This starting happening again about 3 months after I bought a new machine. So I am left with the question it must be my pipes. But I have no other signs of rust throught the house. My house is 14 yrs old.
Read More

Answers